Best Outdoor Gas Grills Review 2020/2021 – Propane | Natural Gas Patio BBQs
This is my best outdoor gas grills review.
5 Best Outdoor Gas Grill Reviews
Char-Broil
Char-Broil is one of the most popular brands that can be taken into account when looking for the best outdoor gas grills. One of their most notable features is the TRU cooking system, which is basically helpful in making sure that flavor and moisture are seared to the foods being grilled. Additionally, their different gas grills are also known for being heavy-duty, basically because of the strength of the materials that are used in its construction.
Weber Q3200
The outdoor propane gas grills from Weber are among the most popular within this product category. They have the Weber Q3200 that offers 21,700 BTU per hour, Q2200 with 12,200 BTU, and the Q1000/Q1200 with 8,500 BTU. This ensures having sufficient grilling power for the assurance of high-quality grilling outputs.
The original gas grilling system from Weber is one thing that can be enjoyed from the models that have been mentioned earlier. This technology has been perfected by the manufacturer to deliver the best grilling experience and unsurpassed results. This innovation provides an assurance that grilling will be a simple task, and hence, can be easily accomplished by anyone. This also makes the grilling easy to clean and maintain.
Weber is another brand that is worth considering, and one of the models that can be chosen is Affinity 3100. It has an electronic ignition system, which makes it effortless to start the grilling task that needs to be accomplished. This model has 418 square inches of cooking area, which will be best if you anticipate frequent grilling for a large group.
Cuisinart CGG-200
The Cuisinart Gas Grill is also a popular choice for many people. One thing that has been enjoyed by its users is its portability, making it easy to be used in different locations, such as when you are on a vacation. Aside from being lightweight, it is also made in a brief-case style, making it easy to be carried.
You might also be interested in the Cuisinart CGG-200. This burner is made from stainless steel and has the ability to deliver up to 12,000 BTU to handle a wide array of grilling tasks. Being made high quality 430 stainless steel has been commended in many reviews, noting that it is an excellent material in terms of durability, and more importantly, it makes the grill maintain an even temperature.
Weber Genesis II E310 & E330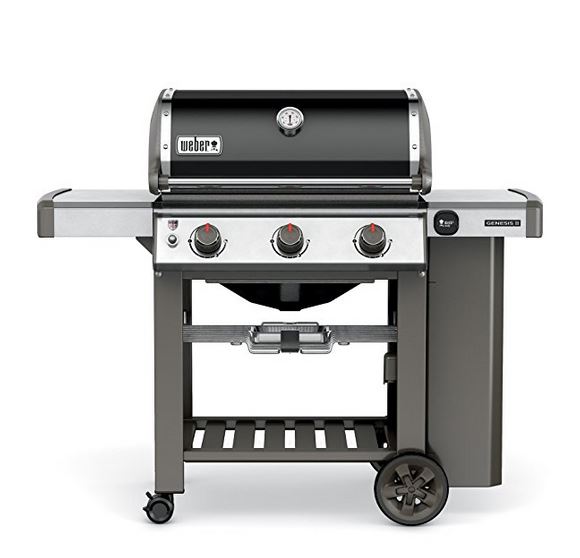 Within this product category, the Weber Genesis II is one of the most popular. They have the Weber Genesis E-310 and the Genesis E-330, both of which are promising when it comes to grilling performance. Both of the earlier mentioned offers a total of 637 square inches of cooking space, making it perfect for a large grilling work that needs to be done. They are also designed with the revolutionary Flavorizer system, which prevents clogging of the tubes and enhances the flavor.
Weber Summit S-620
The Weber Summit S-620 is also a popular choice within the marketplace. Aside from having 838 square inches of cooking area, it also has 60,800 BTU, which is an assurance that it will be able to deliver exceptional performance, regardless of the extent and amount of grilling that you need to accomplish.
Napoleon Mirage 485
Lastly, it is also worth taking a look at the Napoleon Mirage 485 Gas Grill. It has the JETFIRE ignition system for easy startup. Additionally, many have also been happy with the IGLOW backlit control, which is helpful if you are going to use the grill at night. This provides the right level of illumination for you to easily see the dials and controls of the unit.
Blaze Professional 27-Inch 2-Burner Gas Grill
Those who are looking for a grill with a lot of features combined with solid engineering and lifetime warranty then blaze has a perfect gas grill for them. This BLZ-2PRO-NG gas grill from the Blaze is shorter in size as compared to previous one as it is 27 inches in size and has 2 burners only. This is perfect for a family and they can enjoy the barbeque whenever they want. Blaze has introduced some of the best gas grills on the market that are known for durability and this model is one of them. The durability of this grill is second to none, with a great amount of precision used when perfectly combining fuel and oxygen. Which is what allows the gas grill to give a consistent temperature and maintain a low amount of gas usage per burner. When looking at the appearance of this gas grill, you simply have to adore the finish. Blaze offers a lifetime warranty which protects against damage caused during the manufacturing process. As well as, the burners, cooking grids and much more, take a look on their website for more details about it.
This model has stainless steel H burners and with the hexagon shaped cooking rods cooks can enjoy thick and stabled flames. This 27 inch model includes lights that were absent in the previous model which means that it can be easy to use at the night. There is a huge 142 square inch warming rack available that is perfect to keep the bread and other food items warm while you cook.
Some of the highlights of the features are:
Best in class life time warranty that boosts the confidence in purchasing this product.
Multiple burners with heat zone separators allows people to cook multiple items at a time.
Hexagon shaped cooking rods for thick and stable flames.
Impressive cooking power combined with professional and solid quality.
Grids that covers the entire grill and provides balanced flares.
Conclusion
I hope my best outdoor barbecue review has helped you make the right decision.
Related Articles