Best Grill Brush Reviews & Buying Guide – Brushes For Porcelain Enameled | Cast Iron | Stainless Steel Grill Grates
Spring kicks off the grilling season. Most people can't wait to get their grills uncovered and the flames going. Sometimes nothing tastes better than a freshly grilled meal.
If you are like most responsible grillmasters, you want to keep your grill clean and in good working order so that you can keep grilling for as long as possible.
The grill brush is one of the easiest and most essential accessories for owners of coal and gas grills.
In this article, you will learn how to choose the best grill brush, what are the differences between popular brushes, and the basic nuances that matter when choosing the right one.
Grilling can be fun, but only if your grill is maintained and ready for action. Often, we end up letting our grills locked up somewhere, and even the thought of cleaning them up doesn't occur to us.
Although cleaning the grills after eating a tummy-full can be a hassle, trust me, doing this will save you from greater problems.
Even if you're set on cleaning grills, you might not be able to do so due to a lack of proper tools. In this article, we'll introduce you to what we consider to be the best grill brushes on the current market. So, let's get right to it!
Best Grill Brush For Porcelain Enameled Cast Iron Grill Grates
Among the many types of grill grates that you can find now, porcelain-enameled iron grill grates are considered one of the most vulnerable ones. The porcelain-enameled cast iron grates are rust-resistant and can hold the heat pretty well.
However, if the outer surface of these grates is scratched or chipped, then the metal underneath will be exposed. This will cause water contact and as a result, there will be rust build-up.
This is why it's not recommended to clean these grates with wire or metal brushes, as these can scratch these grates.
When cleaning porcelain-covered grill grates, you should use nylon grill brushes or soft bristle brushes. Let's take a look at the best grill brushes for cleaning porcelain-enameled grates I have selected.
Kona Safe/Clean Grill Brush (Bristle-Free Brush)
If you're looking for a cleaning tool that'll ensure not even a bit of food is left on the grates, then you should consider the Kona Safe grill brush. What makes this tool special is its patent-pending design. The brush comes with a 360-degree design that can deep clean the grates.
Another positive factor about this brush is the material. These aren't made of metal bristles, so you won't end up scratching the grates. Then again, these don't come with soft nylon bristles that melt in contact with heat.
The unique construction makes these 125% more rigid and durable than conventional ones. You'll be able to steam clean the grates by dipping the brushes in water once in a while. The ergonomic handle will let you use this for long hours without any pain and will also keep your hands safe from the heat.
Then again, these are extremely lightweight. With these, you'll be able to clean the grates of multiple grills without experiencing any fatigue. Overall, this is an amazing brush for cleaning porcelain-enameled grates.
Pros:
Unique 360-degree design
Rigid construction makes it last five times longer
Ergonomic handle
Lightweight
Cons:
Wire brushes can scratch some grates
Grillaholics Pro Brass Grill Brush (Soft Brass)
As we've told you before, soft bristles are perfect for cleaning porcelain-enameled grates. This is why we've included the Pro Brass Grill brushes from Grillaholics. If you've looked for brushes for cleaning grills before, perhaps you already know how great Grillaholics are.
Grillaholics brushes come triple-tested and with heavy-duty stainless brass bristles that won't break and get stuck on the grates. The manufacturers claim that their brushes are 50% stronger and last longer than any other brushes on the market.
These brushes are specially designed, and each of them measures an 18-inch length. This allows the user to reach all the nooks and corners while cleaning the grates. The design of these brushes also helps the users to clean fast and efficiently.
The best part about these brushes is that they can be used for cleaning all sorts of grills. While the brass won't be too hard on the porcelain-enameled grills, it'll be stiff enough for the cast iron grills, making it a versatile choice.
Pros:
These brass brushes are built to last 25% longer than standard brushes
Capable of cleaning faster than most other brushes
18-inch length will help you reach the corners easily
These heavy-duty stainless brass bristles are 50% stronger than regular brushes
Cons:
Cleaning the brushes can be time-consuming
Grillaholics Pro Nylon Grill Brush ( Nylon)
Bristled brushes are considered to be better at cleaning porcelain-enameled grates than bristle-free ones. This is why we highly recommend taking a look at the Pro Nylon grill brush from Grillaholics.
This brush offers all the high-end features that you can expect from Grillaholics. These brushes are built to be tough. You'll be able to use them longer than most other products on the market, and you'll get a better performance out of them too.
One amazing feature is the cold grill scrub. These brushes don't require you to heat the grills for cleaning them, which makes them even more convenient. I remember when I had to heat the grills just to clean them. This brush can save you a lot of time.
This is why we highly recommend using these, especially if you're afraid of scratching your porcelain-enameled grill.
Pros:
Super soft nylon bristles won't scratch any porcelain-enameled grill
Cold scrub features help you clean the grates without having to heat the grill
10-times more durable than traditional steel brushes
Long enough to keep you out of harm's way
Cons:
Not suitable for cleaning cast iron grates
Best Grill Brush For Cast Iron Grill Grates
Cast iron grates are widely used by grillers as these allow them to put sear marks on the grills easily, which in turn gives them a beautiful look. However, dealing with cast iron can be much tougher than you might think.
These are strong grates, but that doesn't mean you can clean them with just anything. The worst part about cast iron grates is that you can't clean them with water because it'll cause rust to build on them, and you don't want to cook on a rusty grill.
This is why it's important to preheat the grill and clean it with stainless steel bristle brushes and apply vegetable oil on them later.
GRILLART 3 in 1 Grill Brush and Scraper (Multifunctional)
Grillart is considered one of the best brands in the grill accessories market, and they surely won't disappoint you with their BBQ brush for grills. These come with a sleek and unique design that can grab your attention and get your job done easily.
These grill brushes come with three strands of bristles, and there's a robust stainless steel plate at the top of the bristles, and this helps in making the bristles much more stable. This will allow you to clean the grills with greater pressure.
The three strands of bristles are designed to provide 360-degree coverage so you can clean all across the grates easily. Another aspect that makes this comfortable is the angle. Due to the angle, you'll be able to use this comfortably for hours.
One thing that you may face a problem with is cleaning the edges of the grill if the grill is circular. You'll find yourself rotating the brush constantly for getting the right angle on the edges.
Pros:
360-degree design for cleaning effectively
The perfect angle of the brushes makes it more comfortable
Comfortable grip
Strong stainless steel wire
Cons:
Won't let you clean the edges unless you keep on rotating while cleaning
Weber 6463 (Hard Brass Brush With Bamboo Handle)
If you're looking for something simplistic to get started with, the Weber 6463 won't disappoint you. This is one of the cheaper picks, but it's capable of getting the basic job done. Unlike most brushes on the market, this one doesn't come with any fancy features, which is why it requires less maintenance.
This brass brush comes with perpendicular bristles on the head of the stalk. The long brushes will help you reach the inner edges of the grates, which will help you deep clean the grates easily.
The brass bristles on these brushes are very thick and robust, so they won't come off even with months of usage, and this is one of the factors that makes this grill brush stand out.
The simplistic build of this brush makes it easier to use than most other ones. As it comes with a bamboo handle, you won't have to worry about rust build-up. Plus, it's hard enough to withstand fall damage. Despite being a hard surface, this brush is designed to feel ergonomic and comfortable.
If you're looking for a compact, simple, and effective brush for a cheap price, then you should consider this one. You can get the Weber 6463 in two variants that come at 12-inch and 18-inch lengths.
Pros:
Sturdy, ergonomic handle
Thick brass bristles for deep cleaning
Compact design
Easy to maintain
Comes in two length variants
Cons:
A bit tough to clean between fine grates
Grill Rescue BBQ Steamer (With Replaceable Cleaning Head)
The Grill Rescue BBQ Steamer is one of the most unique products on this list and the market. Unlike most products, this one uses steam to clean the grill instead of bristle brushes. While this design has some great advantages, there are some drawbacks too.
Using this grill steamer is very easy. You need to heat the grill to a minimum of 400 degrees Fahrenheit first. Once it's there, dunk the steamer into normal water, and use it to rub the grates. The major advantage of these grill cleaners is that there are no bristles, so there's no fear of them falling off. As a griller myself, I can surely say that this can take a load off of you.
Then again, the top of these steamers can be replaced, and this makes a better choice even. The only drawback with these is that they can be very expensive. If you're low on budget, then getting there isn't the best option for you, as you can spend one-fourth the price of these and still get a quality brush.
Pros:
Unique design
Replaceable head
The handle is ergonomic and wrapped in a Kevlar layer
No bristles that can end up in your food
Can clean the grill efficiently
Cons:
Can be much more expensive than regular brushes
Best Grill Brush For Stainless Steel Grill Grates
Last, but not the least, we have grills that come with stainless steel grates. Stainless steel grates are known for their capability of tolerating intense heat while being rust-resistant to a great degree at the same time. Cleaning the stainless steel grates is fairly simpler too.
With stainless steel grates, it's highly recommended you clean them right after you're done cooking with them. At this point, the food doesn't get too stuck to the grates, making cleaning easier.
You can use any type of brush for cleaning stainless steel grates. As stainless steel is very robust, even using wire brush won't scratch the grates.
Weber 6494 (Best Regular Grill Brush For Stainless Steel Grates)
You don't need a huge brush for cleaning the standard grills that you use in your household for parties. This is why we highly recommend getting a Weber 6494 for cleaning such grills. These brushes aren't only compact, but they're very effective for cleaning stainless steel grates.
These brushes are designed to cover a wide area with every stroke, thanks to the 7.1" width. These come at a length of 12", so you can make sure your hands are safe from the heat while you're cleaning the grates.
The sides of these brushes come with bristles fashioned circularly, and this will help you scrap the edges of the grates. The bristles on these brushes are made of stainless steel, which will allow you to apply quite a lot of pressure while scrubbing the grates. The bristles will also prevent wearing due to their top-notch build.
Despite being short, the handle is pretty ergonomic and soft. You'll be able to use the brush comfortably for cleaning multiple grills without any pain or feeling of discomfort.
The only drawback of these brushes is that there's a lot of gap between the bristles, and sometimes this can make you miss some area on the grates, especially if the grates are narrow.
Pros:
Compact design
Long enough to keep your hands safe from the heat
The 7.1" width will help you clean a wider area with each sweep
The sides of these brushes are designed to chip the edges of grates
Cons:
There's a lot of gap between the bristles
Char-Broil 8666894 (Brush With Replaceable Head and Nylon Bristles)
Next up, we have the Char-Boil 8666894, and this brush has some amazing features to offer. For starters, it comes with Nylon bristles. The nylon bristles that you'll get on these brushes are five times thicker than usual, and this makes them more suitable for cleaning stainless steel grates.
There are a lot of nylon bristle brushes out there, but there's a reason why we chose this one over those. This brush comes with a replaceable head, and this is its selling point of it. Most nylon brushes don't withstand more than a year of usage, and the users are forced to replace them.
With this brush, you'll be able to avoid that simply by replacing the head of the brush. You'll get new bristles and it'll perform like new! There's also this multi-bladed scraper on the head of this brush. This scraper helps you clean the difficult-to-remove food stuck on the grates easily.
However, there's this one drawback with this brush. As it's a nylon brush, you shouldn't use it to clean a heated-up grill because the heat will melt the nylon. Then again, allowing the grates to cool down after a cooking session will make the debris even tougher to get rid of.
Pros:
The nylon bristles are five times thicker than regular nylon bristles
Laboratory tested to last 15,000 cycles properly
The multi-blade scraper helps remove debris easily
The head can be replaced
Cons:
Requires you to cool the grates down before cleaning
GRILLART Grill Brush Bristle Free & Scraper (Bristle-Free Brush With Scraper)
Lastly, there's the bristle-free brush from GRILLART. The bristle-free design of this brush makes it a great choice for cleaning stainless steel grates. The stainless steel wires are flattened to offer a greater coverage area. The sides of these are quite short, and that'll help you reach the inner edges of the grates for a deep clean.
The smaller wires woven around the thicker ones are made of stainless steel as well, as this is why these are great for using with splashes of water as well. The hollowed design makes it easier to clean sticky debris. If the debris is too tough to clear, then you can use the scrapper. One great thing that they did with this model is making the scrapper wide. This allows you to clean multiple grates at once.
This brush comes with a 17" handle that'll allow you to clean the grills comfortably and easily. The long handle will keep your hands away from the heat. You can use these on all types of grills, but we highly discourage you from using them on mesh grates.
This brush is made of stainless steel, so it will remain safe from rusting. So, you'll be able to use this for years to come.
Pros:
The bristle-free design makes cleaning easier
The shorter sides are designed to help you reach the inner edges
Full stainless steel build
17-inch ergonomic handle is comfortable to use
Cons:
It can't be used on mesh grates
Grill Brush Buying Guide
By now, you probably understood that buying the best grill brush for yourself will be no piece of cake.
To help you pick the right one for yourself, we're offering this buying guide. This guide will cover all the different factors that you'll need to consider for deciding which brush serves you the best.
Construction
When it comes to brush construction, you'll find two types of designs on the market.
Some brushes come with bristles, and then some brushes come with wires only. You'll find several heated debates on online forums and in the local grillmaster communities on which type is superior.
In this section, we'll put all the debates to rest, as we'll discuss the strengths and weaknesses of both types.
Bristle Free
The bristle-free brushes are those that come with coil wire for scrubbing. These grill brushes are often called bristle-free brushes or coil brushes.
What makes these brushes great is that they usually cover a wide area, allowing you to clean a lot with a few sweeps. They also allow you to scrub with great force, allowing you to clean cast iron and stainless steel grates easily.
Another major plus point that bristle-free brushes offer is that you won't have to worry about bristles dropping all over the grates. It's found that bristle-free brushes usually last longer than bristled brushes.
And while it might seem contradictory, the bristle-free brushes are more suitable for the porcelain-enameled grates, as these don't come with sharp bristles.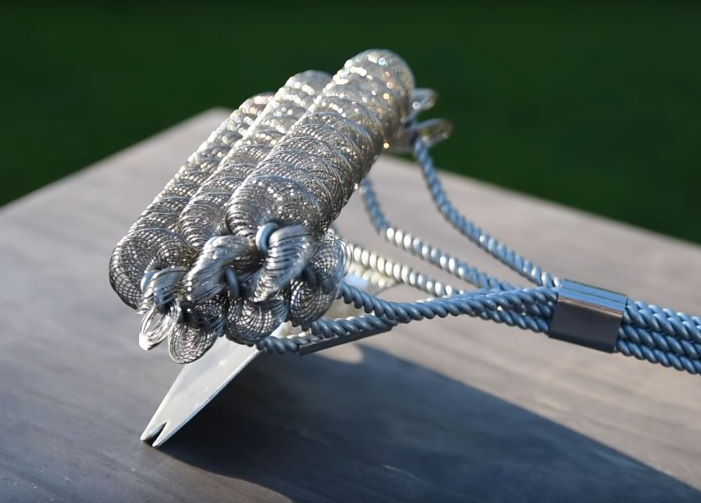 If you are worried that a bristle can break off and potentially get in your food, you should buy a new bristle-free grill brush.
Regular
The regular, or the bristled brushes come with their own set of strengths and weaknesses. First of all, these are much easier to use than bristle-free grill brushes, mainly because they are better at deep cleaning. You won't have to reach the same area more than twice for a perfect cleaning.
These usually come with a narrower coverage, but the superior efficiency makes up for that. When you're picking bristled brushes, you can pick from different materials of bristles. There are steel, nylon, and brass bristles, and each of them offers different characteristics.
If you fail to pick a bristled brush suitable for your grill, you'll end up with scratches on your grill. For example, scrubbing your porcelain-enameled grill with stainless steel bristled brushes is a very bad idea, as it'll leave scratches all across it.
Bristle Material
When it comes to bristled brushes, there are three types to choose from. We'll discuss the attributes of each in detail in this section.
Steel vs. Nylon vs. Brass
Among the three types, stainless steel and brass bristles are a bit more comparable to each other, while nylon bristles are for completely different purposes. So, we'll discuss the difference between steel and brass bristles first.
Let's talk about their suitability first. The stainless steel brushes are quite thicker and harder than the brass bristles. So, you'll be able to scrub harder with the stainless steel bristle brushes without the fear of breaking them, while the brass ones may break comparatively easily. Plus, due to the thicker wires, the stainless steel brushes can help you clean faster than the other types.
However, due to the thickness of the stainless steel brushes, these can scratch your grills easily, and some grills won't be able to withstand heavy scrubbing with these. In such cases, using a brass brush would be much more sensible.
In terms of rusting, the stainless steel brushes take the crown. Brass brushes are more likely to experience rusting than these.
Finally, there's the nylon brush. These brushes are soft enough and less likely to damage your grill. They rarely do so. Nylon also lasts longer than both steel and brass brushes. They are very flexible compared to the previous two, so you'll be able to deep clean much easier with these.
Handle Length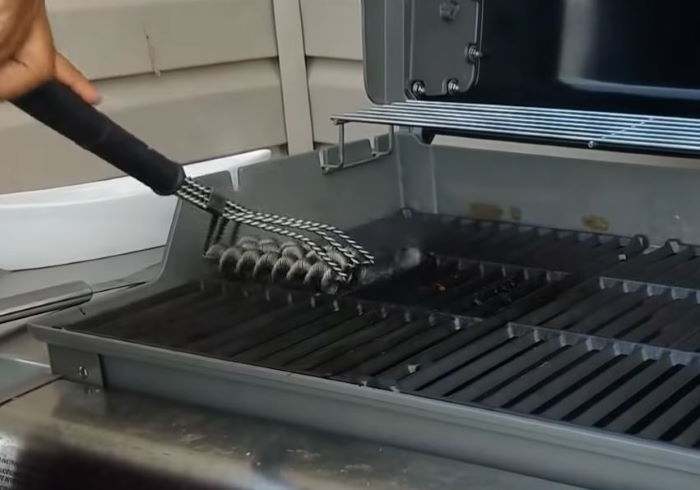 The handle is length is one of the most important factors to consider while looking for the best grill brush for yourself. Naturally, you'll find brushes with long handles or short handles. However, it's not possible to name either of these as the best choice. The discussion below will shed some light on this matter.
Long Handle
Long handles are considered as the better choice by many users, and one of the major reasons behind that is, these handles tend to keep your hands away from the hot grates while cleaning. Most of us prefer cleaning when the grates are hot because this makes getting rid of the debris much easier. This is another reason why people usually go for longer handles.
However, longer handles can be flimsy and may break easily if the build quality isn't that good. So, if you take any grill brush with long handles, it's safer to buy one that boasts a better build quality.
Short Handle
Then again, there are brushes with short handles. These brushes are firm and sturdy, but your hands will be closer to the grates while cleaning with these, which increases the risk of an accident.
So, which type should you go for? If you prefer cleaning when the grates are cooled down, you should go for the brushes with short handles. On the other hand, if you can afford premium brushes that offer a robust build quality, you're safe to go with the ones with long handles.
When choosing a brush, it is important how it lies in your hand and the feeling of grip. Make sure the brush has a comfortable, not too thin handle.
Handle Material
Brushes with foam for handles can be very tempting, but it's also important to note that they'll melt moments after you start cleaning with them. This is why it's important to find something with heat-resistant handles.
Brush Head Width
The brush head width determines the efficiency of the brush to some extent. While we highly recommend getting brushes with wider heads for faster cleaning, it's also important to note that these brushes won't deep clean as well as the ones with narrower heads. So, you need to determine which one matters to you more.
Ease of Cleaning
As discussed previously, the type of the brush, the material of the bristles, as well as the handle length, all of these can play a role in making the grill easier to clean. However, there's this one aspect that's been left untouched.
No matter which type of brush you're using, you'll need to clean it. The question is, how easy is it to clean the brush itself?
Among all the different choices, the steel and brass bristled brushes are easier to clean, as these are very hard themselves. The nylon-bristled brushes are fairly tougher to clean as they are likely to gather more food than the other types. Finally, there are bristle-free brushes. These tend to gather a lot of debris in them, and they can be very tough to clean properly.
Scraper
Scrapers can help you get rid of debris that can't be removed by the bristles or the wires. These are very essential for deep cleaning the grills, especially if you're going to clean cool grates.
We do not recommend using brushes with metal scrapers for beginners. Metal scraper can damage porcelain enamel on cast iron grids and grill bowls.
Dense Bristles
The brush with dense bristles will clean more efficiently.
Grime Guard
Some brushes, e.g., Broil King 64014 grill brush with removable head, features a silicone grime guard that keeps grime from spraying back while cleaning the grids.
This design allows even very hot grills to be cleaned. Pulling the brush over to you will never get greasy splashes on your clothes or burned with leftovers.
Shape
The most popular are rectangular brushes for cleaning and various types of cylindrical brushes such as T-brushes.
The rectangular brushes are ideal for everyday use. Thanks to the large brush surface, the grill can be cleaned in just a few gentle strokes.
To clean deep areas, it is best to use a T-brush. The T-brush can be rotated by 90 degrees, and even remote parts of the bowl and the grate can be thoroughly cleaned.
For this reason, our advice is to have 2 grill brushes. We recommend a square brush with a removable head for everyday use and a T-brush for deep cleaning.
Frequently Asked Questions
Here are some of the frequently asked questions on the best grill brushes.
How long should you use a grill brush?
We discourage using the same grill brush for more than one season. Grill brushes don't fare well in the long run, and you'll find them much more inefficient after a season of usage.
What Can I Use Instead of Wire Grill Brushes?
You can use tinfoil, a wooden scraper, a coil brush, or even a pumice stone instead of wire grill brushes. However, these won't clean the grill properly, and there's a huge chance that they will scratch the grates.
Should you splash water on grates during brushing?
No, I do not recommend splashing water during brushing unless you're using stainless steel wires or bristled brushes. While brass-made brushes can rust, nylon ones will get very dirty.
When do you need to change your grill brush?
A grill brush is like a toothbrush. You should change it periodically to ensure that your grill is hygienic, easy to clean and to prevent breakdowns.
The time it takes to change the brush depends on how often you use it and how you clean your grill. If you don't burn the grill grate properly, the brush will accumulate more fat, it will get dirty faster and it will need to be replaced more quickly.
If the grill is cleaned correctly, we recommend changing the brush every 2 years.
How To Prepare The Grill For Cleaning?
The grill grate should be cleaned after each cooking.
To do the cleanup correctly and as easily as possible, first, burn off the grate grille. That is easy. Set the controls to the maximum position and leave the grill on with the lid closed for 10 minutes.
After burning off, it is very easy to clean the grill grate with a stainless steel brush. The stainless steel brush ensures easy cleaning and does not damage the porcelain and enamel coating of the grates.
What Are The Risks of Using A Wire Brush?
While a wire brush might help you quickly clean your grill, the wires on the brush can break and fall out of the brush. These tiny wires can get picked up by food that you cook on the grill. There have been instances where people have ingested pieces of wire left by wire cleaning brushes. People have had wire bristles lodged in their throats and have had perforated internal organs from the wires. While these instances are rare, they do occur. You may be better off finding alternative methods of cleaning your grill.
Are There Any Alternative Methods Of Cleaning The Grates?
You don't have to use a wire brush to get your grill clean. Many grills will have a cleaning setting. However, you can simply turn the heat way up and burn the leftover material off your grill. Wooden scrapers that will clean off gunk without damaging grates are also available. There are many products available without wire bristles that will clean your grate. Visit a store near you to find a product that will work best for your needs.
Related reading: Best Grilling Tool Guide For Beginners
Conclusion
These were the best grill brushes for your grill that you can get your hands on right now. If you haven't got much experience looking for the right brush, things might be a bit complicated. We assure you that going through this one more time will straighten many things out.
I remember the first time I bought a grill brush, and it was a mess! Before you make your choice, we highly recommend reading the buying guide and cross-checking your requirements. When buying the best grill brush for your grill, it's very easy to make the wrong choice. The buying guide will ensure that you get exactly what you're looking for. Hopefully, that's exactly what you'll get!