Best Grilling Tools For Beginners
As with most outdoor adventures, you will need a few accessories to enhance your BBQ experience.
If you are a beginner grillmaster, here I will provide a large array of the best grilling tools for beginners to start your backyard culinary adventure:
Cleaning tools
Screens and Mats
Charcoal starters
Wood chips
Rubs
Sauces
And much more.
Charcoal Starters
If you grew up watching your parents try to light the charcoal grill, you may be worried that charcoal grilling will be complicated or difficult. Fortunately, you have nothing to worry about. Gone are the days of struggling to light charcoal with matches or a lighter. The days of towering infernos caused by the lighter fluid are also in the past.
There is a number of manufacturers that offer a variety of starters for charcoal, and these products make it easy to get your flames going. In addition to making charcoal safe and easy to use, these products create less pollution than lighter fluid and are easier on the environment.
Let us help you get your fire going quickly and safely!
Wood Chips
If you love the taste of smoked meat, wood chips are an easy way to add that flavor to your grilled food. These chips come in a variety of flavors, and you can add them to your grill after the charcoal has burned down to embers.
You'll find these items alongside our grilling accessories. If you have not yet discovered the joy of grilling smoked meat, you are definitely in for a treat. Let our experts help you get started on your new cooking adventure!
Cleaning Tools
The most important and the easiest to use grill cleaning tool is the grill brush.
I have written an article about choosing the best grill brush from the wide array of available brush types and models to suit your grill and grate type.
Grill Baskets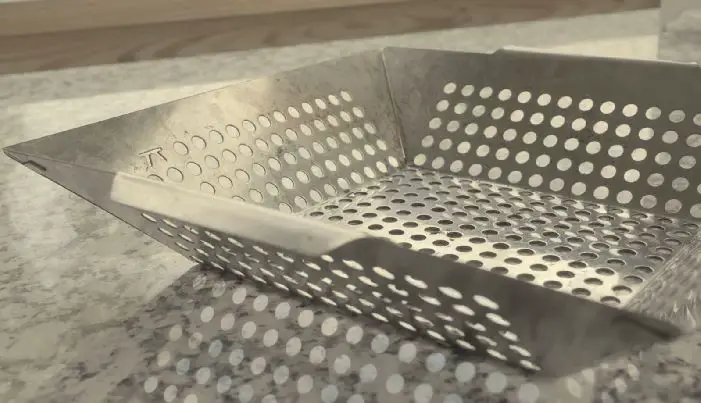 There are tons of different types of grill baskets around but usually grill basket is either made out of wire mesh or it is perforated or laser-cut usually from stainless or nonstick material.
The grill basket is the utensil that will contain food on top of your grill and help you to cook.
Screens and Mats
Coming soon!
Rubs
Coming soon!
Sauces
Coming soon!