Weber SmokeFire EX4 vs EX6 Preview – The New Weber Pellet Grill
The new Weber SmokeFire EX4 and EX6 wood pellet grills are Weber's first try to conquer this growing segment of the grilling appliance market.
Here is what we know about the new barbecue.
The wood pellets are used to give the barbecue the taste of a charcoal barbecue. At the same time, the operation is as simple as with a gas grill and as precise as with an electric grill, Weber promises.
Weber's SmokeFire features a display, a screw conveyor for wood pellets and all sorts of other cool technologies. Now you can be sure the Weber pellet grill is not only versatile and will be able to prepare the best possible grilled food, but also is smart.
Weber SmokeFire EX4Check Price
Weber Connect technology ensures that the digital grill assistant will send you notifications displayed on the grill's screen or in the smartphone app.
In addition, things like step-by-step grill instructions, temperature and cooking time countdown display, and even the grilling temperature can be controlled directly via the smartphone.
It sounds like a cool grill, although it might take some of the charms out of the original and traditional grilling process.
Since the pellet grill market is very large in the USA and Traeger is the top dog there, it is clear that Weber will not hesitate and spare no expense and effort to promote the grill even before its release.
Weber SmokeFire EX6Check Price
Features Overview
22lb Pellet hopper
200-600°F (95-315°C) temperature range
Plated steel cooking grates
Stainless steel flavorizer bars
The porcelain-enamel heat distribution plate
Meat probes – 1 included / max capacity 4
Webert connect smart grilling technology
Easy-clean ash & grease drawer
Related reading: Weber Performer Platinum Charcoal Kettle Grill Review
How Does Weber Smoke Fire Work?
Features Explained
With the Weber Smoke Fire pellet grill, you can sear steaks, smoke briskets and bake bread. The temperature range and precise temperature control set new standards in taste, time and barbecue options.
For many people, barbecuing is not just a passion but high art. To master them in perfection requires a good deal of experience – or smart support! The latter is now available as a Weber Connect digital grill assistant.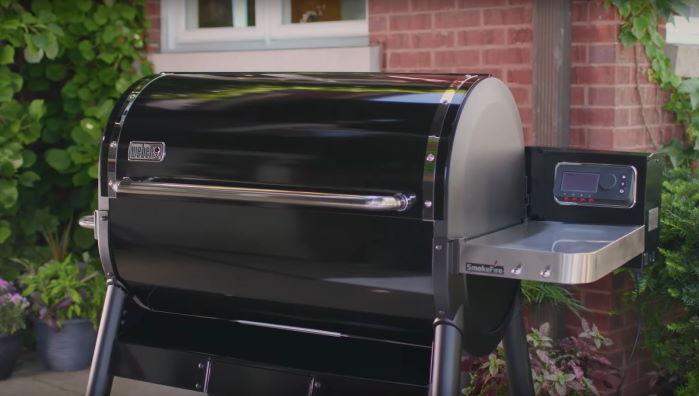 Temperature Range of 200-600°F
Thanks to the temperature range of 200-600°F multiple cooking techniques are available, from searing to smoking to baking.
Porcelain Enameled Lid and Cookbox
The porcelain-enameled surface is weather-resistant and guarantees long-term protection against rust and cracks.
Weber Connect
With Weber Connect digital grill assistant, it has never been so easy to grill the food exactly to the point. The step-by-step guide is built into the grill and sends notifications for each step from turn to serve, including a cooking time countdown.
Thermal Cleaning System
Ash and grease are fed separately into a closed, easily removable drip tray for quick and easy cleaning.
Read more: How To Clean Pellet Grill?
Flavorizer bars
The time tested Flavorizer bars distribute the heat evenly over the entire grate so that the grilled food is perfectly cooked.
Inclined Screw Conveyor
The unique variable speed auger has been specially designed to ensure a safe supply of wood pulp and prevent pelletization.
Large Capacity Hopper
The large-capacity hopper can hold 22 pounds of wood pellets, so you can smoke all day long.
LCD Display
The easy-to-read, weather-resistant LCD displays Weber Connect's step-by-step grilling instructions, time, temperature and control information.
Weber Pellet Grill Specifications (EX4 / EX6)
Dimensions – Lid Open (inches): 62″H x 43″W x 33″D / 62″H x 55″W x 33″D
Dimensions – Lid Closed (inches): 47″H x 43″W x 33″D / 47″H x 55″W x 33″D
Shipping Dimensions (inches): ND
Shipping Weight: ND
Unit Weight: ND
Total cooking area (square inches): 672 / 1008

Primary cooking area (square inches): 432 / 648
Secondary cooking area (square inches): 240 / 360

Fuel type: wood-fired pellet
Meat probes included: 1
Swivel casters: 2
Swivel locking casters: 2
Tool hooks: 2
Side tables: 1
Weber Smokefire EX4 vs EX6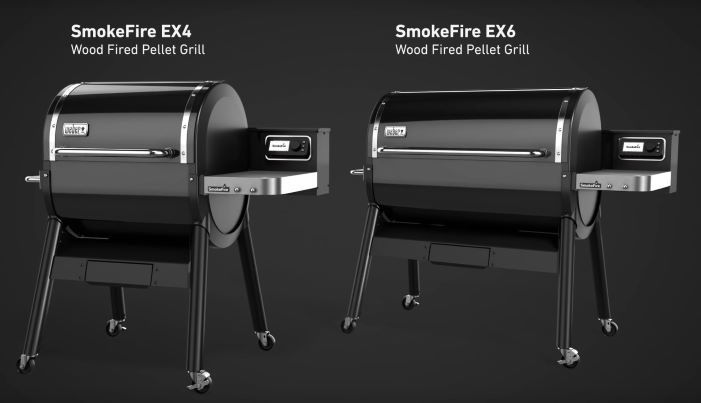 As far as I can tell the only difference is the grill size.
Weber Smokefire EX4 vs Traeger Pro 780
Coming soon!
Weber Smokefire EX6 vs Traeger Ironwood 650
Coming soon!
Weber Hardwood Pellets
According to the manufacturer, the Weber Smoke Fire hardwood pellets were thoughtfully crafted for the best tasting BBQ and designed to enhance the flavor of the authentic wood-fired taste.
Hickory
40% Hickory, 60% Oak
Moderate: bold, smoky, bacon-like flavor
Pairs well with: beef, poultry, pork, lamb, game meat, and vegetables.
Apple
40% Apple, 60% Maple
Mild: aromatic and sweet smoky flavor
Pairs well with: poultry, pork, vegetables, baked goods, and pizza.
Mesquite
40% Mesquite, 60% Oak
Strong: full bodied, big and rich smoky flavor
Pairs well with: beef, poultry, pork, game meat, and seafood.
Cherry
40% Cherry, 60% Maple
Mild: subtle, fruity, sweet smoky flavor
Pairs well with: poultry, pork, lamb, game meat, and seafood.
GrillMaster Blend
34% Maple, 33% Hickory, 33% Cherry
Moderate: balanced and savory with a mild, sweet finish
Pairs well with: beef, poultry, pork, lamb, game meat, seafood, vegetables, baking, and pizza.
Weber SmokeFire Grill Covers
For each Smoke Fire model, there s one Weber Premium grill cover model available:
Weber 7190 Premium Grill Cover for SmokeFire EX4
Weber 7191 Premium Grill Cover for SmokeFire EX6
Conclusion
Grills with wireless connectivity have been marketed by brands like Traeger Grills and Green Mountain Grills for years. I believe the Traeger is already several steps ahead of Weber after its introduction of Alexa connectivity for its new D2 models.
At the moment, the main thing that makes Weber SmokeFire grills interesting is the attractive price point. I hope Weber has an ace up its sleeve.
Here you can learn more about the best Weber grills.