Weber Genesis II E-330 Review | E330 vs E335 vs S330 vs S335 Comparison [Updated March 2023]
The Weber Genesis II E-330 gas grill is innovative in its own right and remains to be one of the top models.
It definitely takes into account what people need and want in their gas grills, instead of just incorporating over the top features in the device.
This model focuses on what is really important to users when they use their grills.
Its features are directed at giving the ultimate grilling experience, with its generous cooking area and high-powered burners. Please keep reading the Weber Genesis E330 Review to learn more about this great 3 burner gas grill!
I am working on adding the latest Weber Genesis models redesigned in 2022 to this review, including Weber Genesis E-335, Weber Genesis S-335, Weber Genesis EPX-335 Smart, Weber Genesis SX-335 Smart, and Weber Genesis EX-335 Smart.
Weber Genesis E-330 Features
3 Burners + Sear Burner
Equipped with a high powered sear burner (9,000 BTU per hour), you can enjoy a faster grilling time but not sacrificing food quality. The sear burner maintains high levels of heat to keep up with whatever you are cooking to ensure that you get the right tenderness, crisp, texture, and flavor.
Genesis E330's has three burners, controlled separately by individual ignition. With this, you can choose only to light up those burners that you need. Besides, this model also lets you do indirect cooking since its burners now run from front to back, giving you the option to maximize the heat.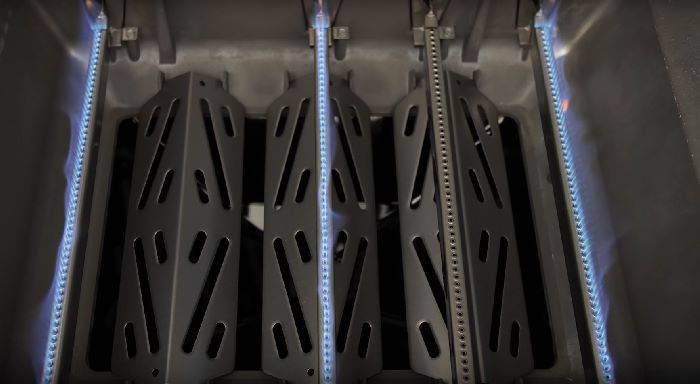 Side Burner
Select Genesis II models, like the E-330, S-335, E-335, and SE-335 come with a concealed 12,000 BTU's rated side burner on the right shelf of the cart. It adds the versatility to pan fry or simmer side dishes and do additional cooking while grilling.
Porcelain-Enameled Cooking Grates
Porcelain-enameled cast-iron cooking grates – helps in maintaining heat evenly and sear food magnificently.
For people who use their grills for cooking for larger crowds, a spacious cooking area is definitely a requirement.
The Weber E-330 gas grill offers 513 square inches of primary cooking area and a warming rack of 156 square inches. With this, it gives you the capability to freely and comfortably cook different dishes in one go.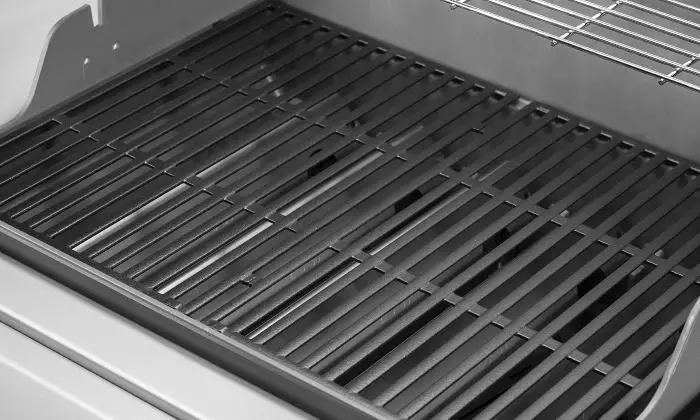 Ergonomic And Economical Design
The overall build of the Weber Genesis E 330 grill can really say something about its quality. You just know it can last a really long time. Its frames are welded into place to provide superior strength and stability.
The stainless steel burners and side tables are carefully thought out not to rust quickly. The whole machine is supported by four moveable wheels so that you can easily transport it wherever in your house.
The control knobs are strategically placed in front of the unit for smooth operation and monitoring. Also, there is a precision fuel gauge so you can keep track of your fuel level at all times.
Since the control knobs are now strategically located in the front panel (compared from previous models), the two sides are transformed into additional stainless tables for all your grilling needs. This provides you with ample space to work around.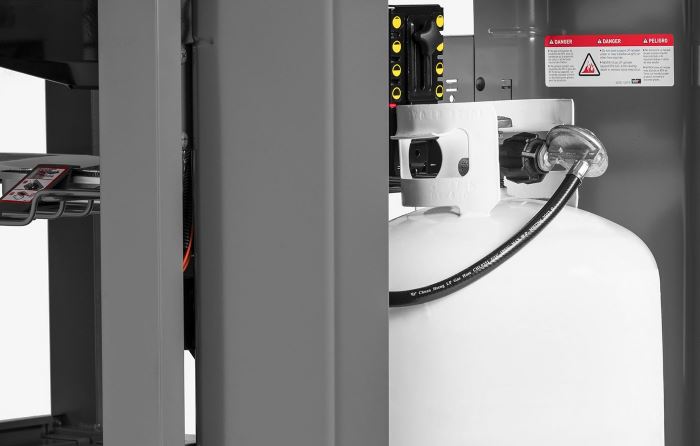 Other Features
Open-cart design (see E-335 model if you prefer the closed cart)
Side mounted enclosure hides your liquid propane tank – this avoids children and animals to pry on your LP tank
Porcelain-enameled Flavorizer bars
Related Reading: Gas Grill Safety Tips
Weber Genesis II E-330 Specifications
These are the specs of 2nd generation Genesis E330 grill.
Specs
Individual electronic ignition
3 Stainless Steel high-performance burners
39000 BTU/h input
12000 BTU/h input side burner
9000 BTU/h input sear station
Porcelain-enameled Flavorizer bars
Porcelain-enameled cast-iron cooking grates
6 tool hooks
Dimensions
Genesis II E-330 is 62 inches tall, 59 inches wide, and 31 inches deep. This is an average size for a natural gas grill.
You can easily fit this into your garden, lawn, swimming area, or garage, so placing it in your home definitely won't cause a problem.
If you believe that E330 is too big for you, you should check out the Weber Q3200 2 burner gas grill.
Specs of old Genesis I E-330 are in the brackets.
Primary cooking area = 513 (507) sq in
Warming rack area = 156 (130) sq in
Total cooking area = 669 (637) sq in
Height: 62 (64.5) inches*
Width R-L: 59 (60) inches*
Depth: 31 (30) inches*
*with open lid
Colors
Weber Genesis I E330
When I first published the review, the first generation Weber E330 grills were available in 3 color options of black, copper, or green.
Weber Genesis I EP-330
Later the manufacturer kept only the black option and moved the colors to the EP-330 premium version model (see comparison chapter below).
2nd Generation Weber Genesis E-330
Now the new Genesis II E-330 is again available in multiple colors.
the Liquid Propane model is available in Black, Smoke, Copper, and Crimson
the Natural Gas model is available only in Black

Fuel Types
This Weber grill with side burner is available for use with Natural Gas or Liquid Propane.
Which one should you choose?
If you already have natural gas service at your home, get the Natural Gas E330 model. If not, you can get any of them. Some people say that LP E330 smoker burns hotter, but I am not sure if it is true.
Comparisons
[table id=11 /]
Weber Genesis S-330 vs E-330
Before the recent model lineup update, the Weber Genesis E-330 stainless steel modification was called the Weber Genesis S330. It was the same old E-330 but made from stainless steel.
While you could get the old Genesis I stainless steel Weber S330 grill that was as an exact copy of E330, these days the open cart new generation Weber Genesis S-330 model DOES NOT exist.
The closed cabinet stainless steel Weber Genesis grill is now called Weber Genesis S-335.
Right now, if you want stainless steel version of the Weber 330 grill, your only choice is the closed cabinet model Weber Genesis II S-335 (shown below).
Weber 66006001 Genesis II S-335 3-Burner Natural Gas Grill, Stainless SteelCHECK CURRENT PRICE
Weber Genesis S-335 vs E-330
What is the difference between E-330 and S-335? The difference is that a few components are made from stainless steel.
The S-335 features stainless steel gill lid and cabinet doors.
Important! The Genesis E-335 also has 7mm stainless steel rod cooking grates.
Weber Genesis II S-335 vs S-345
You will not find the Weber Genesis S-345 on Weber.com because this is a special edition stainless steel model sold thru Costco. It is available only as a liquid propane model.
The Weber Genesis II S-345 is the S-335 cabinet model with bundled accessories for a very attractive price:
included iGrill 3
included 4 meat probes
included grill cover
included handlebar light
stainless steel 7mm grates instead of standard porcelain-enameled cast-iron cooking grates
Weber Genesis II E-330 vs E-335
[table id=15 /]
The main difference is the cart design. The Weber Genesis II E-335 has a closed cabinet cart.
Weber Genesis E-330 vs EP-330
The EP330 was the premium version of Genesis E330 available in 5 different colors – smoke, crimson, black, green, and copper – and featuring stainless steel cooking grates.
It has been discontinued. The Weber Genesis II EP-330 simply does not exist.
Weber Genesis II SE-330 vs E-330
This is another special edition model distributed by BBQGuys, ACEHardware, and Walmart.
The Weber Genesis II SE-330 is the crimson (SKU# 61032201) or smoke color E-330 with bundled accessories for very attractive price:
included iGrill 3
included 2 meat probes
included handlebar light
stainless steel rod 9 mm grates
Weber Genesis E-310 vs E-330
In the picture below you can see the E-310 and E-330 Liquid Propane models side by side.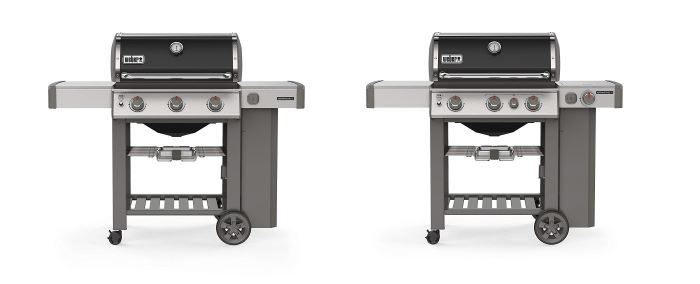 As you can see, they are quite similar, but E330 has a number of additional features.
Here is the quick overview of E330 extra features:
additional color choices – E-330 also comes in Copper, Crimson, Smoke
9,000 BTU per hour Sear Station burner
12,000 BTU per hour Side burner
For more information about the 330 model please check out my review of this BBQ.
If you want to learn more about Genesis E 310, you should check out the review linked in the yellow box right below.
Related Reading: Weber Genesis II E-310 review
Weber Genesis II E-335 vs E-435
The E-435 is a larger version of Genesis II E335 with an additional burner. Here you can read a Weber Genesis II E-435 review.
How Did Weber E330 Fare In Customer Reviews
The Genesis E330 is very well rated and received by customers. As said, people attested to how it can really cook well. You can barbecue just about anything on this machine, and expect nothing but excellent and tasty food.
Many users also like that the unit comes pre-assembled, so the total assembly time is faster.
People also took note of how it is priced cheaper compared to other brands, and still gives you excellent grilling quality.
Overall, this gas barbecue is highly recommended for anyone looking to get an outdoor gas grill. This is actually a good buy, especially if you are the kind of person who uses his or her smoker every so often. This might prove to be an excellent and wise choice for a gas grill.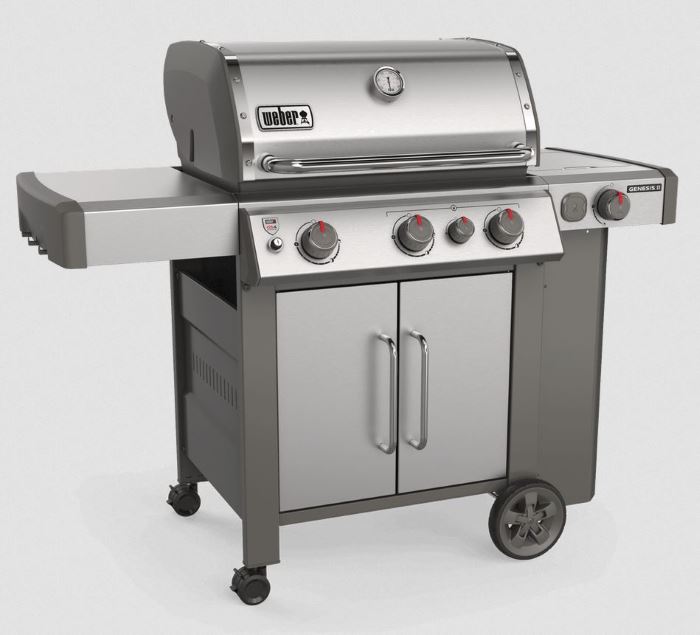 Weber Genesis E-330 Pros And Cons
Advantages
Many people noted that the Weber Genesis E330 grill hits all the right spots.
Users can honestly attest to how it can cook and sear food beautifully, and well, deliciously. They like the design of the burners, going all the way back to front, for indirect cooking. Not all grills have such an option.
Users also love the additional space below the grill and on the side tables as this made it easier and much more comfortable for them to cook.
Many find the assembly to be quick and uncomplicated since most parts came pre-assembled.
Its price is also considered to be reasonable, given all of its features and quality.
Disadvantages
There are very few accounts where people actually point out the drawbacks of this device.
Other than the concern of the stainless steel material getting rusty (which can be avoided with proper care and cleaning), there are really no or minimal issues with this product that can break the deal for you.
Some people are not happy about assembling the grill. It usually is not a big problem, because the instructions are well laid out and it should not take more than 1-2 hours even for a non-technical person. Or you can contact Amazon Customer Support and ask about the availability of the expert assembly program in your area.
Related Reading: How To Clean Coleman RoadTrip Grill?
Accessories for Weber E-330 Grill
Cover
I have reviewed the 7 bestselling covers that fit the E330 here in my Weber Genesis grill cover review.
Rotisserie
Roasting at home is a delightful activity, especially if you are preparing food for the people that you love. However, in the absence of the right set of equipment and tools, this will prove to be very difficult and complicated, leading into an imperfect roast.
You should make sure you choose the accessory that is perfectly fitted in the model so that it will function effectively.
The Weber 7652 Rotisserie is designed for the latest Genesis II and Genesis II LX 2 and 3 burner models.
When using the rotisserie, it is also essential that you do not go above the weight limit that is recommended. Then you can be assured that the motor and the rotation will work correctly and that you will end up with the right roast.
Sometimes it does not necessarily need to be replaced, just cleaned. Make sure that it is cleaned every time when cooking is done. This will be easier than cleaning after a long time, or when dirt has already piled up.
It is also important to remember that this rotisserie should be cleaned manually. It is small and easy to clean, therefore, will not require much effort and time to have the cleaning done. It is not dishwasher safe, so exert little effort to do the cleaning yourself.
Weber 7652 Rotisserie for Use with Genesis II & II LX 2 & 3 Burner 300 Series GrillsCHECK CURRENT PRICE
Weber iGrill 3
iGrill 3 is a smartphone app-connected thermometer that allows you to monitor the cooking process.
Weber 7204 iGrill 3 Grill ThermometerCHECK CURRENT PRICE
Grilling Surfaces
There are 3 more accessories available from Weber to add more variety to your cooking – the grilling basket, griddle, and sear grate.
Stainless Steel Rod 9mm Grates
Another major upgrade for your Genesis II grill is 9mm thick stainless steel rod cooking grates. They offer better heat retention for beautiful grill marks on whatever you choose to grill.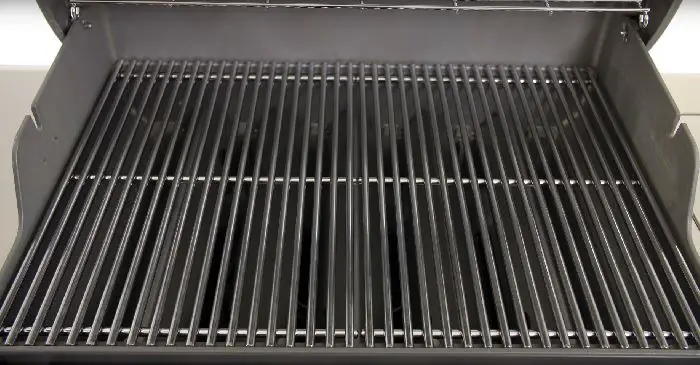 Where To Buy Weber Genesis E330?
'Where to buy the Weber Genesis E330 gas grill' and 'where can you find Genesis E330 best price' are the most common questions from people ready to buy the barbecue.
If you are looking for a place where you can buy Weber Genesis® E-330 Gas Grill, you will generally have two possible options: to get it from the local box store or to purchase it online.
If you do not have the time to go out and shop for a grill, I suggest you to consider buying it from Amazon. Other online shops that offer the product include Walmart, Home Depot, Shop The Woz, US Appliance, Aim to Find, Gerhard's and BestBuy, among others.
If you want to see the actual product and feel how it will work before making a purchase, the best way to go is to visit your nearest store – Ace Hardware, Lowe's, Home Depot, and True Value to name a few.w
Regardless of where you buy your Weber E-330 BBQ, some things should be ensured. For instance, check the covers of the warranty provided. Make sure as well that the product does not have any defect, especially when you were given the opportunity to have it inspected before purchase.
Consider all possible options before finally buying this grill. Their differences lie not only on the actual price, but also on added services such as delivery, warranty, and additional items that are sold along with the actual product. Make sure to check these things before making any decision.
What about the price?
While in absolute terms Weber Genesis 330 is not cheap, it is reasonably priced, given all its features. Are you hoping to find Weber Genesis E-330 sale? It is not very likely because it is a new model that will not be discounted right before the grilling season.
Click here to see Weber Genesis II E330 gas grill on Amazon!
Frequently Asked Questions
How did the old Genesis I grills look like?
Here are a couple of pictures of the old first-generation Genesis 330 grills.

Do the knobs Genesis 2 grills light up?
No, Genesis II control knobs do not light up. According to the manufacturer, only the Summit series grills feature lighted control knobs.
Where are the Genesis II grills manufactured?
Some of the units are manufactured in the US, some in China. You have to check the unit in question to see the country of origin sticker.
Why do some of the Weber Genesis grills have a small gas knob between two large knobs?

The small knob controls the additional small burner you will find in select more expensive Genesis grills like these reviewed in this blog. Weber calls this set of 2 large and 1 small burner a Sear Station. It has been designed to create a high temperature area for searing your steaks.