Weber Genesis II E-310 Review | E-310 vs E-315 vs S-310 3 Burner Gas Grill Comparison
I have noticed that many of you have found my review searching for the Weber Spirit II E-310 review. This review is mainly about the Genesis model, but here is the chapter about E-310 Genesis and Spirit comparison that will provide you with more clarity about these two gas grills.
When I saw the press release about the Genesis II model lineup refresh, I hurried to my computer to update my Weber Genesis II E-310 review.
The Weber Genesis II E310 is the most basic model of the Genesis 3 burner gas grill product family. But even without the side burner and sear burner (you will find these features in the more expensive Genesis II E330 grill), the E-310 will provide superior grilling performance.
Genesis has been known for years as a name for a fantastic series of grills. What makes it different are its features which have been further developed to provide better results to users.
Please keep reading my review to learn about the features and benefits of this tremendous barbecue grill and similar models derived from the E-310.
I am working on adding the latest Weber Genesis models redesigned in 2022 to this review, including Weber Genesis E-325s, Weber Genesis SX-325s, and Weber Genesis EX-325s Smart.
Weber Genesis II E31x Models – Quick Summary
Here are a quick summary and comparison of Weber Genesis E-310, S-310, and E-315 gas grills.
[E310 vs S310 vs E315]
Weber Genesis II E-310 Overview
At the moment of writing this review, the Weber Genesis II E-310 was one of the latest addition to the Genesis series of gas barbeques.
New features were added, and others were enhanced so that users would find it more convenient to grill on their Weber E-310.
The grill features a wide cooking area of 513 square inches of cooking space. You can add 156 sq in a tuck-away warming rack to get a total 669 square inch cooking area that will serve your family dinner and a small home party.
Genesis gas grills have long been known for their astonishing ability to cook meat perfectly. The features added to this product enhance its cooking performance even more.
The Weber E310 gas bbq features porcelain-enameled cast-iron cooking grates, which help retain the heat to cook the meat evenly.
There is also a built-in center-mounted thermometer that allows you to monitor the temperature of your grill.
This bbq, in my opinion, has one of the best designs for a gas barbecue. It is not only stylish in appearance – but you can also tell that it is made of high-quality materials, which gives an assurance that you will be able to use it for many years.
Features
The Weber Genesis II E-310 is the updated version of the popular Genesis I series E310 gas grill.
I have compared the old and the new model, and here is what I have found.
Ergonomic Controls
One of the most apparent changes in the Genesis II E310 is the change of its control knob design.
The ergonomic control knobs are located on the front panel to be able to provide full-on heat control as you grill using its 3 stainless steel burners.
Electronic Ignition System
Weber Genesis 310 also features a continuous spark Infinity ignition system so that you will not take too much time and effort lighting up the bbq.
Push the burner control knob in and turn it anti-clockwise to the Start/High position. Push and hold the electronic ignition button. Peak through the cooking grates and the half-circle cutout in the flavorizer bars to ensure the burner is lit.
If manual backup ignition is needed, the window on the flame tamers makes this easy to reach using the BBQ lighter.
Flavorizer Bars
Weber's removable stainless steel Flavorizer bars are installed underneath the cooking grids.
These flame tamers form a tent shape over the burners. They protect burners from debris and provide a surface for drippings to vaporize off.
Because of this design, the flare-ups are kept under control when cooking greasy items like chicken wings or burgers.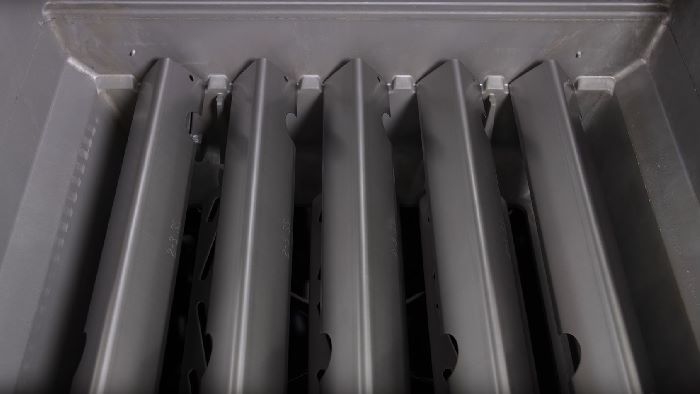 Side Mounted Gas Tank
The gas tank in the LP model is mounted on the right side of the grill under the side shelf so that you can use the space under the cookbox as you wish.
Fuel Gauge
You will no longer have to keep guessing whether you are running out of fuel as this cooking tool has a precision fuel gauge that lets you know how much fuel you have left.
Under the right side shelf of the grill, there's a tank hook that doubles as a gauge, giving you a clear view of how much fuel you have available. If you have the iGrill3 installed, you can even monitor your fuel level through the application. This applies to the LP model only.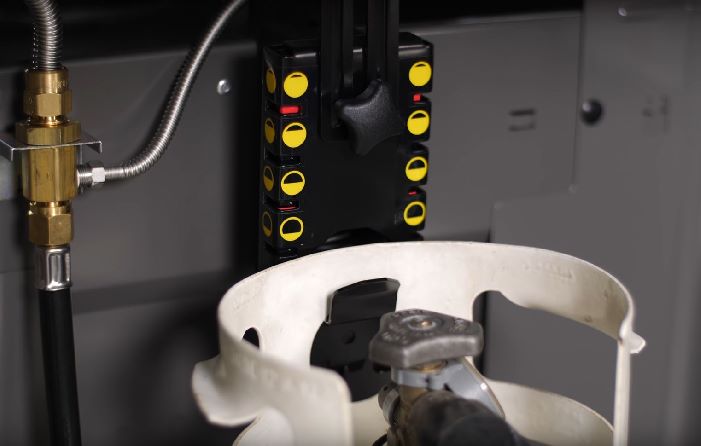 Tuck-Away Warming Rack
In case you need extra cooking space or just want to keep the first batch warm while you work on finishing the cooking, there is a 156 sq in warming rack in the back of the grill. If not needed, it also easily flips down for storage.
Grease Management System
The grease management system consists of a removable grease tray beneath the grill that you can slide out when cleaning is needed and disposable pan liners.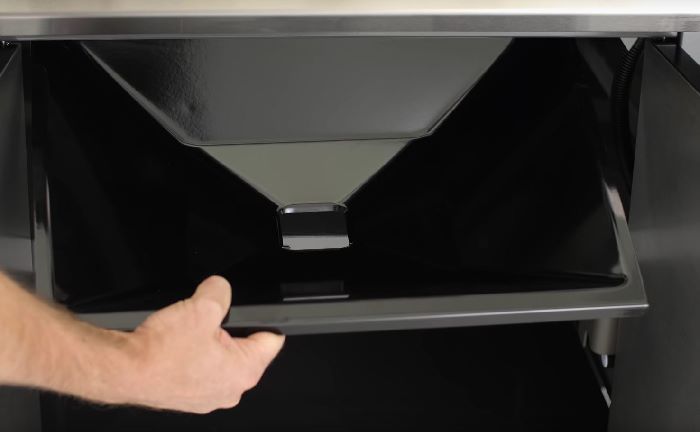 Stainless Steel Side Tables
There are stainless steel side tables on both sides of the grill.
Tool Hooks
There are 6 tool hooks – 3 on each side table.
Open Cart Design
I used to like how the gas tank was discreetly hidden below the grill in the enclosed cabinet. Now you have to choose the E-315 model if you prefer the cart with a cabinet. The new E-310 model features an open cart design.
iGrill 3 Compatible
The Genesis grill comes with mounting space for the installation of iGrill3. The iGrill3 lets you wirelessly monitor up to 4 temperature probes from your smartphone.
Related reading: Weber Q2000/Q2200 Gas Grill Review
Optional Assembly Service
The Genesis II grill has to be assembled upon delivery, but that will not be a problem, with the instructions included being easy to follow.
You can do it on your own, but it would not hurt to have someone help you assemble it faster. Several retailers offer optional Expert Assembly service.
Warranty
The grill is covered by a 10-year manufacturer's warranty on all components, excluding normal wear and tear.

Weber E310 Specifications
Individual electronic ignition
3 stainless steel burners
39,000 BTU/h input
Total cooking area = 669 sq in

Primary cooking area = 513 sq in
Warming rack area = 156 sq in

Porcelain-enameled Flavorizer bars
Porcelain-enameled cast-iron cooking grates
Built-in lid thermometer
6 Tool hooks
Liquid Propane or Natural Gas versions are available
Available colors – black, stainless steel, copper (depends on the model – see part number list below)
Dimensions
Height: 62 (61) inches*
Width R-L: 59 (54) inches*
Depth: 31 inches*
*with an open lid
Weber Genesis E310 Reviews From Users
Customers have expressed their satisfaction regarding the speed of the heating and the distribution of heat. The grilling is done evenly, and the food is cooked to perfection. The machine is easy and efficient to use, without any flare-ups or residues.
According to my research, the 513 square inches of grilling space provides a lot of real estate to put many pieces of meat and bread and cook them throughout, and there are no hot spots. The flavorizer bars catch the remnants of the food and vaporize them so that the sauces and aroma circulate around the cooker, and hence the flavor of the food is enhanced.
Most users have felt that this product lives up to its price and comes with features that allow high-quality grilling. It comes with a user's guide, and customers have found success with their grilling with the easy instructions provided.
Some users have stated in their Weber Genesis II E-310 review that the inclusion of the 3/8" quick disconnect was not mentioned in the guide. This has led to some people purchasing external quick disconnect features, which turned out to be redundant. Also, the amount of gas pressure required to operate the natural gas machine was not mentioned, and this was also a problem and a potential hazard.
You can click here to read user reviews on Amazon.com!
Pros and Cons
This Weber Genesis 3 burner grill offers a number of advantages.
Pros
Multiple fuels and design options are available
Reaches high work temperature within a matter of minutes of preheating – even without the Sear Station, the E-310 pre-heats from 0 to 600 in about 16 and a 1/2 minutes
Grills the meat throughout and cooks it perfectly
It does not leave a mess behind, thanks to the efficient grease management system
There is a lot of space provided to place many pieces of meat, veggies, and bread and grill them at the same time
The temperature is even, and there are no hot spots.
The stainless steel flavorizer bars retain the spices and vapor and make sure that the flavor of the food is rich
The user's manual provides direct instructions that allow for a remarkable grilling experience if followed properly
Even though it is expensive, it makes up for it with its excellent quality
Cons
The latest version does not have a fold-down side table for more efficient storage in limited space
The maximum heat levels this bbq can reach without the sear burner (640-650) is not suitable for extreme heat cooking
No side burner
The normal wear and tear of the porcelain-coated cast iron grids can cause the coating to chip, making the cast iron portion of the grid prone to rust
What is in the box?
Included in the Webber E310 package are 2 heavy-duty front locking casters, 2 heavy-duty back swivel casters, and 2 extra-large stainless steel tables.
Accessories To Consider
When buying a gas grill like this one, consider getting some drip pans like a set of Weber 6415 Small 7-1/2-Inch-by-5-inch Aluminum Drip Pans and the Weber Genesis grill cover.
There is a long list of accessories and upgrades the demanding grillmaster can dream about:
iGrill 3 grill thermometer
Sear Grate
Griddle
Rotisserie
Deluxe grilling basket
Available Options
When considering getting the Weber Genesis E-310, you can choose between different fuel options, colors, and open-cart and closed-cart designs.
Open Cart or Cabinet
You can choose between open cart E-310 and S-310 and E-315 with a cabinet.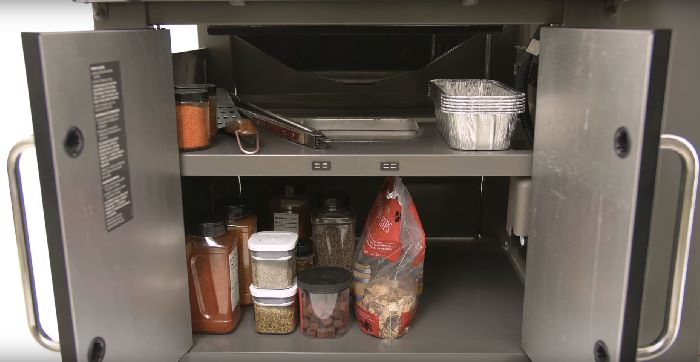 Colors
There used to be a few color choices – you could get this BBQ in Stainless Steel (model S-310) or Black finish.
Now you have the same two colors for the E-310 (black E310 or stainless steel S310) and two color options for the E-315 – Black or Copper. Sorry, the steel S-315 is not available at this time.
If you are looking for a 3 burner grill in bright colors, check out Spirit II E-310, which is available in Red, Ivory, Sapphire, and Black. Please scroll down to read a more detailed comparison of Genesis II E-310 and Spirit II E-310.
Natural Gas and Liquid Propane Fuel
Two choices as well – this model is available as natural gas and as liquid propane-fueled barbecue.
It is important to note that it is not possible to convert the grill for use with other fuel types.
Model Numbers
These are the model numbers for different color and fuel models.
Weber Genesis E-310 Models
61010001 – Black LP (discontinued SKU)
Weber 61010001 Genesis II E-310 Black LP Outdoor Gas GrillCHECK CURRENT PRICE
Weber Genesis II S-310 Models
Weber Genesis II E-315 Models
3 models of Weber Genesis II E-315 grill are available:
Weber Genesis II E-325
Weber Genesis II E-325 is a limited edition model available through Walmart, Ace Hardware, and a few other selected retailers.
It is similar to the E-315 model (the one with the cabinet) and also features a Sear Station burner like the one you would get in the E330 model.
It is available in black and indigo.
66017901 – Black NG
ND – Indigo NG
ND – Black LP
61077901 – Indigo LP
Comparisons
Let's see how the Weber Genesis II E 310 compares to other similar Weber barbecue models.
Weber Genesis II E-310 vs S-310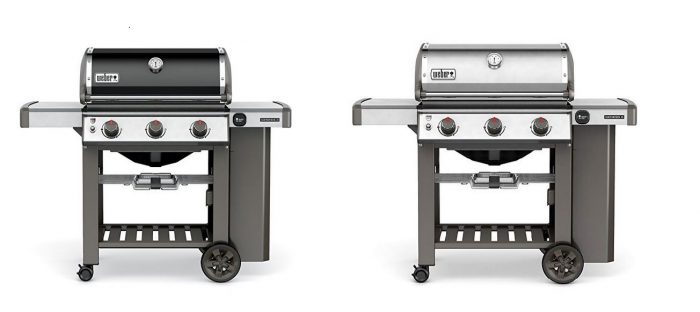 The difference between E-310 and S-310 is primarily visual.
The WeberE-310'ss lid is porcelain-enameled, but the lid of the S-310 is made of stainless steel. It looks terrific, but you should be ready to pay extra for the looks (click here to see the S310 price!).
Related Reading: Weber Genesis II E-330/E-335 review
Weber Genesis II E310 vs E315
The most distinct difference between these models is the grill cabinet of E-315 you will get for a reasonable additional cost (see the current price!):
The Weber Genesis E-310 features open cart design
The Weber Genesis E-315 features a grill cabinet with painted steel doors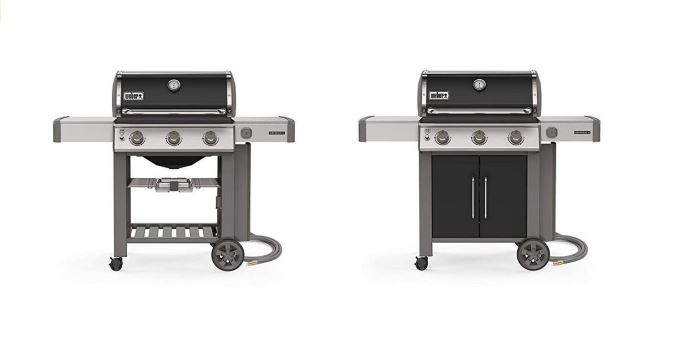 [table id=14 /]
Weber Spirit E-310 vs Genesis E-310 Comparison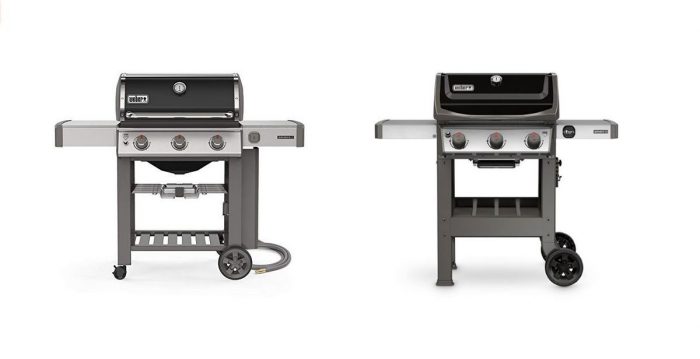 The Weber Spirit II E-310 provides more space for the money and also more color options.
At the same time, Genesis II burners reach higher temperatures and cook more evenly. Genesis II models use temperature gauges and fuel gauges. The Genesis II series grill offers 39,000 BTUs, compared to the Spirit II, which has 30,000 BTUs.
The propane tank is kept in a semi-enclosed space in Genesis II and completely exposed in Spirit II. The Spirit II contains two big wheels, and Genesis II has the wheels as well as two casters.
Genesis II lids are heavier and provide better insulation and more fuel-efficient preheating.
Both of these grilling machines are made in China. They have the same open-cart design and porcelain-enameled cast-iron cooking grates. Both of them have warming racks. While the Genesis II warming racks have a tuck-away feature, the Spirit II warming racks do not.
Both E310 grills have side tables with 6 hooks. They both come with a 10-year warranty and have a lot of similar features, such as burner tubes, infinity ignition, updated grease management systems, and flavorizer bars.
[table id=6 /]
Weber Genesis E-310 vs E-410
[table id=7 /]
The E-410 is a bit larger version of the Weber Genesis E310 grill with more cooking space and higher BTUs. The E410 is available in additional colors.
If you often cook for crowds of 4 or more people and the available space and higher price are not an issue, the E-410 will be a smart choice.
Click here to see the Weber E-310 current price!

Frequently Asked Questions
What size drip pan for Weber Genesis® II E-310 gas grill?
The Weber 6415 Small Aluminum Drip Pan fits Genesis 3 burner and smaller grills. The top of the drip pan measures 8.5 x 6 inches, and it tapers in, so the bottom measures 7.5 x 5 inches.
What is the difference between the Weber 61011001 grill and the 61010001?
The 61011001 is the current part number for the black Liquid Propane model. The 2019 Genesis II E-310 (61011001) is taller, has stainless steel flavorizer bars, no folding left-hand side table, and has a higher BTU rating.
Can you convert propane Genesis II E 310 to natural gas?
No, you can not convert Weber Genesis II from one fuel type to another.
Related reading: How To Clean Weber Gas Grill?
Conclusion
The Weber Genesis E-310 grill offers excellent value for money for everyday use.
But if you are looking for a grill that can heat up to 700 degrees, you should choose the model with the searing burner.
Overall, the Weber Genesis II E-310 3 Burner Gas Grill is an excellent choice for anyone looking for a reliable and robust gas grill that won't break the bank.
Its high-quality construction, excellent temperature control, and plethora of features make it a great choice for any grilling enthusiast. With its spacious cooking area, expansive side tables, and generous warranty, it's sure to provide plenty of delicious meals for years to come.