How To Clean Weber Grill – Quick Tips About Cleaning Genesis II Gas BBQ
Summertime means grilling time! Whether you have a brand-new grill or a trusted old grill, maintenance is of paramount importance. However, you, like many grillers out there, maybe wondering how often should your grill be cleaned.
A clean grill is essential to maintain, and even extend the grill's life span. We want to offer you some helpful tips on the optimal frequency of cleaning your grill and a couple of handy tools.
There is no reason to become overwhelmed when you consider cleaning Weber grill. It is neither time consuming nor difficult if you know how to do it the right way.
Now we will give you step-by-step instructions on how to clean Weber gas grill quickly and easily.
Clean your grill quickly and proceed with grilling meat after meat and use the superior functionality of your barbecue to the full extent!
But you have to make sure that you also take some time to clean your gas grill, as it will make the product last longer and function more effectively.
First, let's learn how to clean the inside of a gas grill.
Cleaning Grates and Burners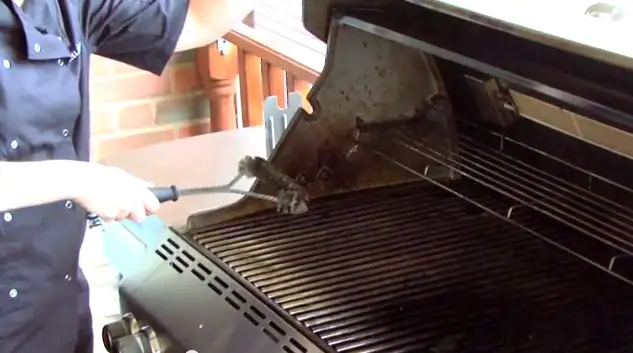 The Weber Genesis II E-330 is easy to clean. Since the burners are made of stainless steel, you can use a grill cleaning solution and a microfiber towel to get the job done.
Quick tip – you can even use white vinegar to clean your bbq! Finish the cleaning just like how you would clean any other gas grill burners.
Make sure to have all the grates and rotisseries removed from the burner. You can do this by removing the burner. It is easier to have it cleaned when it is detached from the actual product. Make sure not to leave any grates to be assured that even heating will be given out by the product the next time you are cooking.
Once you finish cleaning the burners, before they are returned, make sure that they are dry. This will prevent water spots. If it is still wet, it can affect the quality of the food the next time you use the griller.
Cleaning Outside
Make sure that the sides and lids are also washed. With the use of a towel and cleaning solution or a damped cloth, wipe the side steels and see to it that no particles are left. Do this every time after grilling is done. The longer you ignore t the dirt, the harder it will be to have it removed.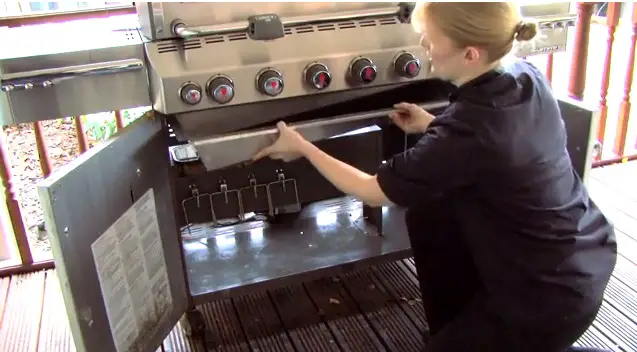 Even if the BBQ is made of stainless steel, keep in mind that you should not use metal brushes and steel cleaners. They are very harsh, and they will not allow you to clean your machine successfully. Instead, when used, you will end up with scratches that will negatively affect the way your grill looks.
Bottom Trays
If the barbecue has been in the storage room and unused for a long time, make sure to have it thoroughly cleaned first before you proceed with grilling.
This will allow you to remove all the dirt that has already accumulated and will give you an assurance of having a perfect grill.
You should make sure the grill is completely dry before putting on the Weber Genesis grill cover.
Cover
Speaking about the cover – it also should be taken care of. This article tells precisely what to do to clean your grill cover.
Cleaning Instructions Video
Please check out this video for more tips on cleaning the Weber gas grill!
Now you have learned how to take care of your E330, but you can also use these instructions to clean other Weber grills.
Frequently Asked Questions
How Often Should You Clean Your Grill?
For charcoal grills, you want to at least lightly wipe down the grill after every use. However, you need to clean the grate well after every use. The reason for this is because you do not want the burnt remains of your previous grilling session to get on your new grilled masterpiece. A good tool to help you clean the grate is a wired brush. The wired brush scrubs the burnt remnants off a lot easier.
For gas grills, you want to at least wipe down the grill after every use. At least once a year, you want to give your grill a very thorough cleaning. This means going through and removing parts while cleaning through all the crevices. A good tool for you to use in cleaning your gas grill is a grill-cleaning solution. There are many brands, but make sure to get a cleaner that is specifically meant for grills and follow the instructions.
Grill Cleaning Services
Still, confused and overwhelmed? Go to the Google search page and look for the Weber grill cleaning service near you!
Conclusion
For grilling enthusiasts, nothing quite matches the taste of meat and vegetables that have been grilled to perfection. If your favorite way to kick off the summer season is to throw a neighborhood barbecue, now is the right time to make sure that you have a grill that is in good working order when it's time to start the party.
Or, if you are a devoted griller who cooks outside year-round, my advice can help you make sure that your grill is ready to go at a moment's notice. Come rain or shine (or even snow!), nothing needs to interfere with your plans for delicious barbecued food.
I hope I have answered your question about how to clean the Weber grill.
Related Articles