Weber Q2200 Review | Weber Q2000 Review | Weber Q 2000 vs Q 2200 Portable Propane Gas Grills Compared
I decided to write this Weber Q2200 review to share what I have learned about this awesome propane grill. Almost everything in this review also applies to the Weber Q2000 which shares more similarities with Q2200 than there are differences.
Hosting a barbecue party at home is something that I enjoy. In some cases, even if it is just me and my family, I still spend some time making the best barbecues for them. I often do it when we are camping out of town, especially when we are on the beach.
While a lot of people would prefer going out to the steak house, I am one of those who would instead cook my own ribeye or sirloin steak. And these days it might be quite impossible to find a place to eat out due to all these restrictions.
If you are in a hurry, here are links where you can check the current prices and user reviews:
Weber Q 2000 grill
Weber Q 2200 grill
It took me some time and practice to learn how to make grilled food. Everything is possible as long as you are using the right equipment from a trusted manufacturer.
In my review, you will learn why this model can prove to be a purchase that you will not regret making.
Weber Q2000 vs Q2200
The first question people are asking is what is the difference between Weber Q 2000 and Q2200.
Weber Q2000 Liquid Propane GrillCHECK CURRENT PRICE
The two models are very similar, and there are only marginal differences:
The Q2000 uses a single cast-iron cooking grate, but the Q2200 has a two-piece grate split in the middle
The Q2200 features a temperature gauge built in the lid
The ignition mechanism of Q2200 Weber grill is somewhat more advanced (electronic vs push-button ignition)
There are also slight ergonomic differences
If you think that this product does not fit your requirements, please also check out the other model.
Weber Q2200 Liquid Propane GrillCHECK CURRENT PRICE
Weber Q2000 Features
Electronic Ignition
One of Weber grill's features that makes it one of the best budget gas grill models is its electronic ignition. This allows you to quickly turn on the fire on your griller in just seconds. You will also be able to keep its light under control thanks to its adjustable burner valve with a high-quality regulator. It has a U-shaped burner to ensure that heat is distributed uniformly.
Large Cooking Area
It has a cooking area of 280 square inches which means that you can grill up to 15 hamburgers at once. That is a large cooking area considering that it is a portable grill. It also features a built-in thermometer so that you can quickly check what your food's cooking temperature is and adjust the fire as necessary.
If you are looking for an affordable compact gas grill with an even larger cooking area, you should check out the Weber Q3200. It sports 393 square inches of cooking space but you will lose some of the mobility in exchange because the Q3200 comes with the attached cart.
Ease Of Use
If you want a grill that will last you not just months but years, you should definitely consider buying this gas grill. It is made of cast iron grate as well as quality components and a sturdy base to make sure that it is solidly built.
Because the Weber Q 2200  barbecue is made of these high-quality materials, it can be on the heavy side. However, when your unit is a bit heavier, that may not necessarily be a bad thing.
You will be able to tell that each piece of the grill is made of high-quality materials by merely looking at it. It is also straightforward to assemble your Weber Q2000 BBQ. You can easily attach the handle, lid, and thermometer (if you got the Q2200) without taking too much of your time.
Specifications
12,000 BTU per hour
Stainless Steel burners – 1
Total cooking area size 280 square inches

Primary cooking area – 280 sq in
Removable warming rack- not available

Fuel – Liquid Propane
Dimensions
Tables in working position and lid open (in) – 26″H x 51.4″W x 24.3″D
Tables in working position and lid closed (in) – 14.5″H x 51.4″W x 19.5″D
Width with side tables folded down – 37in
Shipping Dimensions
Please leave the comment below, and I will find the Weber Q 2200 shipping dimensions for you.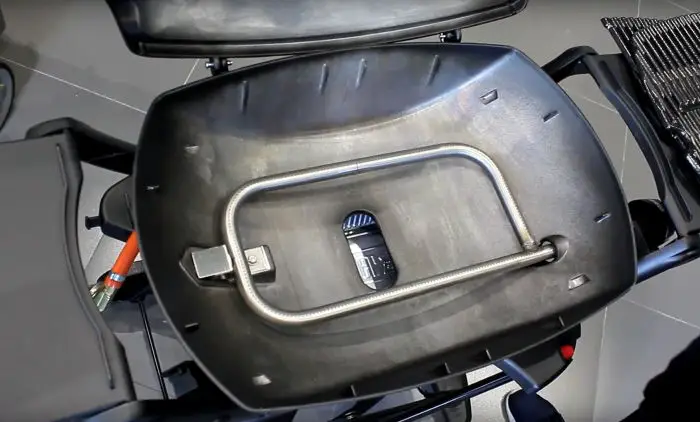 Weber Q 2000 Portable Gas Grill Review
This BBQ model from Weber is being considered by many people to be an excellent choice when looking for portable gas BBQs. The company has spent years in research and development to be assured that they have the best offerings in the market. This model is living proof of such.
This grill offers 280 inches of total cooking area and 12,000 BTU-per-hour input. One of the features that I like the most about this model is the fold-down table that can provide additional space as you prepare the ingredients that you need or when warming. When it is not used, you can have it folded down.
When it comes to durability, the barbecue is sure as well to deliver a high level of satisfaction. The lid and body are made of cast aluminum that can provide extended functional life. On the other hand, the cooking grates are made from porcelain-enameled cast-iron, which is equally exceptional when it comes to durability.
About being durable, it also has a sturdy construction that will make it possible for you to have it used as a stable fixture on the patio or even as a stationary grill. The design is also well-balanced to make sure that it stays stable while on a flat surface.
Another feature that I liked about this product is that it offers an exceptional grilling experience that is promising great results. It is made in such a way that you can be able to prepare grilled delights that will surely amaze anyone. The best thing is that such will be possible in a manner that is almost effortless on your part.
Weber 2000 Customer Reviews
One of the main reasons why I enjoy using this grill, which has been the same thing expressed in several reviews about the Weber Q2000 grill, is the fact that it is easy to use. Many things make it possible, such as the push-button ignition that makes it easy to start the unit. It also has a convenient source of fuel.
While the unit is easy to use, the customer reviews of this product were also unanimous in opinions about the ease of cleaning and maintenance. It has an excellent design, such as through the inclusion of a removable catch pan. The latter can catch all of the drips and mess to prevent the unit from becoming dirty, and hence, less effort will be required to clean it.
However, in spite of the many good things about this BBQ model 53060001, there were some who were not happy with the fact that it weighs 42 pounds. The appliance is massive, and will even be heavier when you add the attachments, such as the fuel. As such, many customers have noted that it can be a challenge to move it to another location. That is why you should look into the smaller Q1000 model if mobility is important to you.
Box Contents
The package also includes a Weber Q recipe booklet, tubular stainless steel burner and 12,000 BTU-per-hour input.
A brand new Weber Q2200 and Q2000 usually comes with a limited warranty which comes in handy should you have problems with your item.
Comparisons
Weber Q200 vs Q2000
In short – the Q2000 is the same old Q200 grill with few design updates.
Stay tuned for a more thorough comparison analysis!
Weber Q220 vs Q2200
In the same situation as with Q200 / Q2000 – there are no significant differences except a few design tweaks.
Weber Q 2000 Accessories
The Weber gas bbq package comes with 2 durable tuck-away work tables with built-in tool holders that can be folded and stored inside the grill. You will be able to use these when you buy tools that you can use in your cooker. There are a lot of utensils that are being sold, and that can be both an advantage and a disadvantage.
It is a good thing as you will be able to shop for any kind of tool that you will need for your Weber griller. On the other hand, you may be confused as to what tools you need to get as there just are a lot to choose from.
Gas Cans
The Weber Q2200/Q2000 gas grill operates on standard 14.1 or 16.4-ounce propane cylinders which are sold separately.
Grill Carts
As you decide to buy Weber 2000 grill, I suggest that you also take a look at the stands featured below.
I should warn you that normally you will not get the Weber Q 2200 with stand unless a retailer has set up some kind of special bundle deal. So you will have to buy a stand or cart separately.
Since this specific model of the grill is heavy, which is 42 pounds, the rolling cart will prove to be helpful in making it a lot easier to have the BBQ moved from one place to another, while providing a steady stand at the same time.
I have reviewed the manufacturer's information and customer reviews to make sure that all these stands are compatible with Q 2000 BBQ:
Weber Stationary Cart for Weber Q Grills (Model 6508)
Weber Q Patio Cart (Model 6525)
Weber 6557 Q Portable Cart for Grilling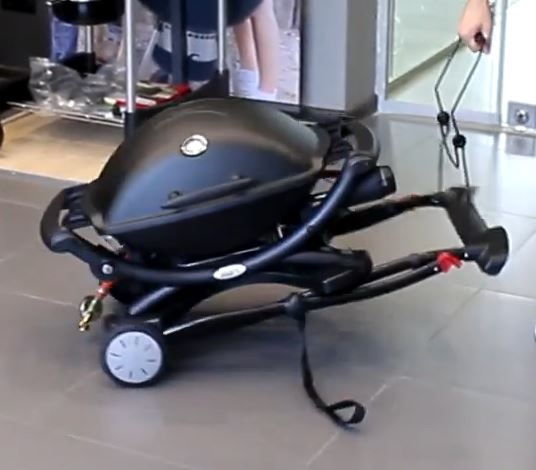 Covers
If you are planning to store your barbecue outdoors, you should take a look at some of the Weber Q grill cover models that will protect your BBQ.
Buying Guide
Let's have a quick look at the most critical things to keep in mind when shopping for a portable gas BBQ.
Durability
This is perhaps one of the most important things that should be taken into account. It is indicative of the quality of the grill that you are about to have. It is essential to make sure that it is made from high-quality materials that will be able to withstand long-term and frequent use. Also, the materials must also be lightweight so that it is portable.
Cooking Area
When thinking about the cooking area of the grill, it is not a good idea to immediately settle with an option that offers the most extensive cooking space. Make sure to consider what you need, as well as the space that is available in your house. Aside from the primary cooking area, it will also be good if there is a place for warming and preparation.
Ease of Use
For the portable gas grill to be easy to use, I suggest that you look for a model that has a simple and straightforward design. It is critical to making sure that it is excellent when it comes to ease of use. Otherwise, it is probable that you will no longer find time to cook since it takes a lot of effort to do so.
Ease of Cleaning
Aside from being easy to use, it should also be kept in mind that you should choose a model that is a breeze to clean. The easy cleanup will make it effortless to make sure that it will last for an extended period. The appliance must also be designed in such a way that it has a mechanism to reduce the mess that it creates.
Brand Name
Many people might think that this is a small factor to be taken into account. I believe, however, that this is of utmost importance. The brand name can be an assurance that the product is excellent regarding quality.
Conclusion
If you are shopping for a grill that has a great set of features yet is easy to operate and does not cost a fortune, here is what we would like to suggest to check out – the Weber Q2200 grill.
While a gas grill, in general, is a great cooking tool to use at home, the portable grill has a compact size which makes it ideal to use for picnics, family trips, concerts, or sporting events as well. You can easily fold it so that you can take it with you or so that you can store it when it is not in use.
Related Articles