Weber Q2200 Review | Weber Q2000 Review | Weber Q 2000 vs Q 2200 Portable Propane Gas Grills Compared
Propane gas grills are the go-to choice for many grill enthusiasts, and for a good reason. They are user-friendly and offer excellent temperature control, making them ideal for cooking a wide range of dishes to perfection. Among the many brands in the market, Weber stands out for its consistent quality and innovation.
As a grill master myself, I can attest that Weber Q2000 and Q2200 grills are a testament to Weber's commitment to providing top-quality grilling experiences to its users. In this review, I will delve into every aspect of these grills, from their design and features to their performance and usability.
I understand that choosing the right grill can be a daunting task, and that's why I'm here to provide an unbiased and comprehensive review of the Weber Q2000 and Q2200 portable gas grill models. By the end of this article, you will have all the information you need to make an informed decision and choose the best grill for your needs.
So, without further ado, let's dive into the world of Weber grills!
If you are in a hurry, here are links where you can check the current prices and user reviews:
Weber Q 2000 gas grill
Weber Q 2200 gas grill
I have noticed that the availability of Weber Q2000 and Q2200 is limited and these models could be approaching discontinuation. I suggest checking out alternatives to Q2000/Q2200 grills below if you are looking for a portable grill.
Verdict
Weber Q2000 and Q2200 tabletop grills are specially designed for people looking to invest in bbq cookware that is enduring, transportable and easy to use, and clean.
With push-button or electronic ignition, sturdy aluminum body, and foldable tables, the grills are not the cheapest choice in the portable propane grill category. However, after reading my review, I am sure you will see you are getting your money's worth.
However, you should know that patience will be required because this 12000 BTU grill cooks slowly but surely.
What Are Weber Q2000 and Q2200? 
Many people consider this BBQ model from Weber to be an excellent choice when looking for portable gas BBQs. The company has spent years researching and developing to ensure they have the best offerings in the market. This model is living proof of such.
This grill offers 280 inches of total grill space and 12,000 BTU-per-hour input. One of the features that I like the most about this model is the fold-down table that can provide additional space as you prepare the ingredients that you need or when warming. When it is not used, you can have it folded down.
When it comes to durability, the barbecue is sure as well to deliver a high level of satisfaction. The lid and body are made of cast aluminum that can provide extended functional life. On the other hand, the cooking grates are made from porcelain-enameled cast iron, which is equally exceptional when it comes to durability.
About being durable, it also has a sturdy construction that will make it possible for you to have it used as a stable fixture on the patio or even as a stationary grill. The design is also well-balanced to make sure that it stays stable while on a flat surface.
Another feature I liked about this product is that it offers an exceptional grilling experience that promises excellent results. It is made in such a way that you can be able to prepare grilled delights that will surely amaze anyone. The best thing is that such will be possible in an almost effortless manner on your part.
Related reading: Weber Q 3200 2-Burner Propane Gas Grill Review
Weber Q2000 vs Q2200
The first question people are asking is, what is the difference between Weber Q 2000 and Q2200?
Weber Q2000 Liquid Propane GrillCHECK CURRENT PRICE
The two models are very similar, and there are only marginal differences:
The Q2000 uses a single cast-iron cooking grate, but the Q2200 has a two-piece grill grate split in the middle
The Q2200 features a temperature gauge built into the lid
The ignition mechanism of the Q2200 Weber grill is somewhat more advanced (electronic vs push-button ignition)
There are also slight ergonomic differences
If you think this grill doesn't fit your requirements, please check out the other model.
Weber Q2200 Liquid Propane GrillCHECK CURRENT PRICE
Weber Q2000 Features
Weber Q2000 and Q2200 grill models are swamped with relevant hallmarks, each adding impressive benefit to the consumer's experience. While most features are identical between the models, few are more model-specific.
Here are the prominent features:
Compact Design
Weber has designed its Q series grills, including the Q2000 and Q2200, to market them as an assemble you can carry anywhere you go.
The compact design of the grill models is quite the selling point, especially for people wanting something with a generous cooking surface and portable dimensions.
You can pack in your car or van without hassle, whether it's a barbeque party in the backyard or a college get-together camping dinner. When folded down, the width of the grill would be about 37 inches in total.
1 Burner With 12,000 BTU-per-hour Output
Both the Weber Q2000 and Q2200 portable gasser units are made of stainless steel and incorporate a single burner. While some might fret at the value of its BTU-per-hour being 12,000 as output, you'd be pleased with the burner's ability to reach 600 degrees in temperature in just about 10 minutes or less.
12,000 BTU per hour energy conversion of the fairly great cooking area means heating power is an incredible 45 BTU, meaning your meals will be cooking faster, saving you ample time to be part of that barbeque party.
You may even be impressed with the grill's way of leaving sear marks on your barbeque meat and its potential to steadily keep the flame on at higher temperatures, no matter how long you keep the grill on.
Porcelain Enameled Cooking Grates
Apart from the burners made of stainless steel, what makes the Q2000 and Q2200 so affordable is their porcelain-enameled cooking grates over the burners. These cast iron grates are divided into two parts, allowing you to replace one of the sides with a griddle in case you wish to.
Although grills that are porcelain enameled tend to be more heavy-duty and account for 80% of why the grills are hefty, you may want a heavy-duty grill for your outdoor parties as they are more stable on the ground.
Whether it's the wind, a stumble, or a nudge from an awkward guest, your Q2000 or Q2200 grill might stand its ground without dramatic flips or accidents.
These coated grills hold the temperature for much longer and cook food more quickly and evenly.
280 sq in Cooking Area
One of the star features of the Q series grills from Weber is the whooping cooking surface of 280 square inches. The 12000 BTU is enough to heat up this fairly larger cooking area within minutes.
Ideally, these grills are needed for parties and to host and cook for more people. 
Thus, it's decidedly beneficial for grills to have larger coverage pans so that you can cook more meals and fit more hamburgers in one flip.
Removable Drip Pan
Being a past customer of grill pans, one of the highlighting features I would look for in such a piece of equipment is the convenience of cleaning. If you are someone who wants to sway away from greasy grim covering your burners, the removable drip pan in the Weber Q2000 and Q 2200 grill could be your savior.
The catch pan prevents every dripping mess from splashing into the burner. A good way of saving up some cleaning time is using foil on the drip pan and removing the foil to replace another. This way, you'd save your pan from getting dirty as well.
Folding Side Tables
The folding working tables integrated into the Q series grill assembles have been one of the most common selling points of the company. Additional space, such as the kitchen counter itself, is always a massive blessing when you cook a meal. The folding tables have a similar purpose.
Other than enhancing and adding space to the cooking equipment, It allows you to keep utensils, bowls, tools, and ingredients while you're on the waiting clock. The 12.5 x 13.5 inches tables can be tugged in whenever they are not used.
Push Button Ignition (Q2000)
The Weber Q2000 model is considered less advanced than the Q2000 grill because of the push-button ignition system instead of an electronic one. However, the ignition button is stable and reliable, and it only takes seconds to turn on the flame.
Related reading: Weber Genesis II E310 Review
Electronic Ignition (Q2200)
The electronic ignition system is exclusive to the Q2200 model grill and is one of the features that set this unit apart from its shadow model Q2000 grill. You can turn on the flame with the push of a single button on the burner.
This saves you time, extra tools, and your hands from getting dirty. Plus, it feels like the use of an oven for beginners. Thanks to one push, you can say adios to matches and lighters.
Cast Aluminum Lid & Body
Another difference in feature between the Q2000 and Q2200 grills is the lid height of each, with the latter being slightly taller. The Lid height of Q2000 is 14.5 inches, while the lid height of Q2200 is 15.5 inches.
Despite having a minute difference in dimension, both models' bodies and lids are comprised of premium-quality cast aluminum. Such a coating makes the grill pan more stable, durable, and functional.
Shoppers often look for pans made with aluminum lids and bodies as they can retain the heat well, which is much needed for slow-cooked meals. While porcelain cast adds weight to the grill burners, aluminum balances out the heftiness and creates a lightweight body.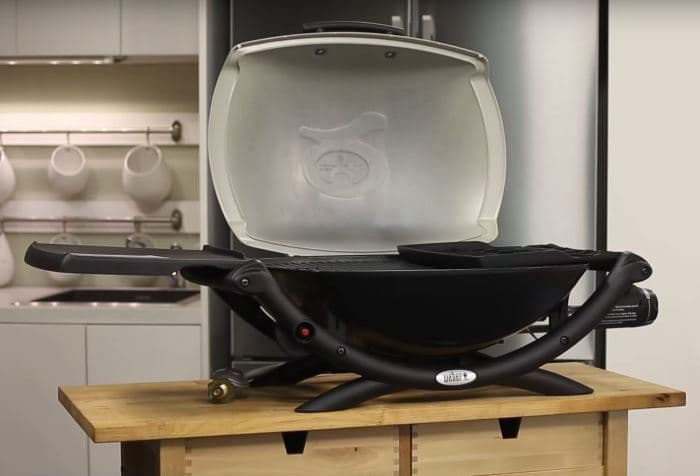 Lid Thermometer (Q2200)
The Weber Q2200 portable grill is more advanced due to the additional features like the integrated thermometer placed on the lid of the aluminum body. The thermometer is a bi-metal dial system, which lets you have an idea of what the temperature is inside the lid. Since the dial thermometers are mostly inaccurate by 30 to 50 degrees, you can use them to monitor the level of propane gas available in the cylinder.
Uses Propane Cylinders
Both the Weber Q2200 and Q2000 grills use liquid propane as fuel and utilize a standard of disposable 14.1 or 16.4 oz. LP cylinders. You would have to buy the propane cylinder separately as they are not part of the sold grill unit.
While using the cylinders, you can add an elective adapter and hose of a 20lb propane tank. The greater capacity would mean your grill can be used for longer without running low on fuel on a single tank.
Design
The design of the Weber Q2000 grill and its upgraded version, Q2200, are well-engineered products, made with a design that is meant to be compact, easy to clean, and straightforward to use. The clever, all-in-one design of the Q series grills specializes in value for money, and these models are no different.
Both the models come with precise controls for ignition and temperature control, with the Q2200 having an electronic system and the Q2000 having a push-button function. Although only the former comprises the built-in thermometer on the lead, both the lids and bodies are made of cast aluminum material, adding to the equipment's longevity.
The grill design incorporates an incredibly used folding workstation on both sides of the grill cookware. This can be used as a resting station for tools and greasy utensils while cooking.
The grates are porcelain enameled for most heat retention and distribution and use cast iron as the base material. The easy-to-clean feature is a star among customers, and the removable pan drip at the bottom is to be thanked for.
For convenience, the side and grip handles are enormous, with the Webber logo on the lead above the large cooking surface of 280 square inches. The durable and sturdy design looks stylish and can go pleasantly on your patio. The lid is a jaded white with folding tables, a bottom aluminum body, and a burner in jet black.
Controls
Weber's Q2200 and Q2000 grilling models are not mapped with buttons, valves, and regulators all over the surface. However, the limited control panel is precise and useful for monitoring and control.
In the Q2000 model, you are equipped with a single mode control in the form of a push button, a simple and quick way to ignite the gas. Besides, you can also change the gas setting, thanks to the rotating and flexible knob with precision.
The upgraded Q2200 grill is more advanced and comes with an electronic ignition system. Further, you can also find an infinite control burner with adjustable valve settings. You can change the periods, setting them to the desired number.
The more technologically adept model has an integrated thermometer on its aluminum cast lid. This is especially helpful in monitoring the propane gas level, but it can also be used to obtain an idea of what the heat is like above the food. This works more like an indicator.
Weber Q2000 and Q2200 Specifications
12,000 BTU per hour
Stainless Steel burners – 1
Total cooking area size 280 square inches

Primary cooking area – 280 sq in
Removable warming rack- not available

Fuel – Liquid Propane
Dimensions
Tables in working position and lid open (in) – 26 "H x 51.4 "W x 24.3" D
Tables in working position and lid closed (in) – 14.5 "H x 51.4 "W x 19.5" D
Width with side tables folded down – 37in
Shipping Dimensions
Please leave a comment below, and I will find the Weber Q 2200 shipping dimensions for you.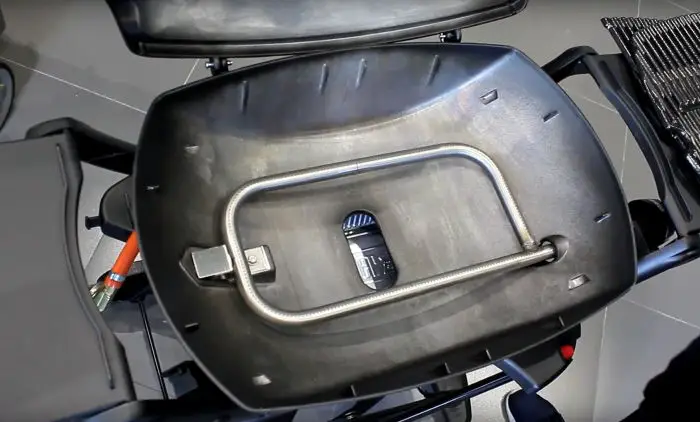 Weber Q2000 & Q2200 User Feedback
The unanimous rave among its current and past owners about Weber Q2000 and Q2200 grills has been mostly about how easy and hassle-free the grill operation is. The controls play a significant role in turning on the gas within seconds. Both the push button ignition system of the Q2000 and the electronic ignition function of the Q22000 are well appreciated.
Another common wonder feature that is well received and adored is the removable grease drip tray that ensures the cook does not have to spend extra hours cleaning up the cooking area. Additionally, the portability and compact design are selling points of the Weber Q models and have been a true attraction for many new buyers.
Like others, you may also appreciate the least effort and time needed to assemble the grill. However, while many complaints have been about the heavy weight of the appliance despite being a carry-friendly size, some wish the Q2000 model came with a thermometer.
While the heating power is perfect for smaller family dinners, some have worried how a 280 square inch cooking surface might take too long to heat up at 12000 BTU per hour. You can, of course, solve this issue by simply preheating the grill for an additional 10 minutes if you have too many hamburgers to grill in one night.
However, despite the many good things about this BBQ model, some were not happy with the fact that it weighs 42 pounds. The massive appliance will be heavier when you add the accessories and the fuel canister. As such, many customers have noted that it can be a challenge to move it to another location. That is why you should look into the smaller Q1000 model if mobility is important to you.
Weber Q2000 and Q2200 Pros and Cons
This section will explore the pros and cons of the Weber Q2000/Q2200 grills.
Pros
The design is compact and portable, so you can take it to tailgate, camping, or traveling
The removable pan lets you clean the greasy mess without hassle
Electronic and Push button ignition allows for a quick and trouble-free control
Stainless steel and aluminum cast body allows even heat distribution and makes the grill more durable, as well as sturdy
Foldable side tables enhance the size of work station and make room for storage while cooking
Cons
The compact design is compromised by the massive weight of the grills, which many find difficult to move around
12000 BTU per hour for 280 square inches in low(ish) heating power, so the bbq will require some preheating
Box Contents
The package also includes a Weber Q recipe booklet, and a tubular stainless steel burner with a 12,000 BTU-per-hour input.
A brand new Weber Q2200 and Q2000 usually come with a limited warranty which comes in handy should you have problems with your item.
Weber Q2000 and Q2200 Comparisons and Alternatives
Weber Q2000 / Q2200 vs Weber Traveller
The Weber Traveller portable grill is a good alternative to the Q2xxx grill. It has a slightly larger cooking area of 320 square inches and nearly the same BTUs. It comes with a stand.
Weber Q2000 / Q2200 vs Coleman RoadTrip 285
The Coleman Roadtrip 285 is another portable grill on the stand. I have reviewed it in my Coleman Roadtrip review.
Weber Q2000/Q2200 vs Weber Q1000/Q1200
If you are willing to consider buying a slightly smaller grill, the Weber Q1000 and Q1200 grill is a viable alternative. Here is my comparison of Weber Q1xxx vs Weber Q2xxx grills.
Weber Q200 vs Q2000
In short – the Q2000 is the same old Q200 grill with few design updates.
Stay tuned for a more thorough comparison analysis!
Weber Q220 vs Q2200
In the same situation as with Q200 / Q2000 – there are no significant differences except for a few design tweaks.
Weber Q 2000 / Q 2200 Accessories
The Weber gas bbq package comes with 2 durable tuck-away work tables with built-in tool holders that can be folded and stored inside the grill. You will be able to use these when you buy tools that you can use in your cooker. There are a lot of utensils that are being sold, and that can be both an advantage and a disadvantage.
It is a good thing as you will be able to shop for any kind of tool that you will need for your Weber griller. On the other hand, you may be confused about what tools you need to get as there just are a lot to choose from.
Gas Cans
The Weber Q2200/Q2000 gas grill operates on standard 14.1 or 16.4-ounce propane cylinders sold separately.
Grill Carts
As you decide to buy Weber 2000 grill, I suggest you also take a look at the stands featured below.
I should warn you that you usually will not get the Weber Q 2200 with a stand unless a retailer has set up some kind of special bundle deal. So you will have to buy a stand or cart separately.
Since this specific model of the grill is heavy, which is 42 pounds, the rolling cart will prove to be helpful in making it a lot easier to have the BBQ moved from one place to another while providing a steady stand at the same time.
I have reviewed the manufacturer's information and customer reviews to make sure that all these stands are compatible with Q 2000 BBQ:
Weber Stationary Cart for Weber Q Grills (Model 6508)
Weber Q Patio Cart (Model 6525)
Weber 6557 Q Portable Cart for Grilling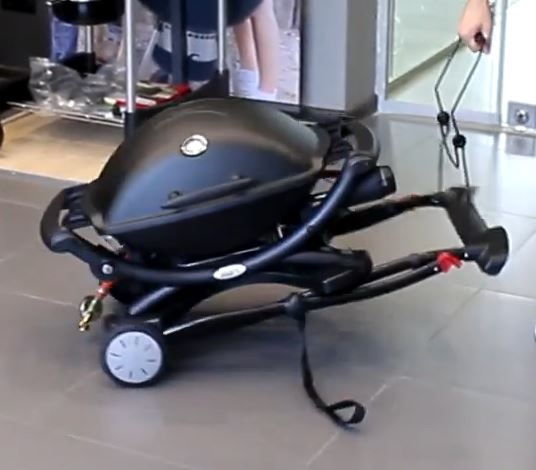 Covers
If you plan to store your barbecue outdoors, you should take a look at some of the Weber Q grill cover models that will protect your BBQ.
Conclusion
If you are shopping for a grill with a great set of features that makes it easy to operate and does not cost a fortune, here is what we would like to suggest to check out – the Weber Q2000/Q2200 grill.
While a gas grill, in general, is a great cooking tool to use at home, the portable grill is compact, making it also ideal for picnics, family trips, concerts, or sporting events. You can easily fold it so that you can take it with you or so that you can store it when it is not in use.
Weber Q2000 and Q2200 grills are compact, durable, and deliver decent heating power for cooking all size meals.
If you are looking for grills to be taken out camping or on the road and do not wish to spend your fun cleaning the grease off the pan or assembling it, you may want to consider the Q2000 and Q2200 models.
For slightly advanced control and monitoring, the latter model can come in handy in your attempt to cook the perfect meal!
Related Articles