Coleman Roadtrip 285 Portable Stand-Up Propane Grill Reviews
The outdoors person will definitely love this Coleman Roadtrip grill because this is an on-the-go grill that you can bring along on your camping or tailgating trips.
This grill is very easy to assemble so you can just take it with you anywhere you go. The Coleman Roadtrip grill lives up to its name. It is a very portable grill that you can take on your road trips with your family and friends.
If you love your household barbecue grill, then you will also love this Coleman road trip grill. If you think that a grill for the outdoors is small and tabletop in design, then this one will get you down.
This is a full-size grill that is collapsible to fit in the back of the truck.
Coleman RoadTrip 285 Portable Stand-Up Propane GrillCheck Price
There are several versions of Coleman Road Trip Grill available:
RoadTrip 285 Portable Stand-Up Propane Grill
RoadTrip 225 Portable Stand-Up Propane Grill
RoadTrip 225 Portable Tabletop Propane Grill
I am working on the comparison of Coleman RoadTrip 285 vs 225 vs Sportster. Stay tuned!
Coleman Road Trip Grill Features
Big Grill For Your Travels
The Coleman Road Trip Grill is a big grill for your travels. If "big" is not good for you, well, this grill is big but efficient, portable, and versatile at the same time. It cooks the meat evenly so you don't have to worry about undercooked steaks.
If you love to cook everything all at once, Road Trip grill features 285 square inches of cooking space so you can toss in the meat and the kebabs and wait for them to cook. This is a double burner with 2 10 000 BTU straight burners that will cook your meat evenly and give you wonderful sears and grill marks.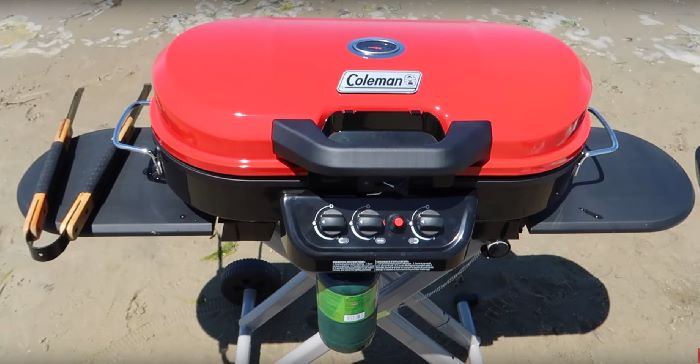 Porcelain Covered Grate
The porcelain covered grate gets hot really quick. You can preheat it by leaving it on for 5-10 minutes on medium with the top open. The Roadtrip grill can be readily attached to a 16.4-ounce propane container which can allow 2.1 hrs of cooking on a high setting and 4.5 on low.
The porcelain grate also allows easier cleaning up after you're done. You can soak it in soapy water to soften the burnt meat that stuck to the grate and just scrape them off. Just remember to not use a ball of steel wool when cleaning the grate.
Easy Assemble
Out of the box, this can be assembled easily.  You'd think you'd be spending lots of time trying to figure out how to put the grill together but you just attached the accessories and then you are ready to go. There are collapsible legs that can be attached easily. On one end, you will find two wheels and a wide handle on the other that you can use for tugging. Then, you can connect the regulator and that's it.
You can be assured of stable cooking space since the scissor-like legs don't move easily. They lock in place under the grill to secure it and your cooking masterpieces. For other cooking preparations, you can slide in the two side tables and use them for other duties or for holding your uncooked dishes.
Coleman RoadTrip Grill Cover
If you've recently discovered the wonders of the Coleman Road Trip Grill, or you just purchased one, you may have noticed that it doesn't survive too well out in the elements.
The Coleman Road Trip grill cover is a Coleman-branded grill cover designed specifically for the entire Road Trip grill line (including the 9941, 9944, 9949, and RoadTrip Pro models) that keeps it from rusting and wearing down in the outdoors.
The Coleman Road Trip Grill Cover comes in the traditional Coleman green/black color, making it perfect for camping trips and home use alike. The heavy-duty PVC coating on the grill cover makes it resistant to cold, heat, sun, and moisture, and it has a pair of straps that let you cinch it tight when the wind is blowing.
What to look for in the Coleman RoadTrip Grill Cover:
Heavy-duty PVC coating
Weather-resistance
Full-size fitting for all Coleman RoadTrip Grill models
Wind-proof straps
Full-length for all Road Trip grills to cover both the main grill and the grill legs as well
People expect the high quality and relatively low cost of the grill cover, stating that it is a "must-have" if you own one of the Coleman Road Trip grills.
You have a choice of smaller and cheaper covers for the grill itself and the large original cover that covers grill, cart, and legs. The original cover is a perfect fit for the RoadTrip grill, confirming the manufacturer's specifications. The heavy material is also confirmed to be extremely durable and normally will last for several years with no visible signs of aging or wear. Nearly every user praises the cover for its high quality, which is great to see in a grill cover of this price.
The large Coleman RoadTrip Grill cover would have been easier to manage if it had been designed with a zipper up the side. The current design stays on their grill well, even in high winds, thanks to the strap design.
Conclusion
You can bring it along with you on camping trips, tailgate, or garage parties to share food and laughter with family and friends. It doesn't get in the way of the fun and the party since you can just put it behind your truck after the night's over and head on back home.
It is easy to clean and easy to transport and cooks your food evenly – what more could you ask for!  And you can use it as a household grill or a road trip grill. Get your own grill now and have fun.
Related Articles