Coleman RoadTrip 285 Portable Stand-Up Propane Grill Review | Comparison of RoadTrip 285 vs 225 vs LXX vs LXE
The outdoors person will love this Coleman Roadtrip grill because this is an on-the-go grill you can bring along on your camping or tailgating trips.
This grill is very easy to assemble, so you can take it anywhere you go. The Coleman Roadtrip 285 grill lives up to its name. It is a portable grill you can take on road trips with your family and friends.
If you love your household barbecue grill, you will also love this Coleman road trip grill. If you think a grill for the outdoors is small and has a tabletop-compatible design, then this one will get you down.
This is a full-size grill that is collapsible to fit in the back of the truck.
Coleman RoadTrip 285 Portable Stand-Up Propane GrillCHECK CURRENT PRICE
There are several versions of Coleman Road Trip Grill available:
I am working on the comparison of Coleman RoadTrip 285 vs 225 vs Sportster. Stay tuned!
What is Coleman RoadTrip Grill?
Coleman RoadTrip gas grill line offers compact, portable, and convenient grills that can make your grilling experience better and effortless. You'll find a variety of models from them, and all of the products offer unique features that help them stand out.
With most of these products, you can expect great portability. Unlike most other grills on the market, the Coalman Roadtrip grills come with foldable legs for easy storage and wheels for better portability, other than the cut-down version of the 225. You'll get a tabletop grill with this variant. These products offer a robust build, and we must say that these are one of the sleekest grills we've come across till now.
Some of these grills also come with advanced features such as temperature gauges built into them, adjustable burners, push-button ignition, and more. We found the knobs that'll let you tweak the burners to be highly effective and easy to use.
Other than the LXX and LXE, the rest of the models will provide the option of choosing between at least two colors. These will also let you choose between a 285 square inch or 225 square inch cooking area. There is more to these grills, and we'll discuss their features in-depth in this article.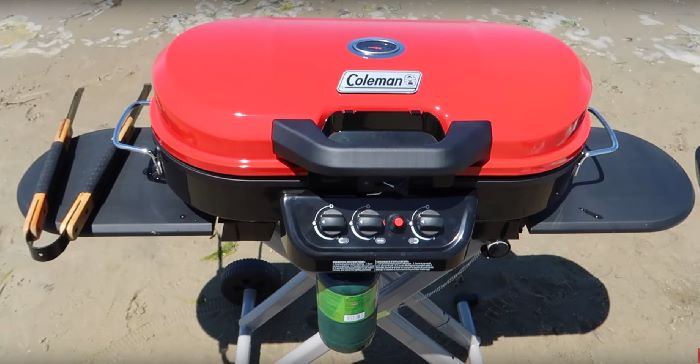 Coleman Road Trip Grill Features
This section will dive deeply into the features you can expect from different models of the Coleman RoadTrip grills.
Easy Setup
The Coleman RoadTrip 225 tabletop version comes fully assembled out of the box. You can use this as soon as you unpack this. As it's a small and light grill, you won't face any problem carrying it to the nearest table or stand.
The rest of the models have folding legs and wheels, so they require some assembly. However, you shouldn't face much hassle installing these either.
Easy to Transport
The RoadTrip 225 and 285 Stand-up models come with retractable legs with wheels attached to one side and stand on the other. These are very easy to carry outdoors, as you won't have to bear the weight of the grills. As one side comes with a stand, they'll stay where you put them.
Convenient Storage
Often, we carry the grills in the back of our cars, but these take up a lot of space. The Coleman Roadtrip 285 and 225 Standup grills can be stored upright. This will help you save a lot of space when carrying or storing them.
Side Table
Need extra space for keeping necessary utensils and sauces when you're grilling? The Coleman Roadtrip Stand-up models got you covered! These come with 1 (RoadTrip 225) or 2 (RoadTrip 285) retractable side tables that will provide the extra space you need for storing the different utensils.
Lid Lock
You don't want the lid to be wide open when you're transporting the grill machine, and this is another sector where the Coleman Roadtrip grills outshine most of the competition. These come with lid-lock technology. This feature will let you lock the lid when you aren't using the grill.
Swappable Cooktops
No matter which model you get, you'll be able to switch the grates with other grilling surfaces. All models of Coleman Roadtrip let you interchange the cast iron grill grates with stove grates and griddles, allowing you to cook more items without having to carry extra tools.
2 or 3 Temperature Zones
The Roadtrip 225 and the Roadtrip 285 come with multiple temperature zones. While RoadTrip 225 offers two zones, RoadTrip 285 offers three. What makes them even better is that the temperature in these zones can be controlled individually. This will allow you to grill different products simultaneously, saving a lot of your time.
2 or 3  Adjustable Burners
As the Roadtrip 225 and 285 come with two and three cooking zones, respectively, you'll get two and three adjustable burners for them. These burners will provide total control of the heating zones, providing more versatility in your grilling experience.
Instastart™ Push-Button Ignition System
All of the grills from Coleman Roadtrip come with the Instastart™ push-button ignition system. These switches will let you burn the grills without using a match or any other type of accessory, making the experience much more fun and effortless.
Water Filled Drip Pan
Drip trays can help you add different types of vapors into your mix. You can add water, oils, or even wine to the steak you're grilling. No matter which model you get from Coleman Roadtrip, you will get a drip tray designed to prevent spillage.
1-Pound Propane Cylinder
You can use a 1-pound Propane cylinder with every model from Coleman Roadtrip. However, you'll need to purchase this separately.
Significant Grilling Power
If you get the 225 models from Roadtrip, you'll get up to 11,000 BTU of grilling power. On the other hand, the bigger 285 models offer a grilling power of up to 20,000 BTU across the entire temperature grill. This power is high enough for the cooking surface, and this will ensure that you're getting perfectly grilled food.
Large Cooking Area
Both the 225 and 285 models offer a large cooking area for cooking multiple items at once. The 225 models offer 225 square-inch cooking area, while the 285 models offer 285 square inches. Both of these variants will be enough for any bachelor, and they'll even be more than enough for 5-6 people. So, unless you have to grill for large crowds often, you can go for the 225 models safely.
Design
Coleman Roadtrip grills come with one of the most ergonomic and robust designs out there. Besides the tabletop version of the 225, the regular 225 and 285 will let you fold the legs up to save space. Then again, these also come with wheels for better portability.
As for the grill, none of them is circular. Instead, they are rectangular with their edges rounded off, and this helps the griller utilize the space more efficiently. These also come in beautiful colors. You can get the 285 in five colors: black, blue, green, red, and orange. As for the 225, they come in two colors, black and red.
The frames are made of stainless steel, so you can be rest assured that they'll be free of rust. The side tables add a nice touch to the design overall.
Controls
As for the controls, all of the Coleman RoadTrip grills share some common features, but none of them are the same. The 225 models come with the same control interface. You'll get two independent temperature knobs that'll let you dial the temperature of the cooking zones. On the right of these knobs, you'll find a red button allowing you to fire up the grill with a single tap.
As for the 285, these come with three knobs and a button. The left-most knob will let you control the outer rim of the left portion, the knob at the middle is for controlling the temperature of the middle zone, and the right-most knob is for controlling the outer layer of the right portion. This fantastic control over the temperature will help you get precisely the result you're looking for.
The LXX and the LXE models come with two knobs on two sides for controlling the temperature of the cooking zones, and there's this Instastart™  button in the middle colored in red.
Related reading: Best Gas Grills Under 300 Dollars You Can Buy
Users Feedback About Roadtrop Grill
After scouring the internet for reviews, we found some great feedback on the Coleman RoadTrip grills. We'll be sharing some of them below.
The sliding trays will let you keep the required sauces and other items in your hands easily and comfortably. With these, you'll even be able to distribute the food without the hassle. The sliding tables don't feel stuck or loose, making them perfect.
The three burners on the Coleman Roadtrip 285 grill will help you bring incredible variety to your grilling experience. With this model, you can grill two different items simultaneously, and that too at different temperatures. It'll also allow you to use part of the grill as a warmer, so the food won't get cold.
The Coleman Roadtrip stand-up grills come with wheels, and transporting grills was never easier! With these, you can avoid the struggles of moving heavy grills altogether. This can also be stored upright, so you'll have no problem storing it when not in use.
Coleman RoadTrip Grill Pros and Cons
Now we'll look at some of the pros and cons of the Coleman Roadtrip grills. Let's get right to them!
Pros
Wheels for easy transportation
High grilling power ranging from 11,000 to 20,000 BTU for equal heat dispersion
Multiple independent cooking regions in 225 and 285 models
Adjustable temperature for each cooking region
Easy to start with the Instastart button
It comes with a built-in thermometer
Cons
The drip tray is too shallow
It'll take two men to carry the grills upstairs
Coleman RoadTrip 225 vs 285
The Coleman RoadTrip 225 and RoadTrip 285 are similar grills, but they have some critical differences that make them completely different products. Let's talk about that.
Coleman Coleman RoadTrip 225 Portable Stand-Up Propane GrillCHECK CURRENT PRICE
Grilling Power
The grilling power of the RoadTrip 225 can be dialed up to 11,000 BTU, while the power of RoadTrip 285 can reach up to 20,000 BTU.
However, this doesn't necessarily mean that the lower power of the 225 makes it worse, as it complements the reduced cooking area perfectly.
Cooking Zones
The 285 model offers three independent cooking zones, while the 225 offers two. These cooking zones can be heated up independently using the different temperature knobs on the control panel.
If you're looking for more variety, the RoadTrip 285 is the model for you.
Cooking Area
The 285 model provides a cooking area of 285 square inches, which is larger than the 225 square inches cooking area provided by the 225.
Both of these grills provide adequate space for cooking a lot of items at once, and unless you're throwing a huge party or cooking a lot of things at once, you'll be OK with the 225 models.
Stand vs Tabletop
The Coleman RoadTrip 285 is available bundled with a rolling stand. The RoadTrip 225 is available in two versions – with a stand and as a tabletop barbecue.
RoadTrip 225 Portable Tabletop Propane GrillCHECK CURRENT PRICE
Coleman RoadTrip 285 vs RoadTrip LXX vs RoadTrip LXE
The Coleman RoadTrip LXX and LXE are relatively older models, while the RoadTrip 285 is the latest model. This is why there's a lot of difference between the RoadTrip 285 vs LXX vs LXE. In this section, we'll discuss how they are different from each other.
Before that, let's take a look at the slight differences between the RoadTrip LXX and LXE. While the LXX model offers 22,000 BTU of burning power, the LXE grill provides 20,000. However, given the cooking area, this might not be enough to make a difference. One significant difference between these two is that the RoadTrip LXX comes with a thermostat, while the LXE doesn't.
As for the differences between RoadTrip 285 vs the other two older models, you'll find tons of differences. The RoadTrip 285 is a relatively newer model, so it offers a better-looking design and a more robust build. It comes with a thermostat, while the LXE doesn't.
The RoadTrip 285 comes with a grilling power of 20,000 BTU, which is as same as the LXE and lower than the LXX. However, this won't matter as the efficient cooking surface of the Coleman 285 makes it much more consistent.
Coleman RoadTrip Grill Cover
If you've recently discovered the wonders of the Coleman Road Trip Grill or just purchased one, you may have noticed that it doesn't survive too well out in the elements.
The Coleman Road Trip grill cover is a Coleman-branded grill cover designed specifically for the entire Road Trip grill line (including the 9941, 9944, 9949, and RoadTrip Pro models) that keeps it from rusting and wearing down the outdoors.
The Coleman Road Trip Grill Cover comes in the traditional Coleman green/black color, making it perfect for camping trips and home use alike. The heavy-duty PVC coating on the grill cover makes it resistant to cold, heat, sun, and moisture, and it has a pair of straps that let you cinch it tight when the wind is blowing.
What to look for in the Coleman RoadTrip Grill Cover:
Heavy-duty PVC coating
Weather-resistance
Full-size fitting for all Coleman RoadTrip Grill models
Wind-proof straps
Full-length for all Road Trip grills to cover both the main grill and the grill legs as well
People expect high quality and relatively low cost from the grill cover, stating that it is a "must-have" if you own one of the Coleman Road Trip grills.
You can choose smaller and cheaper covers for the grill itself and the large original cover that covers the grill, cart, and legs. The original Coleman grill cover perfectly fits the RoadTrip grill, confirming the manufacturer's specifications. The heavy material is also proven to be extraordinarily durable and normally will last for several years with no visible signs of aging or wear. Nearly every user praises the cover for its high quality, which is great to see in a grill cover of this price.
The large Coleman RoadTrip Grill cover would have been easier to manage if it had been designed with a zipper up the side. The current design stays on their grill well, even in high winds, thanks to the strap design.
Frequently Asked Questions
How do you clean out grease from the Coleman RoadTrip grill?
You need to fill the drip tray with water before you start cooking. Once you're done cooking, dump the water and clean the entire drip tray with paper towels. This will clean the grease from your RoadTrip effectively. If this fails to do the job, just clean the tray with the dishwasher.
Can I use a larger propane tank with Coleman RoadTrip grill?
You can use a larger propane tank with Coleman RoadTrip grills. However, you'll need to buy an adapter and an aftermarket gas hose from Coleman or an alternative manufacturer for attaching that to your grill.
Can you add a thermometer to the RoadTrip 225 grill?
No, you won't be able to add a thermometer to the RoadTrip 225 barbecue. Then again, note that the Coleman RoadTrop grills are capable of providing consistent heat across the grates, so you won't require a thermometer unless you're an advanced-level cook.
Is the Coleman grill too heavy to transport on your own?
Many appliance parts are removable, making transportation easy as you do not have to carry the whole structure at once.
Is it safe to use the Coleman RoadTrip grill indoors?
You should never use the Coleman RoadTrip Grill indoors due to unsafe emissions that can be extremely dangerous if trapped in a confined space.
Conclusion
You can bring it along on camping trips, tailgates, or garage parties to share food and laughter with family and friends. It doesn't get in the way of the fun and the party since you can just put it behind your truck after the night's over and head back home.
It is easy to clean and transport and cooks your food evenly – what more could you ask for? And you can use it as a household or road trip grill. Get your own grill now and have fun.
Outdoor grilling can be a hassle, especially if the grill is tough to move around. In our opinion, the Coleman RoadTrip grills solve this major issue. Other than the tabletop 225 version, all the other models of this line come with wheels for easier transportation.
Plus, these also offer all the modern features you can expect from any grill. You can light them up with the tap of a button, control individual cooking areas, and more! This is why we highly recommend the grills from Coleman Roadtrip.
Related Articles