Weber Q3200 Review – The Q 3200 2-Burner Propane Gas Grill Reviewed
If you consider purchasing a gas grill to enjoy a smooth grilling experience on your porch, you have stopped at the right article.
In this Weber Q3200 grill review, we will share some notable features and essentials of the Q3200 gas grill, explain its two types of fuel versions, and guide you to acquire the ideal grilling option with an in-depth discussion.
Weber Q3200 Liquid Propane GrillCHECK CURRENT PRICE
The Verdict
The Weber Q 3200 gas grill is one of the best choices in the Q series for grillers on its excellent heat distribution and sturdier built quality. In addition, it comes with some easy-to-grab features, controls, and a superb cart system to enable swift mobility.
Even though you have to sacrifice portability, the features of this grill will offer a versatile grilling experience to quench your BBQ temptation if you love grilling in your yard or patio.
What Is Weber Q3200?
On top of other things, one that I find to be most attractive about this model is its brand name. Weber's brand name has long been trusted in this product category. Their grills are known for their exceptional quality, including the Weber Q3200 grill. For sure, this is an option that will not lead to frustration in the future.
It is important to note that you can choose from 2 modifications of the Weber 3200 grill. It is available as a propane or natural gas barbecue grill. Your choice will depend mainly on the fuel source availability because the specifications and prices of both models are the same.
The portability of this model is one feature that should be highlighted. This can be most probably attributed to the fact that the appliance is made from lightweight materials. This is important since it guarantees you can use the product when grilling anywhere desired.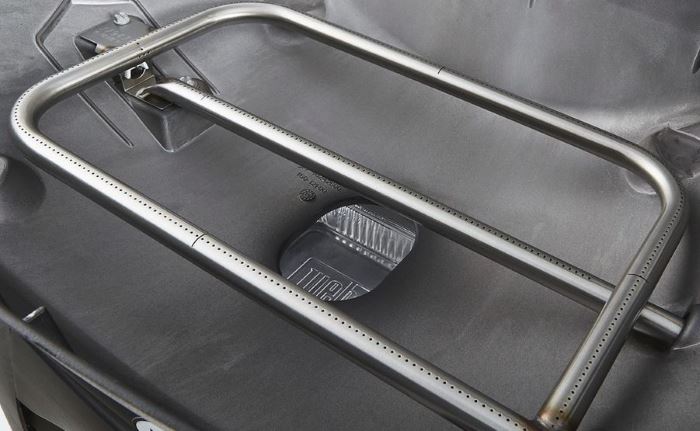 Despite being lightweight, the materials used in building the grill are durable. It has porcelain-enameled cast-iron cooking grates. The lid and the body are made of cast aluminum. These materials will ensure excellent heat retention, allowing consistent cooking results.
In terms of performance, this barbecue will surely not be a disappointment. The output of two stainless steel burners is 21,700 BTU per hour and is designed with a cooking area of 393 square inches. This means it will not take long before you are finally done with cooking, even for large quantities of food.
Another nice feature of this model is the built-in thermometer. This will make it a breeze for you to monitor the grill's functioning and ensure that the right heat level is maintained throughout its use.
Whether you are tailgating, camping, or just having fun on the patio, this barbecue will undoubtedly be an excellent product. Oh, wait. It might not be small and portable enough to bring to a camping trip or tailgate party.
It may not be cheap, but it can guarantee that it is one of the best you will ever find.
Related Reading: Lion Premium Grills Review
Weber Q 3200 Features
This article will brief you on its commendable features and their benefits to ace your grilling experience.
Choice Between Liquid Propane and Natural Gas
This Weber model comes in two flavors, with one having a fueling option for liquid propane and another with natural gas:
Weber Q3200 Natural Gas model (discontinued)
Some suggest the same model by converting propane to natural gas. Weber does not allow this conversion. Since the materials and hoses used for both models are different, they can cause fire and explosion hazards due to the wrong usage. Therefore, we suggest using the suitable model and version for their particular fueling option.
The gas tank does not come with the package, so you have to buy your gas tank for using the grill.
However, the hose for linking the gas with the gas station or tank is provided in the box. Make sure to set the gas link with the hose carefully.
Compact Design
The Weber Q3200 model is appropriate to fit in the limited area of your lawn or patio. This compact yet comfortable size provides enough space for your grilling convenience. This grill will be ideal if you want a pleasant grilling experience in your garden or backyard.
It has an open cart system with a lightweight but sturdier build to keep the Propane tank in it. Despite having the same design and cart presence, the Weber 3200 Natural Gas grill model of this BBQ works differently, and you will have to connect the hose with a fixed gas line on the patio.
However, for both models, the gas and on-station gas port weight are not portable enough and usable on camping trips.
2 Burners With 21,700 BTU-per-hour Output
The burner of a grill is a crucial part of your grill since it is the main component of heating your grill to assist in your grilling work. The Q3200 gas grill has a functional two-burner system to provide extra heat to your grill areas.
It has a primary burner that is rectangular in size and situated in a circular position to cover the outer side of the grill. The secondary burner is in the grill's middle, providing more temperature.
Both burners work simultaneously to ensure 21,700 BTU output per hour and cover 393 square inches of grate space as needed heat. The overall configuration of this burner enables you to change the heating options from low to high as needed.
Preheating the grill for at least 10 to 20 minutes before grilling will give you enough heat to grill and sear your food.
Porcelain Enameled Cooking Grates
The grill has two-part of cooking grates made of porcelain-enameled cast iron. The enameled iron makes your food grilling more smooth, safe, and less prone to rust.
You can replace one side of this grate with a griddle for grilling in a more spacious area to accommodate more food. However, you must purchase the griddle with add-ons, as this does not come with the grill.
393 sq in Cooking Area
The cooking area of this model is quite spacious for its size and provides a 393 square-inch area for grilling to maximize your grilling arena. This grill also enables you to cook ample food on a single grilling, making it easier for you to cook for large groups of people.
75 sq in Warming Rack
A warming rack of 75 square inches contributes to the 462 square inches total cooking area to provide an extra cooking space on your Weber.
You can also use the hooks underneath for the cooking tools if required. This feature allows grilling for a crowd within a short time and assists you in roasting your buns, bacon, and vegetables and keeping them warm until served. In addition, it is a removable rack, so you can clean it easily after finishing your grill and place it again while using it.
Removable Drip Pan
You will get a foil drip pan in the box to contain the dripped grease from your food. This drip tray protects the underneath of your grill area, including the burners, grill box, and gas tank.
Of course, you can always purchase a pack of a separate batch since they are easily spoiled with grease, or you can reuse it after washing.
Folding Side Tables
Weber 3200 comes with two foldable side tables to allow more space to ease outdoor grilling in your yard or patio. These tables are easy to adjust and have sturdy manufacture to hold up your food stack. You can put your burger buns or vegetables on it for grilling one after another. Fold up the collapsible tables when not in use and clean them after use.
Electronic Ignition
The grill possesses an easy start push-button for starting the electric burner and an infinite control burner-valve setting to control the temperature of your grill for efficient cooking. This setting allows you to control the heat on your food while grilling foods from different recipes.
Cast Aluminum Lid & Body
The cast aluminum lid and reinforced glass frame provide the highest heat retention inside the grill. This allows consistent heat absorption on food and ensures excellent grilling outputs. In addition, they are easy to clean but make sure not to use abrasive materials.
Lid Thermometer
There is a built-in thermometer in the lid of your Weber grill. The thermometer is an integral part of a grill to determine its temperature and control it while checking it. However, the grease buildup on the thermometer sometimes gives an imbalanced temperature read.
Therefore, wipe it with a towel or cloth to attain a correct read for grilling. Moreover, this built thermometer offers a good read on your grilling temperature to cook your desired food with perfect heating.
Handle Light
The rotatable handle-light of this grill is an excellent addition to this model. This illuminates your grilling space and offers you a great grilling experience during nighttime grilling. You have to keep your lid open to light up the bulb. However, to conserve the light's battery, keep it away from the grilling pan.
Rolling Grill Cart
The Q3200 model of Weber has a non-detachable grill cart with limited movability in its Propane gas grill. However, in the Natural gas version, it is wise not to move it from the station due to its link with the patio gas line.
The cart has hooks for holding the cooking appliances and a stand for storing the propane tank. The weight of the tank creates immobility for the cart. However, the height and movable feature of the cart allows you to quickly put in your grill at a suitable distance from the ground and place it on your lawn.
Uses Propane Tank (LP Model)
The Weber 3200 Grill model for the liquid propane version uses a 20lb propane tank as its fuel. This propane tank is not included in the box; you must buy it separately. Usually, propane gas works two times more efficiently than natural gas and heats the grill faster.
However, the tank is designed to provide a limited gas distribution in its gas pipe through the hose line. Still, this model offers better service in case of portability and safety. Before igniting the grill, monitor the hose or tube for any crack or abrasion to avoid an accident.
Design
This Weber barbecue has a compact size and excellent design to set in any nearby location on your porch. In contrast, its grilling area is wide enough to grill a complete roast altogether.
It comes with a push button to ignite your electronic ignition. The enameled grill lid and body make it ideal for heat conservation. This lid handle is large, and the side handles are designed with control knobs. The collapsible side tables have outstanding rigidity and a stronghold to hold onto your food before grilling and providing cradle support.
A perforated front screen in the cart with the Weber logo protects the items stored within it. The design for wider wheels makes the cart portable and provides tool hooks on the cooking surface to provide options for cleanup and using a griddle.
You can choose between the propane gas or the natural gas model. Purchase the one that suits your set-up and needs. Moreover, this grill has an attractive design and technological advantages for grilling on your yard or patio.
Controls
The Weber Q3200 has excellent built and user-friendly controls to give you a flawless grilling experience on your porch. In addition, we will provide you with a detailed description of its controls to assist in your grilling journey.
This grill has an infinite control burner valve that allows cooking your food at the desired temperature. In addition, you can control the heat distribution from low to high to grill the foods.
Press the push button to ignite the electronic ignition system and start the grilling.
The rolling cart has a handle to hold it and wheels to roll it to your suitable position after assembling it.
You can monitor the temperature of your grill with its built-in thermometer.
There is a grill handle light for grilling in nighttime and low-light conditions.
Q3200 has three tool hooks to store tools and cooking utensils in its cart.
You can place a warming rack on the grill grate to maximize your cooking area.
Place your Propane tank behind the perforated bracket and store grates or one griddle in it.
Before plugging the hose in the natural gas model, uncoil the flexible hose and clip the long hose with the leg of your grill cart.
It is wise to take an expert's help to plug in the hose of the natural gas grill with the gas station of your patio or deck.
A disorganized hose and any cut or crack can cause serious fire hazards and damage to property.
Therefore, inspect the condition of your hose regularly to keep it safe.
Specifications
21,700 BTU per hour
Burners – 2
Burners material – stainless steel
Grates – porcelain-enameled cast-iron cooking grates
Total cooking area size 468 square inches

Primary cooking area – around 393 sq in (23 x 17 inches)
Removable warming rack 75 sq in

Fuel

Liquid Propane – model #57060001
Natural Gas – model #57067001
Dimensions
Tables in working position and lid open (in) – 55.5″H x 50.2″W x 30″D
Tables in working position and lid closed (in) – 43.5″H x 50.2″W x 21″D
Width with side tables folded down – 37in
Shipping Dimensions

Height 20.5in x length 38.9in x depth 29.4in
Weight 86 lbs (including 5 lbs of packing material)

Box Contents

57060001 propane gas model – grill and cart
57067001 natural gas model – same as above plus 10-foot flexible gas hose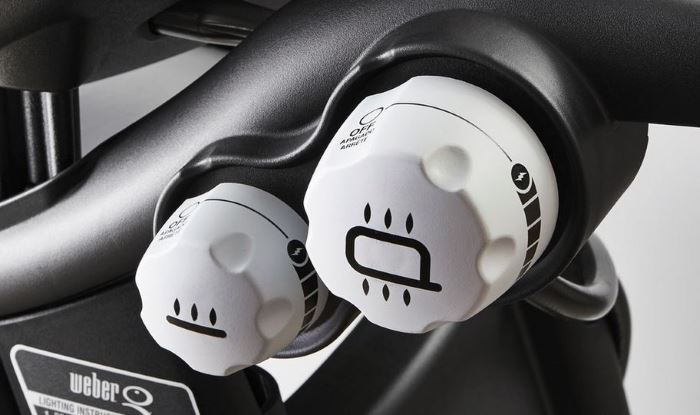 Pros and Cons
Pros
Weber Q3200 is laudable for its user-friendly controls
It has a spacious grilling area to grill a large quantity of food
It has two models for fueling options and user convenience
Sturdy built and warranty for longtime use
Foldable side tables to keep your food before grilling
Cons
The burner may not always ignite on time after pressing the ignition button.
May experience flare-ups in some cases.
Weber Q3200 Owner Feedback
Weber Q3200 has great acceptability among users for its easy-to-use features and spacious grilling area. It may have some lacking in terms of limited portability. However, its rolling cart is for moving it on your patio, and its excellent built quality has overcome this barrier.
Many users have applauded its slow cooking feature with its temperature control knobs and built-in thermometer monitoring on the lid. You can turn on the grill with a push-button and control the heat to enjoy a perfect sear on your rib-eye steak.
The material of the lid and body conserve an incredible amount of temperature to cook your food in it. Secondly, its wide grilling area does a beautiful job of grilling your food for a large gathering of people. It is a great plus of this grill while arranging such BBQ parties with your friends and family on a lovely occasion.
The robustly built two side tables with folding feature allow you to put your burger buns and food while grilling, providing extra spots to accommodate your food.
Next, its rolling cart has hooks to carry the utensils and a space to hold the gas tank. In short, this Weber gas grill has a great demand for its commendable features and built quality.
Upon reading the different Weber Q 3200 reviews published by those who have used it in the past, one thing commonly lauded is the ease of use. One thing that makes this possible is the electronic ignition system. With a push of a button, you can already start cooking. It is also designed with ergonomic handles for ease of carrying.
More so, as many owners have enjoyed, I also personally liked that it maximizes space use. It has a warming rack that will be helpful for food preparation, and it also has hooks underneath for the cooking tools that you might possibly need when it is used.
Lastly, the user feedback about this model was also favorable because of its rugged design. Since it is built from excellent materials, as highlighted earlier, you can expect it to last and hence, be able to provide the best value for your money.
Weber Q 3200 Review Video
Weber Q3200 Accessories
When you decide to buy the Weber Q3200 gas grill, I suggest that you also consider getting a couple of essential accessories for your new Weber® Q 3200 gas grill.
Cart
The good news is that you do not need to buy an additional cart as it is already bundled with the barbeque.
Weber 3200 Cover
You can use any of two Weber Q grill cover models with your Weber grill Q3200 unit – Weber 6553 or 7112.
Drip Pans
You will get one disposable pan with the grill, which will probably not last long. Get another 10-pack or 30-pack of 3rd party pans (size 5 x 1.4 x 7.5 in) or Weber drip pan # 6415.
Liquid Propane Tank
If this is your first LP gas grill, you must invest in the tank, which should be bought separately. You will need the 20-pound propane tank as it is the largest size that fits this bbq grill.
AAA Batteries
The AAA batteries are used in electronic ignition and handle light.
Weber Q3200 Grill Comparisons
Before you whip out your credit card and start shopping, let's look at a few similar Weber Q Series and Weber Spirit gas grills.
Weber Q3200 vs Q320
The Weber Q3200 is an excellent and exquisite version of the Q320 model. This newer model of this Weber BBQ has kept the previous advantageous features and added some different compositions to make it a user-friendly grilling appliance for your grilling convenience.
There are very few differences between these two models. Compared to the old and discontinued Q320 grill, the new Webber Q3200 model has the following:
electronic ignition
larger lid handle and control knobs
improved design of side handles
sturdier support cradles
more rigid and improved tables
new perforated front screen
wider wheels
tool hooks moved to a more ergonomic location
the cooking surface is now split, which means easier cleanup and the option to use a griddle
option to choose between Propane Gas or Natural Gas models
Weber Q2200 vs Q3200
Size is not the only thing that sets these two Q series models apart:
The Q 2200 works on the tabletop and the wheeled cart you can buy separately. The Weber Q 3200 is designed to work only secured to the cart.
The Q2200 is available only as a propane-fueled model. You can choose between natural gas and propane models if you buy the Q 3200.
If you want to see the comparison with the smallest Baby Q Weber grill model Q1000, please let me know in the comments below.
Model
Burners
BTU
Main
Cooking
Area
Warming
Rack
Area
Side
Burners
Cart
Colors
Q3200
2
21,700
393
75
No
Yes
Titanium
Q2200
1
12,000
280
–
No
Optional
Titanium
Related Reading: Weber Q2000/Q2200 Review
Weber Q3200 vs Spirit II E-210 vs Spirit II E-310
Model
Burners
BTU
Main
Cooking
Area
Warming
Rack
Area
Side
Burners
Cabinet
Colors
Q3200
2
21,700
393
75
No
No
Titanium
Spirit II E-210
2
26,500
360
90
No
No
Black, Ivory, Red, Sapphire
Spirit II E-310
3
30,000
424
105
No
No
Black, Ivory, Red, Sapphire
It is important to note that you can get any of the 3 models as natural gas or liquid propane grill.
Related Reading: Weber Q1000 Review
Frequently Asked Questions
How long should you heat your Q3200 the first time you use it?
The manufacturer suggests preheating Weber Q3200 for 20 minutes when you use it for the first time.
Do I have to get additional accessories for connecting the propane tank or gas line to the Weber Q3200 grill?
No, the hose and LP regulator come with the Weber Q3200 LP model, and 10 feet gas hose comes with the Q3200 Natural Gas model.
Can I take the Weber Q3200 off the stand and use it on the tabletop?
Technically it is possible to remove the cart, but the Weber Q-3200 is not designed to be used without the cart. It will not perform as well and can cause safety issues and even fire. For tabletop use, choose the smaller Q2200 grill that can be used without the cart.
Can the Weber Q3200 LP model be converted to natural gas?
No, the manufacturer does not allow Weber Q3200 grill conversion for safety reasons.
Is the Weber Q3200 grill easy to assemble?
Yes, even an untrained person can assemble Weber 3200 grill in 30-60 minutes.
Where is Weber Q3200 bbq made?
The Weber Q3200 is assembled in the USA.
Does the Weber Q3200 grill use flavorizer bars?
No, the Q3200 does not have flavorizer bars.
Does Q3200 come in pink?
No, it does not.
Is the propane tank included with the Weber Q3200 grill?
No, the propane tank should be purchased separately.
Where can I get the Weber Q3200 grill's best price?
You should check all usual suspects online and offline. If you are lucky to find a discount, you can be sure you will buy one of the best budget gas grill models.
Conclusion
Choosing the ideal grill among the variety of grill options available in the market is never an easy task. Choosing the right gas grill with both the build quality and sturdy features for your porch grilling experience is challenging.
However, using the Weber Q 3200 gas grill, we have witnessed flawless grilling expertise for cooking different food ranges. Even though it seems a little pricey, it has some praiseworthy features, including its spacious grilling area, foldable side tables, and durable built quality.
These features make this grill a go-to choice for purchasing. We hope this Weber Q3200 grill review will assist you in choosing the right grill, and worth your money to bang the deal!
Related Articles