Weber Q3200 Review – The Q 3200 2-Burner Propane Gas Grill Reviewed
If you are strongly considering purchasing a new gas grill, you should read my Weber Q3200 review.
When you start shopping around for a new gas barbecue, and you quickly find out that it is not such an easy task as you thought it will be. You are confronted with multiple options, which means making the right choice is harder for you.
You do not know the specific model that will prove to be the best and that will provide the best value for your money.
In my case, I was advised to start with reading Weber Q3200 reviews that have been published online.
These let me know all about the experiences of other people and make it easier to compare the different alternatives that are available in the marketplace.
I was making sure to pay attention to the pros and cons that have been stated to make it a snap to end up with the best possible choice.
If you are being overwhelmed with the possibilities that can be taken into account, one specific product that I can recommend is the Weber Q 3200 gas grill (click on the link to see it on Amazon!).
Over the years, this has proven to be one of the best choices, as shown by the positive feedback that has been given by the people who have used such in the past.
I am one of the many who can attest to the assertion that this BBQ is one option that will not bring regrets.
Features
Split porcelain-enameled, cast-iron cooking grates design makes it possible to use an optional griddle and diversify your cooking options
Electronic ignition lets you start grilling with a push of a button
Cast aluminum lid and body and glass-reinforced nylon frame
Built-in lid thermometer for easy monitoring of cooking temperature
Removable folding side tables provide additional space for cooking utensils and save space when folded down
Open cart design allows easy access to gas tank and accessories stored under the grill and promotes better ventilation
The bottom shelf and tank holder easy storage of accessories
Removable catch pan for easy cleanup, especially when used with optional drip pans
Infinite control burner valves allow you to set up required grilling temperature from low to high
Weber Q3200 Review
On top of other things, one that I find to be most attractive about this model is its brand name. It has long been trusted in this product category. All of their grills are known for their exceptional quality, including the Weber 3200 grill. For sure, this is an option that will not lead to frustration in the future.
It is important to note that you can choose from 2 modifications of Weber Q3200 grill. It is available as a propane or natural gas barbecue grill. Your choice will depend mostly on the availability of fuel source because the specifications and price of both models are the same.
The portability of this model is one feature that should be highlighted. This can be most probably attributed to the fact that the appliance is made from lightweight materials. This is an important thing since it is an assurance that you will be able to use the product when grilling anywhere that is desired.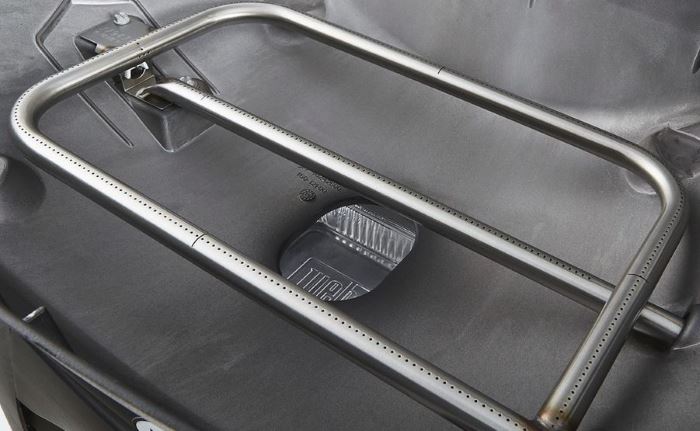 In spite of being lightweight, the materials used make the grill durable. For instance, it has porcelain-enameled cast-iron cooking grates. On the other hand, the lid and the body are made of cast aluminum. These materials will ensure the excellent ability for heat retention that will allow consistent cooking results.
In terms of performance, this barbecue will surely not be a disappointment. The output of two stainless steel burners is 21,700 BTU per hour and is designed with a cooking area of 393 square inches. This means that it will not take a long time before you are finally done with cooking, even for large quantities of food.
Another nice feature of this model is the built-in thermometer. This will make it a breeze for you to monitor the functioning of the grill and to ensure that the right level of heat is maintained all throughout its use.
Whether you are tailgating, camping, or just having fun on the patio, this barbecue will undoubtedly be an excellent product to have. Oh, wait. It might not be small and portable enough to bring it to the camping trip.
It may not be cheap, but it can provide you with the guarantee that it is one of the best that you will ever find.
Related Reading: Lion Premium Grills Review
Specifications
21,700 BTU per hour
Burners – 2
Burners material – stainless steel
Grates – porcelain-enameled cast iron cooking grates
Total cooking area size 468 square inches

Primary cooking area – around 393 sq in (23 x 17 inches)
Removable warming rack 75 sq in

Fuel

Liquid Propane – model #57060001
Natural Gas – model #57067001
Dimensions
Tables in working position and lid open (in) – 55.5″H x 50.2″W x 30″D
Tables in working position and lid closed (in) – 43.5″H x 50.2″W x 21″D
Width with side tables folded down – 37in
Shipping Dimensions

Height 20.5in x length 38.9in x depth 29.4in
Weight 86 lbs (including 5 lbs of packing material)

Box Contents

57060001 propane gas model – grill and cart
57067001 natural gas model – same as above plus 10-foot flexible gas hose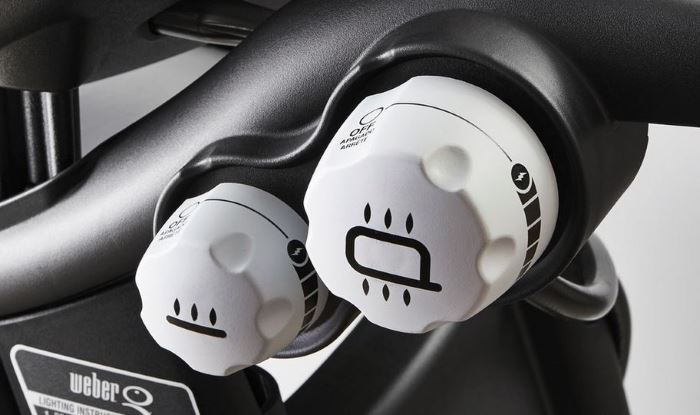 Weber Q3200 Review From Customers
Upon reading the different Weber Q 3200 reviews that have been published by those who have tried such in the past, one thing that is commonly lauded is the ease of use. One thing that makes this possible is the electronic ignition system. With a push of a button, you can already start cooking. It is also designed with ergonomic handles for ease of carrying.
More so, as many customers have enjoyed, I also personally liked the fact that it maximizes the use of space. It has a warming rack that will be helpful for food preparation, and it also has hooks underneath for the cooking tools that you might possibly need when it is used.
Lastly, the customer reviews about this model were also favorable because of its rugged design. Since it is built from excellent materials, as highlighted earlier, you can expect it is built to last, and hence, being able to provide the best value for your money.
Weber Q 3200 Review Video
Comparisons
Before you whip out your credit card and start shopping, let's take a look at a couple of similar Weber Q Series and Weber Spirit gas grills.
Weber Q3200 vs Q320
There are very few differences between these two models. Compared to the old and discontinued Q320 grill, the new Webber model has:
electronic ignition
larger lid handle and control knobs
improved design of side handles
sturdier support cradles
more rigid and improved tables
new perforated front screen
wider wheels
tool hooks moved to a more ergonomic location
cooking surface is now split which means easier cleanup and option to use a griddle
option to choose between Propane Gas or Natural Gas models
Weber Q2200 vs Q3200
Size is not the only thing that sets these two Q series models apart:
The Q 2200 works on the tabletop and also on the wheeled cart you can buy separately. The Weber Q 3200 is designed to work only secured to the cart.
The Q2200 is available only as a propane-fueled model. You can choose between natural gas and propane models if you are buying the Q 3200.
If you want to see the comparison with the smallest Baby Q Weber grill model Q1000, please let me know in the comments below.
Model
Burners
BTU
Main
Cooking
Area
Warming
Rack
Area
Side
Burners
Cart
Colors
Q3200
2
21,700
393
75
No
Yes
Titanium
Q2200
1
12,000
280
–
No
Optional
Titanium
Related Reading: Weber Q2000/Q2200 Review
Weber Q3200 vs Spirit II E-210 vs Spirit II E-310
Model
Burners
BTU
Main
Cooking
Area
Warming
Rack
Area
Side
Burners
Cabinet
Colors
Q3200
2
21,700
393
75
No
No
Titanium
Spirit II E-210
2
26,500
360
90
No
No
Black, Ivory, Red, Sapphire
Spirit II E-310
3
30,000
424
105
No
No
Black, Ivory, Red, Sapphire
It is important to note that all you can get any of the 3 models above as natural gas or liquid propane grill.
Related Reading: Weber Q1000 Review
Weber Q3200 Accessories
When you have decided to buy the Weber Q3200 gas grill, I suggest that you also consider getting a couple of essential accessories for your new Weber® Q 3200 gas grill.
Cart
The good news is that you do not need to buy an additional cart as it is already bundled with the barbeque.
Weber 3200 Cover
You can use any of two Weber Q grill cover models with your Weber grills Q3200 unit – Weber 6553 or 7112.
Drip Pans
You will get one disposable pan with the grill, and it probably will not last long. Get another 10-pack or 30-pack of 3rd party pans (size 5 x 1.4 x 7.5 in) or Weber drip pan # 6415.
Liquid Propane Tank
If this is your first LP gas grill, you will have to invest in the tank which should be bought separately. You will need the 20-pound propane tank as it is the largest size tank that fits this bbq grill.
AAA Batteries
The AAA batteries are used in electronic ignition and handle light.
Features To Consider Before Buying BBQ
Material and Build Quality

Another thing that I suggest is for you to take a look at the materials that are used to build the grill. This is often provided in the specifications of the manufacturer. Choose a barbeque that is made from materials that are meant to withstand long-term use and with the excellent ability to conduct heat for more consistent grilling results.
Ease of Use
Not all barbeques are created the same. There are some that are filled with complications, while there are some that are user-friendly. Choose a model that is as easy to use as possible or one with a smart and intuitive design. This will make it possible for you to find more time in grilling.
Size
You also need to consider the size of the unit. This will depend on the number of people within the household or the number of guests you often entertain at home. Make sure that the size is fitted to your needs. If you want a grill that can be moved from one place to another, a smaller model will prove to be excellent when it comes to portability.
Brand Name
Some people would say that the brand name is not an essential factor that should be taken into account. In reality, however, this is one of the most important things that should be kept in mind. This is primarily because Weber's brand name can be an assurance of the quality of the gas barbecue that you will purchase.
Price
This does not necessarily mean that you should choose the cheapest that is available. Instead, keep in mind that you get what you are paying for. If you are paying a low price, it is most likely that the quality is inferior. On the other hand, if it is expensive, it is most likely superior in terms of quality. Make sure as well that you stick to your allotted budget and look around for an available deal.
Frequently Asked Questions
Q: How long should you heat it the first time?
A: The manufacturer suggests preheating this BBQ for 20 minutes when you are using it for the first time.
Q: Do I have to get any additional accessories for connecting the propane tank or gas line?
A: No, the hose and LP regulator comes with the LP model, and 10 feet gas hose comes with the Natural Gas model.
Q: Can I take the grill off the stand and use it on the tabletop?
A: Technically it is possible to remove the cart, but the Q-3200 is not designed to be used without the cart. It will not perform as well and can cause safety issues and even fire. The smaller Q2200 grill can be used without the cart.
Q: Can the LP model be converted to natural gas?
A: No, the manufacturer does not allow conversions due to safety reasons.
Q: Is it easy to assemble?
A: Yes, even an untrained person can assemble it in 30-60 minutes.
Q: Where is it made?
A: The grill is assembled in the USA.
Q: Does this grill use flavorizer bars?
A: No, it does not.
Q: Does it come in pink?
A: No.
Q: Is the propane tank included?
A: No, it should be purchased separately.
Q: Where can I get Weber Q3200 grill best price?
A: You should check all usual suspects online and offline. If you are lucky to find a discount, you can be sure you will buy one of the best budget gas grill models.
Conclusion
I hope my Weber Q3200 review has shed some light on this terrific grill and has helped you to make a purchase decision.
Related Articles