Weber Q1000 Review | Weber Q1200 Review | Weber Baby Q Portable Gas Grills Compared
As an Amazon Associate, I may earn from qualifying purchases made through links in this post at no extra cost to you.
If you enjoy hanging out with friends in your backyard or tailgating, you are probably in need of a great portable grill. I put together this Weber Q1000 | Q1200 grill review to make your shopping for the portable Weber propane grill easier.
Evolving from the traditional charcoal smoker, you might want to switch over to gas-operated or liquid propane grill like Weber Q1000 that are more energy-efficient and less of a hassle to use.
You'll find this kind of barbecue useful, especially for your tailgate barbecue events.
Weber is one of those brands that make efficient, cleverly designed grills. To help you pick the best Weber portable gas grill suited for your use, we have decided to put the Weber Q1000 and Weber Q1200 grills to test.
Weber 50060001 Q1000 Liquid Propane GrillCheck Price
Weber Q1000 vs Q1200

The first thing people are looking for is the Weber Q 1000 vs Q1200 cooking review. So let's find out what is the difference between the Weber Q 1000 vs 1200.
You will probably notice the two obvious differences right away between these Weber portable propane grills.
The Weber Q1200 has a built-in thermometer and foldable side tables.
Technically Q1200 is the same grill as Weber Q 1000 gas grill plus a few added ergonomic upgrades:
added side tables (often also called 'wings')
added temperature gauge
1 inch higher dome (to fit in the thermometer)
more advanced battery-operated electronic push-button ignition
2-part split cooking grate
additional colors are available – titanium, black, blue, fuchsia, green, orange, purple, and red
Weber 51060001 Q1200 Liquid Propane GrillCheck Price
Weber Q1000 vs Q2000
Here is the comparison of Q1000 vs Q2000 LP gas grills.
The main difference is the size and provided heat. The Q2000 offers 50% more cooking space and 50% more BTU heat. Also, both Q2000 and Q2200 have side tables that the Q1000 lacks.
If you are looking for a portable grill, the Q1000 or Q1200 is a better choice.
Q1000
Q1200
Q2000
Q2200
Main Burners (BTU per hour)
8500
8500
12000
12000
Burners
1
1
1
1
Fuel
Liquid Propane
Liquid Propane
Liquid Propane
Liquid Propane
Main Cooking Area (sq in)
189
189
280
280
Warming Rack Area (sq in)
–
–
–
–
Total Cooking Area (sq in)
189
189
280
280
Power/Area (BTU/sq in)
45
45
43
43
Dimensions, Lid Open (in)
23.5″H x 27″W x 20.5″D
24.6″H x 40.9″W x 20.5″D
26″H x 51.4″W x 24.3″D
26″H x 51.4″W x 25.1″D
Dimensions, Lid Closed (in)
14.5″H x 27″W x 16.5″D
15.5″H x 40.9″W x 16.5″D
14.5″H x 51.4″W x 19.5″D
15.5″H x 51.4″W x 19.5″D
Built-In Thermometer
No
Yes
No
Yes
Weight (lbs)
27.9
28.8
41.7
42.5
Review
Here
–
Here
Here
Weber Q1200 vs Q2200
Comparing Weber Q1200 vs Q2200 is easy as the differences are the same as mentioned above. The larger grill simply is…larger. And havier. Like I said above, get Q2000/Q2200 if you need the size, or Q1000/Q1200 if you need a light and portable grill.
Another difference worth mentioning is the additional available color options of Q1200. I will be talking about the colors below.
Weber Q1000 Review vs Q1200 Review
Let's take a look at the features of Weber Baby Q grills.
Design
The grate can be easily removed in two pieces if you have the Weber Q1200. The cheaper Q 1000 model has a single-piece grate.
Hence, along with the grease tray, this feature also makes it very easy for the smoker to be cleaned. Carrying the Weber Q grill is hassle-free, thanks to the two carry handles on either side.
Regarding looks, the Q 1000 grill has a sleek design combining black and silver in its body. The porcelain enameled cast iron cooking grates, along with the body and aluminum lid are both made of cast iron, giving additional strength.
The construction, overall, is really sturdy as it is made of durable cast aluminum. The handle is quite sturdy, the frame happens to be made of reinforced nylon, and the material is corrosion-resistant. The Q 1000 is rather easy to clean, thanks to its grease tray.
I also love how the product comes fully assembled and ready to use out of the box, saving you a lot of hassle. It also comes with a five-year warranty from the manufacturer. As it is a propane fuelled barbeque, it uses disposable 14.1 or 16.4 oz. LP cylinder sold separately.
The Q1000 weighs only 27.5lbs in spite of the sturdy construction and durable body. The Q1200 is a couple of pounds heavier because of the added tables on the sides.
Both deceptively light bbq models can hence be easily taken outdoors or used in RV. The features on this one are numerous and exciting, efficiently helping you to feed four to six people at a time.
Overall, Weber 1000 | 1200 makes grilling on the road hassle-free, and it's undoubtedly worth checking out, especially if you have a tight budget.
If you can afford to spend a bit more money, please check out my review of the best budget gas grills.
The Weber Q1000 | Q1200 grill might look a little too futuristic, but the use is rather simplistic and hassle-free. This portable LP grill is great for patios or decking as a feature and is great for outdoor cooking or tailgate and RV parties.
Controls
I really love that it comes with red push-button ignition and infinite control burner valve settings. Not only does it help auto-ignite the fire, but you also get greater control over the heat.
I also like the ergonomic control knobs which help hold a gentle simmer on liquids. These also make turning up the heat on large pieces of meat a piece of cake.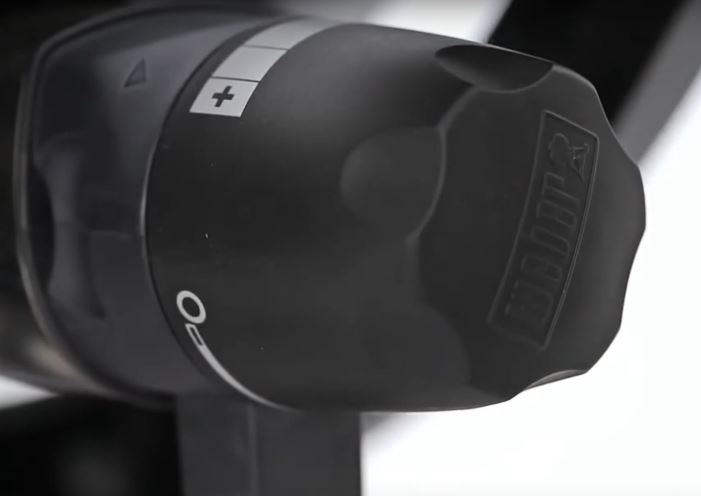 Burner
I am impressed by the stainless steel burner, which produces 8500 BTU per hour to heat its 189 square inches of cooking surface. With Weber Q 1000 propane gas grill we can comfortably host six people, fitting six large steaks on the surface.
If you need a BBQ with a larger cooking area, the 280 square inch cooking area of Q 2000 may be what you are looking for (let me know if you want to read more extensive Q1000 vs Q2000 comparison).
The power output of Weber Q 1000 | Q 1200 gas barbecue is excellent for grilling large steaks and a couple of burgers. Even though the output can be a little lower than some other popular grills, it lets you save some fuel in the process which is always a good thing.
The large grilling space is a great feature, not to be taken for granted and not easily found in other models.
Specifications
These specifications are shared by both Q 1000 and 1200 grills.
8,500 BTU per hour
Stainless Steel burners – 1
Porcelain-enameled cast-iron cooking grates
Cast aluminum lid and body
Total cooking surface 189 sq in

Primary cooking area 189 sq in
Removable warming rack – not available

Fuel – Liquid Propane
Dimensions
The Weber Q1200 propane grill features a built-in thermometer and side tables, so it takes more space.
Weber Q1000 grill dimensions

Lid open (in) – 23.5″H x 27″W x 20.5″D
Lid closed (in) – 14.5″H x 27″W x 16.5″D
Weber Q1200 grill dimensions

Lid open and wings out (in) – 24.6″H x 40.9″W x 20.5″D
Lid closed and wings out (in) – 15.5″H x 40.9″W x 16.5″D
Shipping Dimensions
Shipping Weight of Q1000 – 26.9 lbs
Shipping Weight of Q1200 – 28.9 lbs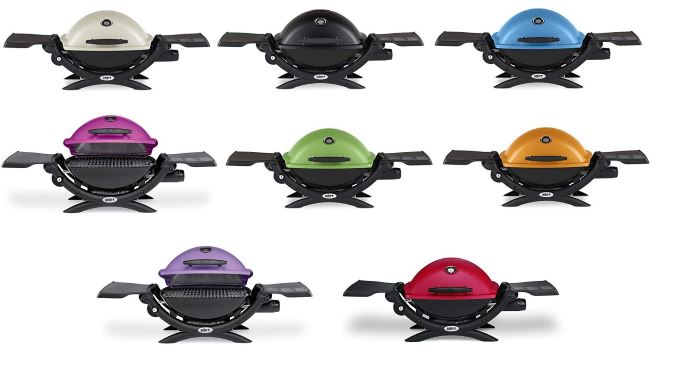 Weber Q 1000 | Q 1200 Reviews From Customers
I have read and analyzed a handful of Weber Q 1000 review and Weber Q1200 review articles. Here is what I have found.
The features that the customers particularly love include the ergonomic handles and the sturdy construction of the grill. Many were initially worried that the 8500 BTUs will not be sufficient. However, customers say that the baby Weber grill can be turned on to the max and still remain economic.
There is undoubtedly a wow-factor to the unique and modern design, and some customers really found the large grilling surface a blessing while entertaining a large number of guests. The durability was also a highlight in the customer reviews as the cast iron grates were a fan favorite.
The greatest joy of using the Weber Q1000 grills, according to customers, is the sheer ease of use. Just one push of the red auto-ignite button and one can simply watch their food being cooked on the gorgeous porcelain-enameled cooking grate.
Many have admitted that it may not be the most suitable for rugged outdoor conditions, but the Q1000 model was found to be the perfect backyard companion for family events.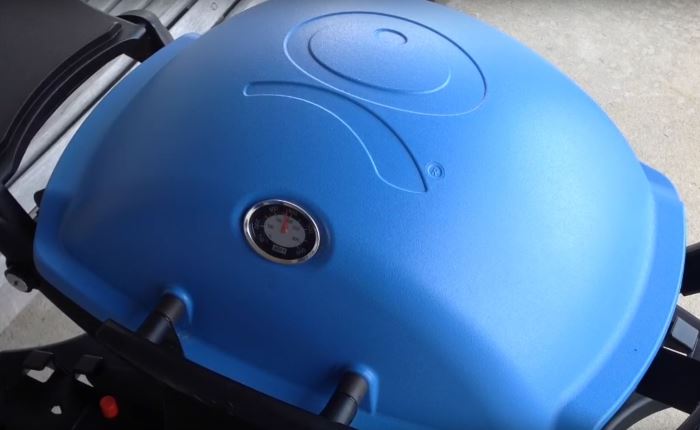 Advantages
Weber Q1000 and Q1200 are portable grills that use liquid propane. These two have quite a lot of similar features and thus similar benefits and advantages.
However, the Q1200 has some features that the Q1000 lacks which means that some advantages may be specific to one and not the other and the same applies to disadvantages.
Pros of Q1000
This is the rebranded version of the Weber Q100. This version delivers the great performance that the Q100 did.
The Weber Q1000 grill also has sleek styling and several new functions and features such as control knobs, stable cradles and a bigger area for holding the handle.
It also has ergonomic side handles which the earlier version didn't have.
It is portable
This grill is compact and portable which makes it easy to move around. You can even carry it with you when you are going on a trip because it fits in the boot of your car.
Storing the appliance is also easy because of its small size and the fact that it is lightweight. It can fit on the kitchen countertop, in the pantry, cabinet, and below the table.
This Weber portable grill is perfect for those with small families.
It is easy to clean
The presence of a removable catch pan makes cleaning this appliance a breeze.
It heats up fast
If you are looking for a grill that won't take ages to absorb heat then the Q1000 fits that description. Even something as simple as the water boils up very quickly. The temperatures can reach between 500-550°F.
It is long-lasting
The Weber Q1000 liquid propane grill durability comes from the materials used in its construction and examples include the grates made from cast iron coated with porcelain. The body and lid are made from cast aluminum which is also a durable material.
Evenly cooks food
The cast-iron grilling grates allow for uniform distribution of heat which gives you an evenly cooked meal.
It is versatile
If you are looking for an appliance you can use to grill a variety of food then you should try Weber 1000. You can use it to prepare chicken, hotdogs, vegetables, steak, corn on the cob and hamburgers.
Pros of Q1200
It is easy to clean
It has non-stick cooking grate which translates to food not sticking to it. Therefore, cleaning is extremely easy.
The appliance has a drip tray ensures that you do not make a mess while grilling your steak since it holds the excess grease and particles that fall through the grates. Cleaning up them becomes easy too.
It comes with a thermometer
One of the concerns that people have about Weber 1000 is the lack of a thermometer. This is not the case with the Weber Q1200 grill because it has a thermometer which makes your work easier while barbecuing since you can monitor the temperature of food.
What makes it better is that you don't have to open the top to monitor the heat.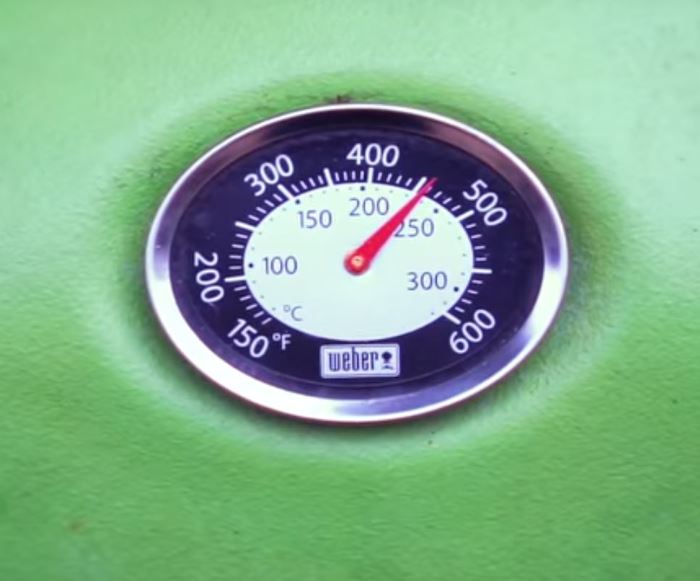 It has electronic ignition
The grill has an electronic ignition which is an upgrade from the usual mechanical push buttons. This is more advanced and it helps to both auto-ignite the fire and enables you to control the heat better.
It has side tables
The 1200 version has side tables which makes grilling fun and easy. What's more? These tables are extremely sturdy and big.
The side tables can be folded which makes t easy to carry when traveling or when moving it from one position to another.
It gets very hot quickly
One of the observations by users of this appliance is that it gets really hot within a short amount of time.
This means that it significantly reduces your cooking time. For example, it can get to 450°F in just eight minutes on a normal day. However, time also depends on the weather. For example, it takes longer to heat up on a cold day.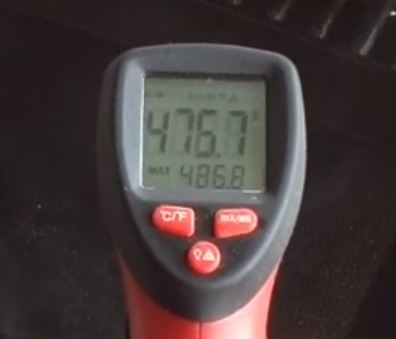 It also distributes heat evenly so you get a perfect meal within the shortest time possible.
It is available in a variety of colors
The beauty of buying the Q1200 is that you can choose the color you want since it's available in a variety of them. For example, you can have it in green, red, black, purple, blue, titanium and even fuchsia.
This also means that you can get one that matches your interior or kitchen décor to make your home even more beautiful.
Versatility
This version comes with a higher dome lid. The advantage of this is a larger cooking area which allows you to prepare meals like whole chicken that would otherwise be impossible with a small cooking space.
It is durable
This appliance is built to last a long time and that's why it comes with a 5-year warranty. The lid and body are made from durable cast aluminum.
The material used to make the frame is reinforced nylon which is usually resistant to corrosion. The side tables are stable.
It has a 2 part cooking grate
The appliance is designed in such a way that it can be removed in 2 pieces. This makes it easy to clean the smoker.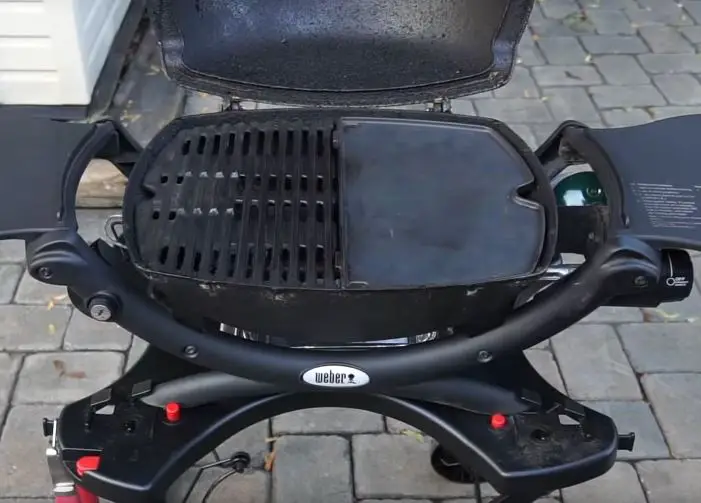 It comes fully assembled
You can start using your grill immediately when it arrives because it is fully assembled. This saves you the hassle of putting it together or damaging a piece as you try to figure out what fits where.
Disadvantages
Cons of Q1000
It lacks an inbuilt thermometer
The Weber 1000 doesn't come with an inbuilt thermometer which some users feel it should have. Most of the people who buy the appliance purchase the thermometer separately and then use it on the appliance.
It takes time to heat up in some cases
While the kitchen appliance heats up fast for most users, some have complained that it takes longer to get hot. For the latter category, they realized that replacing Weber's regulator with a generic one solved this problem.
It cannot cook ribs
Weber Q1000 portable propane gas grill is too small for preparing some foods such as ribs. Some users feel that they need a propane grill they were able to use it to cook ribs. In this case, the Weber Q2000/Q2200 grill will be a great alternative.
Cons of Q1200
It doesn't work well at high elevations
There was an observation amongst users that this appliance doesn't warm up quickly at high elevations. The regulator does not work well with high altitudes and so it is difficult to heat meals like burgers or steak.
The grill struggles to get to 300 degrees.
It is costly
Some people cannot afford to buy the 1200 Weber because of its price.
It is heavy
Some users feel that the Q1200 is heavier compared to the Q1000 because of added side tables. This becomes a challenge when they want to travel long distances with it.
Weber Q1200 | Q1000 Accessories
Now let's take a look at Weber Q1000 gas grill accessories that can also be used with the Q-1200.
Weber Q1200 Cover
I definitely think that a high-quality Weber Q grill cover is a good investment if you want your barbecue to last a few extra years.
Weber Q 1200 | 1000 Cart
Weber 6557 Q Portable Cart, 28.2″ x 21″ x 25″, BlackCheck Price
Many potential buyers are looking to buy the Weber Q 1000 with stand. While some retailers may bundle the grill with a rolling cart from time to time, the stand (or cart as it is officially named) should be purchased separately.
Carrying your barbecue around by holding the handles can be quite a hassle, especially if you have a lot of stuff to move. To make transporting the appliance more manageable, you can opt for the Weber 6557 Portable Cart.
I really like how you can lock the BBQ in place and slide it back, thanks to its front-loading design of the stand. There is a wire transport handle built-in with the portable cart. In transport mode, the hook and loop strap helps to keep the appliance in place on the stand.
I love the all-weather wheels, along with the two tool hooks that can store all the other accessories you might be carrying. Overall, the Weber Q1200 | Q1000 stand can help you to mount your grill comfortably on top and push it around for better mobility.
Weber Q 1000 Series Griddle
Weber 6558 Griddle for Q1000 Series GrillCheck Price
Last but not least, we have for you the Weber 6558 Griddle. The griddle has been designed to replace a grate in the Q1000 grill. The material, like the smoker itself, is porcelain enameled cast iron.
The Weber Q1000 griddle is very easy to clean as well, and the lip around the outer edges helps to prevent any spillover that might happen. The heat retention and distribution of heat, we found, were exceptional.
This really does enhance the performance of your grill and ensures evenly cooked food. The double-sided surface of this griddle can help you to prepare delicate food items that would otherwise not cook thoroughly on regular cooking grates.
Overall, I think you should invest in this griddle to be able to cook a wider variety of food, not just steak and burger patties. Pancakes, crab cakes, and bacon can be cooked evenly when you replace the standard grate with this griddle.
Frequently Asked Questions
Q: Where is Weber Q 1000 LP made?
A: This grill is made in the USA, in the Weber plant in Illinois. The Q1200 is also assembled there.
Q: How to convert Weber Q1000 to use with RV?
A: There are plenty of videos on Youtube where you can learn how to hook up your Baby Q grill to the RV LP tank. If you are not sure you can do it yourself, get in touch with your local RV service center.
Q: How big a plate can you put on a Weber Q-1000?
A: The cooktop dimensions are approx 19 in x 15 in.
Q: What temperature should a Weber Q 1000 get to?
A: It takes 20 minutes to preheat the grill to 500-600 degrees F.
Q: How does the Napoleon TravelQ 285 Portable Propane grill compare to the Weber 1000 Q Series grill?
A: The Napoleon TravelQ 285 with its 285 square inch cooking area and 12000 BTUs should be compared with Q2000/Q2200 grills. The Weber Baby Q grill is smaller, does not burn so hot, and has only 1 burner compared to 2 burners of Napoleon.
Q: Can I use a larger propane tank with my Weber portable grill?
A: Yes, you can use 5-20 lbs refillable LP tank but you need the optional adapter hose. Several models of 4-6 feet hoses like Weber 41455 or similar from Shinestar or GasSaf are available on Amazon.
Q: How to season a Weber Q 1000 grates?
A: According to the manufacturer, the porcelain enamel coated grates do not require seasoning. It is OK to brush the grates with a bristle brush and preheat before the first use.
Q: Are the Weber Q1000/Q1200 replacement parts for sale?
A: Yes, you can find a wide variety of parts and accessories, like burner tubes, griddles and grates, ignition modules, adaptor hoses, and many more.
Q: Can you add rotisserie to this grill?
A: Yes, you can find electric rotisseries from OnlyFire, Broil King, and other brands that are compatible with Q1000 and Q1200 barbecues.
Conclusion
The Weber Q1200 | Q1000 portable gas grills work well for when you are grilling at home or outside the home. They are compact and easy to move around especially the Q1000 since it is more portable.
For these two, one minute you can use them at home and the next minute you can put them in your car and take them with you to a picnic, an office party, a festival or even a sporting event.
You can prepare a variety of foods in them and treat your family and friends to different meals from hotdogs to vegetables.
The grills are durable and so you won't run back to the shop to purchase another one anytime soon.
These appliances will give you evenly cooked meals courtesy of the cast iron cooking grates which allow for uniform distribution of heat.
You can comfortably use these two to make delicious meals while on your balcony.
If you are interested to see the Weber Baby Q grills compared vs Weber Go Anywhere, Napoleon Travel Q, or Coleman Roadtrip grills, please leave a comment below!
Related Articles