Best Weber Genesis Grill Cover For E330 | E310 | S330 | E335 | E315 Gas Grills (Updated Mar 2023)
When you have bought and set up your large Weber Genesis gas grill, you will soon realize that you quickly have to figure out which is the best Weber Genesis grill cover if you are planning to keep your barbecue in your back yard permanently.
Some of them may be quite pricey but that should be expected. Who is going to spend almost a grand for the grill and then start counting pennies on such a useful accessory as a grill cover for Weber?
With a good cover, you can store your BBQ right where you use it on your porch, and it will protect your cooker from the elements.
When I starting putting together this Weber gas grill cover review, I had 3-burner Genesis grills in mind. Now I am expanding it to include 2, 4, and 6 burner grills.
Best Grill Covers For Weber Genesis 3 Burner Gas Grills
Update: These Weber BBQ covers are also compatible with the new Weber Genesis II Smart Grills – EX-315, EX-335, and SX-335 barbecues. If you are looking for Weber Genesis II Smart Grill cover, you will find the best cover models below!
There are several cover options to choose from when you are shopping for the Weber Genesis cover or any other similar medium size barbecue.
Here is the quick list of compatible Weber Genesis 3 burner grill models:
E-310
S-310
E-315
E-325
E-330
E-335
S-335
EX-315
EX-335
SX-335
Let's start with more expensive grill cover models and then see more affordable alternatives.
#1 Weber Cover 7130 For Weber Genesis II (Popular and High Quality)
Weber 7130 Genesis II Cover, BlackCheck Price
The Weber 7130 cover is designed to fit your Genesis II 3 burner grill and all Genesis 300 Series models as well as the old Weber Genesis Silver B.
Although on the pricier end of the spectrum, this polyester cover is a safe bet to last for several seasons and will continue looking fabulous winter after winter.
An investment into the Weber Genesis cover means a perfect fit as well as an assurance of good quality that you wouldn't get otherwise.
This product will shelter your outdoor grill from the elements while looking sleek and elegant, and there are also straps to keep it in place in case of strong winds. With this quality grill cover, you can go all winter without having to check on your grill once. It will also stand the test of time, as many buyers have proclaimed for years.
The Weber gas grills cover has accumulated lots of positive ratings in the listings of several different online stores where lots of satisfied users are claiming that Weber 7130 is the best grill cover for Weber Genesis they have used. You should be ready to spend more money on this model because of the Weber brand and various features. I recommend shopping around for a lower price.
Material – heavy-duty polyester
Dimensions – 25 inches by 58 inches by 44.5 inches
#2 Weber 7107 Grill Cover With Storage Bag (Functional)
Weber 7107 Grill Cover (44in X 60in) with Storage Bag for Genesis Gas GrillsCheck Price
This Weber grill cover 7107 for Genesis will fit your grill like a glove. Its Velcro straps provide a better fit and also make sure the cover will stay in place no matter how harsh the weather gets.
This product coming from Weber's brand is quite pricey, but it is possible to find a discount if you check several online stores.
The tarpaulin is made of lightweight, and durable polyester fabric that many have attested does not fade in the summer sun even after years of use outdoors.
The higher price of the product is justified by how long it lasts, keeping your grill in tip-top shape season after season.
Many users have called it the best Weber Genesis BBQ cover on the market. If the Weber 7107 cover dimensions – 60 x 28 x 44.4 inches – fit your BBQ, there is no better option for you.
Material – Polyester
Dimensions – 24 inches by 60 inches by 44 inches
Accessories – storage bag
Weber 7107 vs 7130
What is the difference between Weber grill cover 7107 vs 7130?
The older Weber 7107 cover has been designed for older Weber Genesis I grills manufactured between 2007 and 2015. It still fits the new Genesis II grills.
The new Weber 7130 has been created with the latest generation Genesis 2 grills in mind, so it will fit better.
#3 Weber 7553 Premium Cover (Classic Value)
Weber 7553 Premium Cover for Weber Genesis Gas GrillsCheck Price
The Weber Grill Cover 7553 has been around for more than 10 years and has gone thru several redesigns. It is made from durable vinyl and is compatible with Weber S and E series grills.
When you check out Amazon customer reviews of this Weber cover, don't be confused by lots of negative single-star reviews. It seems that early models of this cover from the years 2008 and 2009 had some design problems.
Customers were complaining that this product had faulty vents on its sides that did not protect your grill from the rain. So water was collecting on the side tables and in the cabinet below the BBQ grill.
Later in 2009, the manufacturer changed the design of the Weber cover 7553 eliminated this problem. Only great reviews all the way since then!
Update – this cover has been phased out and replaced with model 7139.
Material – heavy-duty vinyl
Dimensions – 30 inches by 60 inches by 50 inches
#4 Kingkong Gas Grill Cover 7553 | 7107 Cover (Accessories Included)
Kingkong Gas Grill Cover 7553 | 7107 Cover for Weber Genesis E and S Series Gas Grills Includes Grill Brush, Tongs and ThermometerCheck Price
The Kingkong Gril Cover set 7553/7107 for Weber Genesis E, and S Series Gas Grills also includes the grill cleaning brush, tongs, and thermometer. It will fit also Weber's Genesis 300 Series grills.
The KingKong 7552 grill cover is made of heavy-duty polyester that is less likely to crack because of its UV resistant properties. It has Velcro fastening straps for a snugger fit that will secure the cover.
This midrange cover can be found online for half of the price of branded Weber gas grills covers. It is a sweet deal if you are also looking for grill accessories because it also comes with essential tools like a thermometer and tongs for no added cost to you.
The King Kong cover is a long-standing fan favorite because of its affordability and durability, with many going so far as to say that it is superior to its brand-named twin. You may be put off but the relatively shorter three-year warranty, but long time users will assure you that the cover will last a lot longer than that.
At the time of writing, the product is one of the best-selling barbecue accessories on the Internet, proving that an affordable price doesn't mean compromising on quality.
Material – heavy-duty polyester and 600D Oxford fabric
Dimensions – 24 inches by 60 inches by 44 inches
Accessories – stainless steel grill brush, tongs, and cooking thermometer
#5 LiBa 44x60in Gas Grill Cover 7107 (Most Popular)
LiBa BBQ Gas Grill Cover 7107 for Weber 44×60 in Heavy Duty Waterproof and Weather Resistant Weber Genesis Series Outdoor Barbeque Grill CoversCheck Price
This affordable LiBa grill cover will fit a wide range of Weber grills, including the Genesis 200 and 300 Series.
It is in the same price range as the Homitt tarpaulin and is a cult favorite because of its excellent value for money. At the time of writing, this product is one of the best-selling barbecue covers on the internet, with many calling it an absolute bargain for its longevity.
If you are in the market for the barbecue gas grill cover, purchasing this will be a pleasant surprise. There aren't many other covers out there that marry high quality and affordable prices the way LiBa does with this product.
Material – polyester
Dimensions – 28 inches by 60 inches by 44 inches
#6 Classic Veranda Cart BBQ Cover (Affordable)
Classic Accessories 73912-WB Veranda Grill Cover, LargeCheck Price
The Classic Veranda Cart BBQ Cover is a great alternative to Weber 7553 cover.
There are several size options available – Medium, Large, X-Large, and XXL, making this product more universal. You can choose Medium and Large for your Genesis E330 barbeque.
According to consumer reports, the Accessories Veranda grill cover is exceptionally stylish and well-built at the same time.
It has scored very high ratings from buyers, and only a handful of customers have found some issues with this product.
The Veranda grill covers are available in several other sizes starting from XS (38 x 22 x 44) up to XXXL (80 x 26 x 51).
Material – Gardelle woven polyester
Dimensions – 24 inches by 64 inches by 44 inches
#7 Homitt 44in x 60in Upgraded 7107 Waterproof Gas BBQ Cover (Affordable)
Homitt Gas Grill Covers, Upgraded 44 x 60inch 7107 BBQ Grill Cover with 600D Waterproof Heavy Duty Oxford Fabric and PVC Coating for Weber Genesis E and S Series Gas GrillsCheck Price
The Homitt 44in X 60in 7107 Upgraded water resistant gas grill cover with 600D heavy duty Oxford fabric and PVC facing fits Weber Genesis E and S series grills.
It is made of heavy-duty Oxford fabric that is resistant to cracks and rips. Its straps help it fit several different brands' grills, just be sure to check the dimensions match before purchase.
It is one of the most budget-friendly choices.
The Homitt gas barbecue cover comes with a storage bag for when it is not in use. The cover is straightforward to put on and take off for cleaning. Just hosing it down is enough, and it can dry in the sun without issue.
At the time of writing it is among the top 30 bestselling BBQ covers online. That isn't a surprise given its affordability.
Material – 600D Oxford fabric and polyester
Dimensions – 24 inches by 60 inches by 44 inches
Accessories – storage bag
Weber Genesis 2 Burner Grill Covers
Weber 7129 Premium grill cover fits the new Weber 2 burner grills from Genesis II 200 and Genesis II LX 200 series, e.g., Weber Genesis II E-210 and Genesis II LX S-240.
It also fits the old small 2-burner Weber Genesis Silver A model.
Material – Premium heavy duty polyester
Dimensions – 25 inches by 52 inches by 44.5 inches
Weber 7129 Weber Genesis II CoverCheck Price
Weber Genesis 4 Burner Gas Grill Covers
Weber 7131 Premium grill cover fits the new Weber 4 burner grills from Genesis II 400 and Genesis II LX 400 series, e.g., Weber Genesis II E-410, E-435, S-435 and Genesis II LX E-440.
It also fits the old large Weber Genesis Silver C grill.
Material – Premium heavy duty polyester
Dimensions – 25 inches by 65 inches by 44.5 inches
Weber 7131 Genesis II Grill Cover, BlackCheck Price
Weber Genesis 6 Burner BBQ Covers
Weber 7132 Premium grill cover fits the new Weber 6 burner grills from Genesis II 600 and Genesis II LX 600 series, e.g., Weber Genesis II E-610 and Genesis II LX E-640.
Related reading: Weber Summit Grill Cover Guide
It also fits the old large Weber Genesis Gold and Genesis Platinum barbeques.
Material – Premium heavy duty polyester
Dimensions – 25 inches by 73 inches by 44.5 inches
Weber 7132 Weber Genesis II CoverCheck Price
Frequently Asked Questions
Will The Weber Genesis Grill Cover Fit Other Grills?
While I have selected several covers that precisely fit the Weber Genesis E 330, they are compatible with multiple 2 and 3 burner grills made by Weber, Char-Broil, Brinkmann, Jenn Air, and others.
Some of the Weber gas grill covers MAY BE compatible with these Weber Genesis and Weber Spirit models:
Genesis I & II 200 Series, Spirit E-210, S-210
Genesis I & II 300 Series, including E-310/E-315, E-330, E-335, EP-310, EP-330, S-310, S-330, and S-335
Genesis Silver B & C Models
Classic Genesis 1000 series
Related reading: Weber Spirit Grill Cover Guide
To ensure you get a cover compatible with your barbecue, please visit product pages on Amazon and read the product description, Customer questions & answers, and Customer Reviews where users share their experiences.
I see only models from the current Weber gas grill lineup. What about the old Weber Genesis Silver A / B / C and Gold A / B models?
Weber Genesis Silver cover for  A | B | C models:
The 2 burner Weber Genesis Silver A fits in Genesis II 200 cover #7129.
The 3 burner Weber Genesis Silver B fits in Genesis II 300 cover #7130.
The 3+1 burner Weber Genesis Silver C fits in Genesis II 400 cover #7131.
Weber Genesis Gold B / C covers:
Both 3 (3+1) burner Weber Genesis Gold B and C models fit in Genesis II 600 cover #7132.
Weber Genesis Platinum Cover for B and C models:
Both 3 (3+1) burner Weber Genesis Platinum B and C models also fit in Genesis II 600 cover #7132.
Do I need a Grill Cover?
If you're a regular grill user, the time and again assortment of grill must be troublesome for you. That is when you know you need a grill cover. And if you're getting one, better to get the best one, what say?
Well, you surely can't just leave your grill outside with all the external elements. Even the most durable barbecues made from quality materials can be damaged by prolonged exposure to the elements.
Those factors aren't the only things to worry about. An exposed barbecue grill becomes home to microbes you don't want to know the names of.
In that case, a good barbecue cover is a thing you need. It'll protect the grill against the sun and rain, increasing the lifespan of the equipment. Here comes a lifetime of top-quality meals!
Where Can I Buy The BBQ Cover For Weber Genesis?
Weber grill covers can be bought in stores that sell garden equipment or cooking utensils. Adding to that, a number of retail websites such as eBay sell barbecue equipment.
Online stores provide detailed descriptions, compatibility charts, and user reviews where they share information about compatibility. Therefore, online shopping is more convenient. However, physical stores are a great help for those who are confused about the size and measurements of the best bbq covers.
What Are The Most Important Grill Cover Features?
When you are shopping for the cover for your barbecue, you should pay attention to the features mentioned below.
I am working on a more detailed explanation of each feature.
Dimensions
Material – polyester, vinyl, PVC or other
Resistance to UV light and water
All Season Usage
Adjustable Fit
Air Vents
Warranty – usually from 1 year to Limited Lifetime warranty
Weber 7553 vs 7107 – What is the Difference?
I have not been able to find any information about the differences. Both models have been discontinued by Weber (but you will still be able to buy them online while retailers have them in stock) and replaced by Weber 7130.
I am looking for the Weber 6 burner grill cover. Which of the reviewed covers will fit?
You will need a larger cover for the 6-burner grill. Please check out the covers of Weber 7109 (cover for Summit 600-series) and Weber 7132 (Genesis II 6 burner bbq).
Weber Genesis Grill Cover Buying Guide
If you love grilling under the open sky, a good quality barbecue cover can make your life easier. You just need to learn about the dos and don'ts of buying grill covers for your Weber Genesis grill, and then you can get started.
Material
There are good materials and bad materials when it comes to grill covers.
The good materials are Polyester, Vinyl, and Canvas.
Polyester
These fibers are artificially made to be resistant to water and sunlight. Polyesters can be found in the variation of prints.
Being lightweight, easy to dry and easy to clean are bonus features added to their impressive ability to adapt to changing seasonal atmospheres. Moreover, this fabric tends to keep external microorganisms away and protects your grill from contamination throughout the year.
Vinyl
Vinyl covers perform impressively in the rainy season despite the lack of durability. But, I'd recommend heavy-duty vinyl fabrics over the cheap ones.
The 12 gauge heavy-duty vinyl adds a flexible aspect to the fabric and does not puncture easily and hence, it's strongly suggested as the leanest size of vinyl cloth to be bought.
Canvas
This is the most heavy-duty material used for covers. It is also a better option than others as its durability and resistance to water and fire proves its superiority.
Canvas material is often cheaper than polyester ones yet tends to perform better. These are some reasons why this is considered a wise option over others.
When it comes to price, polyester and vinyl are found to be more expensive than canvas. However, canvas has proved to be more durable than either of these materials.
Lining
The internal lining of a cover helps to lengthen the lifespan by preventing tears, disclosure, and wearing out. So, it is better to go for the mold and mildew-resistant liner.
PVC, which is waterproof, is a brilliant lining. Nylon and polyester are quite great options too. On the other hand, fleece and wool linings can raise mold or house bugs so it is better to avoid using them.
Now let's deal with bad materials.
I suggest you avoid BBQ covers lined with flannel or felt. Flannel and felt are excellent materials for building mice and squirrel nests, and these critters will thank you for getting them the supplies. Soon the cover will be in tatters, and you will start shopping for another one.
Shape and Size
Before setting off to buy your grill cover, I'd suggest you take proper measurements of your grill first. The measurement is a very important factor while judging which cover to lay your hands on.
As per the research I have gone through, I conclude that the cover measurements should exceed the grill width (often 55 or 72 inches). While buying cover online, you must take accurate measurements of your BBQ and then search accordingly. Then you can be sure it fits your grill perfectly.
A large cover will be tough to manage during strong winds or rainstorms. A small cover will develop ridges and edges, so it may tear and rip after a certain duration of usage.
Nevertheless, most grills are more or less similar. A perfectly fit cover will protect your grill from harsh weather conditions and prevent corrosion.
Here is the cover size chart.
Size
Dimensions
Width x Depth x Height
XS
38 x 22 x 44
SW
44 x 17 x 44
S
44 x 22 x 44
SM
52 x 24 x 44
M
58 x 24 x 48
L
64 x 24 x 48
XL
70 x 24 x 48
XXL
72 x 26 x 51
XXXL
80 x 26 x 51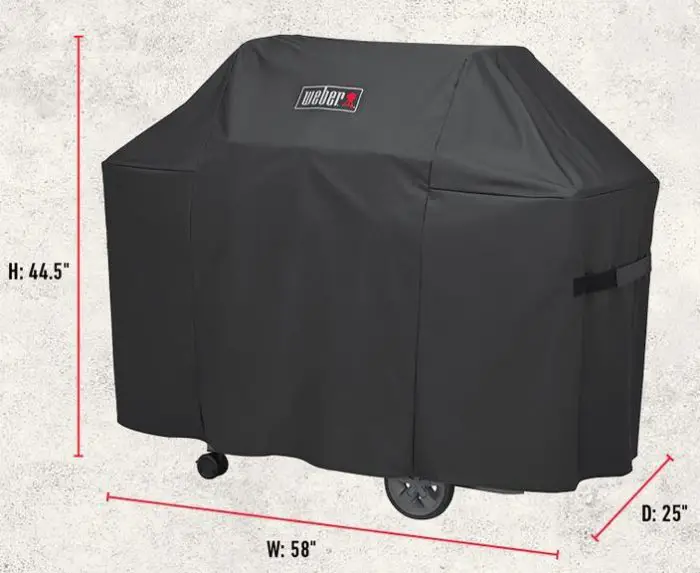 Durability
The fabric's properties are very important for the cover to achieve durability. Heavy-duty canvas fabrics go a long way in ensuring durability. Normally, heavy-duty fabrics are the ones made of vinyl and acrylic-coated polyester and 100 percent cotton.
Light-duty covers are created with cheap or average materials that don't perform well under strain or external factors. They also are often lightweight and need to be tied down to protect the cover.
So, it's better to use heavy-duty ones. You won't have to wait for the grill to cool down to replace the cover, as it is heat resistant.
Adjustable Fit
It is very important to make sure the measurements are flexible. The tightly fitting grill cover is not a good choice. It's better to have a little extra space (but not too much) for the removal or replacement of the cover.
If you are buying Vinyl fabric, make sure it's at least 12-gauge since that adds flexibility and fights against tears. It is very important to measure your grill accurately and search your grill cover based on those measurements.
Straps
A good grill cover has straps to prevent it from blowing off in heavy winds.  Straps keep the cover in place even when it's extremely windy outside.
You get the best results from strong and heavy-duty straps. They give great protection from the wind and prevent external agents. The straps will keep all types of living things away from the grill.
You need to keep an eye out for whether the cover has tie-down straps or not. To put the straps in action you usually have to click down the tie downs over or around the legs. However, if the perfect grill cover for a Weber grill lacks straps, you can always buy them (strongly suggest Velcro straps).
Air Vents
The ones with air vents will prevent dampness and condensation from forming and helps that moisture evaporate. Two vents will be there to promote the passage of air. So, the items inside will be fresh.
They will also prevent the cover from ballooning due to extra air trapped inside.
Pockets
Grill covers with pockets aren't exactly any distinctive advantage. But it's still great to have the utensils near at hand while grilling and chilling.
Taking Care of The BBQ Cover
Here are some pointers to take care of your premium grill cover:
Rinse it from time to time but not too strongly.
A clean grill is where you start in order to achieve a clean grill cover. Dirty instruments and scraps will bring in pests and make you regret big time. Keep the grill and utensils clean.
It's best to avoid using strong chemicals such as bleach or acid for cleaning the cover. Even covers of excellent quality lose their durability due to these chemicals. If you don't rinse off those chemicals properly, you can put your health at risk, too (remember, you're cleaning something you cook food in).
Grill covers should be washed by hand and certainly not in washing machines. The harm the washing machine can cause to the cover isn't recoverable. Also, any tiny hole can put your whole grill machine at risk of contamination.
The key to maintenance is sincerity and care. Fortunately, prolonging your grill cover's lifespan is a legitimately candid process.
If you're sincere enough to clean your grill cover from time to time then the washing process becomes simpler. None of the reviewed best Weber grill covers for Genesis require hardcore washing anyway. All it needs is a little bit of your time and effort.
Related reading: How To Clean A Grill Cover?
Conclusion
There is more to come. I am planning to review more best bbq grill covers for Weber Genesis from 3rd party manufacturers like Ravenna, Texas, and Sunbrella.
Related Articles