Weber Spirit Grill Cover Guide | Best Grill Cover For Weber Spirit
One of the best affordable gas grills you can buy is the Weber Spirit series – this is the gas grill that revolutionized grilling.
Weber Spirit grills have 2 or 3 stainless steel burners with up to 32,000 BTU-per-hour inputs, an electronic ignition system, and up to 424 square inch main cooking area.
As you surely don't want to leave this beauty unprotected in the backyard, the first accessory you should buy is a Weber Spirit grill cover.
Don't be surprised if the Weber Spirit cover costs much more than an ordinary no-name cover – the difference in price is based on superb quality, usability, and durability.
You can read lots of regretful reviews from grill owners who spent a lot of money on a Weber Spirit grill but did not want to pay the price for a quality grill cover, and bought a flimsy one instead.
Why Weber Spirit Grill Cover?
Weber Spirit cover is a full-length, weather-resistant cover made from heavy-duty vinyl that doesn't crack in sub-zero temperatures.
Those who buy a Weber Spirit BBQ cover will be surprised at how well it fits on their grill, but it is not like a glove. It does not stick to the grill and can be put on and taken off easily, even on wet days.
Many owners are very satisfied with the performance of the grill cover in severe windstorms. There are stories about the whole grill being moved by the wind, but the cover doesn't come off. However, I do suggest taking extra precautions and secure your grill cover against being blown off.
There are people who had their Weber Spirit grill cover for 5 years, and it still looks new. The Weber grill also looks like it was when they bought it, despite the fact that it was heavily used. Users are also really satisfied with the cover's design, and almost all of them say that it is worth the money.
Which Weber Spirit Grill Cover Will Fit My Grill?
There are several Spirit and Spirit II models around, so sometimes it is not obvious which model you should get.
There are Weber Spirit and Spirit II, Series 200, and Series 300 gas grills.
Some of the grill covers are compatible with both Spirit and Spirit II barbecues, but it can get tricky fast. In the chapters below, I will explain how compatibility works.
The main takeaway is to double-check which Spirit model you have.
All covers are 26-27 inches deep and 42 inches tall, but the width varies from 30 inches up to 52 inches. That is the reason why it is important to get the right cover for your Weber Spirit model.
The cover hangs almost to the ground, so it protects the grill's legs, fuel tank, and bottom.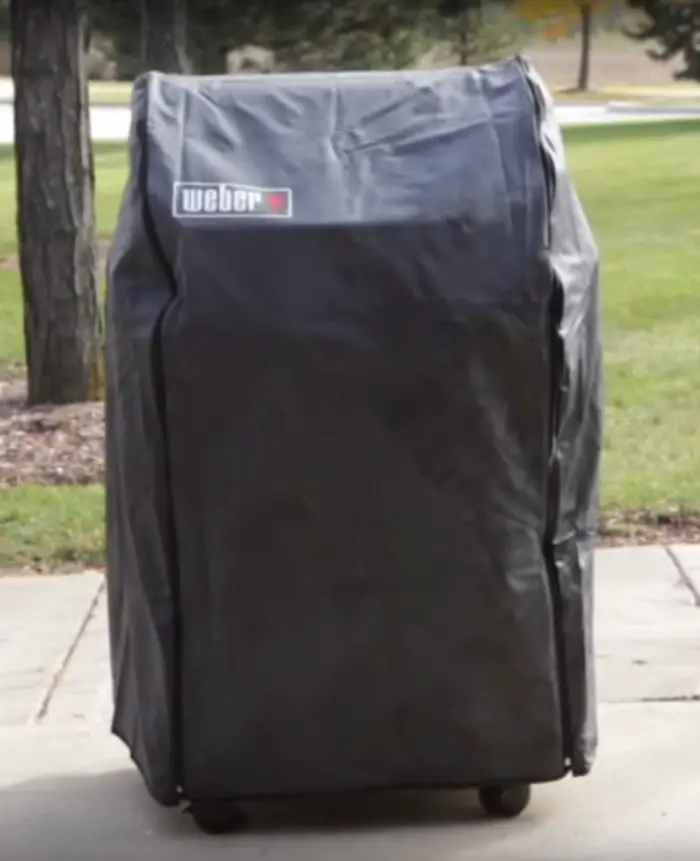 Weber Spirit E-210 Cover
When it comes to protecting your Weber Spirit E-210 grill, choosing the right cover is crucial. You should be aware that there are dimensional differences between the Spirit E-210 and Spirit II E-210 grills. The original Spirit E-210 grill is narrower than its successor.
As a result, covers designed specifically for the first-generation Spirit E-210 grill will not properly fit the newer Spirit II E-210 model. To ensure a perfect fit, make sure to select a cover that corresponds to your grill's specific model and generation.
Cover For Old Weber Spirit E210
If you own the compact first-generation Weber Spirit 210 grill with folding side tables, the Weber 7105 is the ideal cover for you.
However, be aware that it will NOT fit the newer Spirit II E-210 model. To find the appropriate cover for the current 2-burner Spirit II grill, please continue reading below.
The dimensions of the Weber 7105 cover are 29.5″ L x 25.8″ W x 42.8″ H, providing a snug fit for the original Weber Spirit 210 grill.
Below you can see several alternatives from other brands – Kingkong 7105 and Unicook 7105.
As long as you see the 7105 model number in the product name, you can be sure it will fit your Spirit E210 grill.
A few manufacturers even include tongs and a grill brush with the cover.
Current Weber Spirit II E-210
For the current Weber Spirit II E-210 model, featuring front-mounted knobs and 2 burners, the Weber 7138 cover is the perfect fit.
Notably, this cover is backward compatible, meaning it can also accommodate the older Spirit E-210 grill with folding side tables.
Cover dimensions: 48″ L x 27″ W x 42″ H
If you're working with a limited budget for your Spirit grill cover, there are more affordable alternatives available that still offer great protection. Consider checking out the 7138-compatible covers from cost-effective brands like Qulimetal and Kingkong.
Both the Qulimetal 7138 and Kingkong 7138 covers are designed to fit the Weber Spirit II E-210 grill, as well as the older Spirit E-210 model with folding side tables. While these covers may not come from the original Weber brand, they still provide reliable protection for your grill at a lower price point.
Weber Spirit 220 and 300 Covers
Old Spirit 220 & Spirit 300
For the fixed table Weber Spirit 220 and 300 series grills, the larger Weber 7106 cover is the appropriate choice.
However, it's crucial to determine which generation of the Spirit grill you have, as the cover for the older models will not fit the newer Spirit II E-310 (due to the newer grill being wider).
In addition to fitting the first-generation Spirit 220 and 300 grills, the Weber 7106 cover is also compatible with the first-generation Spirit S-315 and Spirit E-330 models.
Cover dimensions: 52″ L x 25.8″ W x 42.8″ H
While the original Weber 7106 cover for the fixed table Spirit 220 and 300 series grills can be quite pricey, there are more budget-friendly alternatives available from other manufacturers that still offer good protection.
The Kingkong 7106 and MissGrill 7106 covers are decent alternatives to the original Weber 7106. These options provide a more cost-effective way to keep your grill safe from the elements while still ensuring a proper fit for your first-generation Spirit 220, 300, S-315, and E-330 models.
Before purchasing a grill cover from an alternative brand, I suggest reading reviews and comparing features to make sure you're getting the best value for your money. This way, you can protect your grill without sacrificing quality or breaking the bank.
New Weber Spirit II E-310
The Weber 7139 cover is designed to fit the current Spirit E-310 model, as well as the latest Spirit SX-315 and EX-315 Smart Grills, all of which feature front-mounted knobs. Additionally, this cover is compatible with the older Spirit 200 Series models that have side-mounted knobs.
If you choose the Weber 7139 cover, you can ensure a proper fit and protection for a range of Weber Spirit grills, from the latest models to some of the older ones
Cover dimensions: 51″ L x 27″ W x 42″ H
If you're looking for a more budget-friendly alternative to the original Weber 7139 cover, the Kingkong 7139 and Chefun 7139 are solid options to consider. These covers offer a cheaper solution without sacrificing too much in terms of quality and protection for your grill.
Conclusion
In this article, I've discussed some of the best grill cover options for your Weber Spirit gas grill, including both original Weber covers and more budget-friendly alternatives.
My aim is to help you make an informed decision on which cover is the right fit for your grill. I'd love to hear about the cover you've chosen and how it's working for you, so feel free to share your experience in the comments section!
If you're still unsure about which cover is the best fit for your Weber Spirit gas grill, don't hesitate to leave a comment below. I'll be more than happy to help you find the perfect cover for your grill.
Protecting your investment is essential, and selecting the right cover plays a significant role in ensuring your grill's longevity and performance.
Related Articles