Weber Q2400 Electric Grill Review
In the many years, I have been hosting parties in my own house, I have realized the importance of having great food to satisfy my guests. I will share everything I have learned in my Weber Q2400 review.
If you are wondering what specific brand and model I am using, it is the Weber Q2400 electric grill.
In this case, I make it a point that I serve them nothing but the best foods, most of which were prepared on my own. I am happy that my friends love the grilled meats and vegetables that I serve them.
To be assured that they will like the grilled culinary delights that will greet them during the parties I organize, I use a good electric grill.
The model that I am currently using is replete in terms of features that make it a cut above the rest.
Even if it can prove to be more expensive than other models, I can guarantee its ability to provide the best value for your money.
The Weber Q2400 grill, just like its predecessor, Weber Q240, specifically caters to those people who have limited home space, either those residing in the city or living in apartments, but still want to enjoy the benefits of having a griller right at the comfort of their homes.
This electric grill does not require stocking on charcoal and gas to heat up, so it is safer even in cramped living space.
So if you are looking for a grill that will surely fit your lifestyle and home, then the Weber Q2400 electric grill is worth checking out.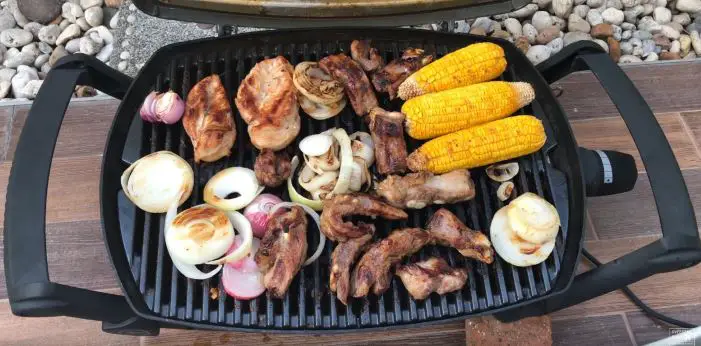 Weber Q2400 Features
In a market that is abundant when it comes to alternatives in this product category, the Weber Q2400 Model 55020001 portable electric grill stands out from the rest.
Reputable Brand
The brand name in itself is already an assurance that the BBQ will not only meet but even exceed your expectations. Weber for grills is the same as Rolls Royce for cars.
The manufacturer's many years of experience has allowed them to develop great grills that deliver the highest level of satisfaction to its users.
Durability
Among the different benefits that made this model highly recommended, one that I would like to emphasize is its sturdiness. It is made of cast aluminum body and cast aluminum lid. To add, it also has a glass-reinforced nylon frame. These are just some things that will give you confidence in its long-term functionality.
Heat Retention
Besides, this model of an electric barbecue is also known for its excellent heat retention, which is most probably made possible by the aluminum heat retention liner.
This is an important thing so that your grilling is consistent. This leads to the even distribution of heat that will make sure that whatever is grilled will be well-cooked and that no parts will be over or undercooked.
Cooking Area
Within its 280 square-inch total cooking area, you can be ensured that the heat is maintained evenly in the griller since it features porcelain enameled cast iron cooking grates and cast aluminum lid and body. This also helps to create beautiful and yummy-looking sear marks.
Added to that, you can expect to have a consistent cooking temperature every time since it has heat retention liners built-in.
Simple Controls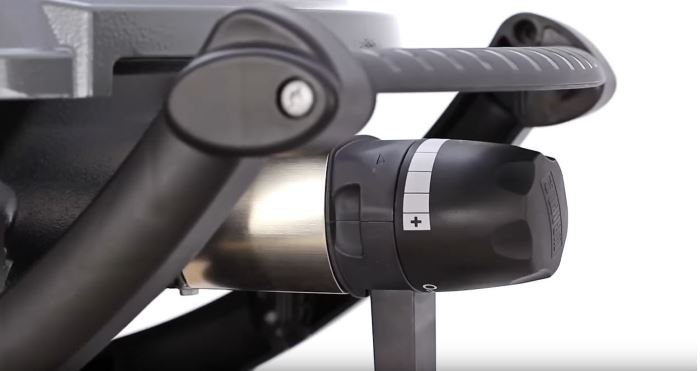 Backing up its powerful grilling capability is its user-friendly interface. Its electric control has infinite heat settings, serving the most fragile fish to the most hardened steak.
Compared to the other electric BBQ grill models from this brand, this unit is basic, which means that it is not elaborate in terms of functions. This will make a good choice if you are looking for a product that is simple, yet of high quality.
There is also a removable drip pan underneath the griller for easy replacement or cleaning.
Aside from that, it also features a 6-foot grounded cord, providing you a safe power connection if you opt to grill on your patio. So, this is a perfect Weber indoor outdoor electric grill.
Size
Its size sets the Weber Q 2400 electric grill apart from other Weber grill models. It has a height of 26 inches, a width of 31.5 inches, and a depth of 25.1 inches.
It is so compact that placing and using it won't be hard, even with limited space. This is the perfect grill to get if you live in an apartment.
Aside from its compact size, it is also electric. With this, you do not have to gas it up to make it work making it very safe to use but still gives you the same grilling flavor.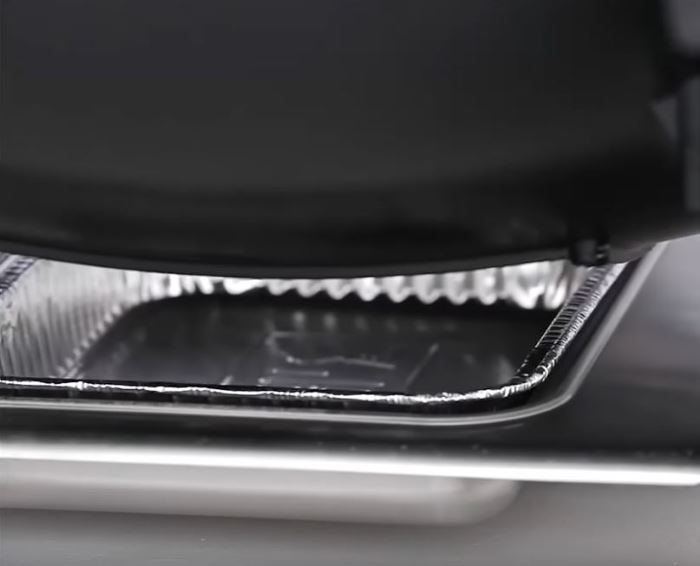 Weber Q2400 Review
Upon reading the reviews that have been shared by the people who have used this product in the past, one thing that I noticed is that many were happy with the fact that it is portable grill.
This makes it easy to be brought even during your trips, such as when you are hiking. Regardless of where you intend to use such, you will not have any problem in having it brought along.
More so, many of the people were also happy with infinite heat control. This means that you will be provided with the flexibility to choose the level of heat that is desired. This will highly depend on the food that you are grilling, and also on how you would wish it to be, such as if you want it well-grilled.
Lastly, customer feedbacks were also positive with regards to its ability to accomplish grilling in a snap. I assume that this is because of its 1560-watt electric heating element that makes this electric grill able to tackle a wide array of grilling needs.
Users, especially those living in the city, recommend this excellent Weber barbecue. Its size is just perfect for easy placement at home, but still brings the same power and flavor that people expect from a bbq.
They also like that it did not need fuel or gas to start, making it very safe to use. Aside from that, smooth operation and cleaning get several praises from users. Overall, people are delighted with this grill.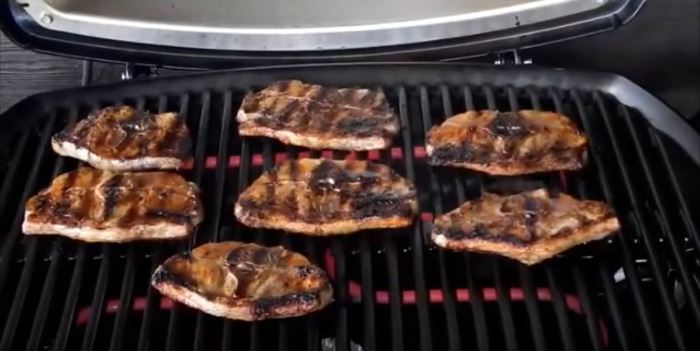 Weber Q Electric Grill Comparisons
Weber Q1400 vs Q2400
If you have difficulty deciding which Weber Q Series electric grill best fits your needs, here is a quick comparison of the Weber Q1400 vs Q2400 models.
Weber Q1400
Weber Q2400
Power
1560W
Cooking area
189 square inches / 8 hamburger patties
280 square inches / 12 hamburger patties
Cooking grate
Porcelain-enameled cast-iron
Drip pan
Removable
Liner
Aluminum heat-retention liner
Dimensions (lid open)
23.5in x 27in x 20.5in
26in x 31.5in x 25in
Weight
29 lbs
40 lbs
Warranty
5-year limited warranty
Price
As you can see, there is only one difference between Q2400 and Weber Q1400 – it is the cooking area size and overall grill dimensions.
You can also say that the Q1400 is hotter because it uses same power of 1560-watt electric heating element to heat a smaller 189 square-inch total cooking area.
Weber Q240 vs Q2400
Please keep reading if you have arrived at this in-depth review when searching for Weber Q240. The Q240 model has been discontinued by Weber and replaced with the Weber Q 2400 model.
Are there any differences between these grills?
As you can see in the comparison table below, the key features are basically the same. The new Q 2400 features a refreshed design, including more ergonomic side handles, sturdy front and rear cradles, larger grip handle and control knobs.
Weber Q2400 vs Q240 Specifications Table
[table id=5 /]
Weber Q2400 vs Lumin
I am working on Weber Q2400 and Lumin comparison. Stay tuned!
Weber's Accessories
The two most often purchased accessories for the Weber Q-2400 grill are cart and cover.
Cart For Weber Q2400
Weber 6525 Q Cart for Grilling, BlackCheck Price
Now that you have made up your mind that Q-2400 model is the right choice for you and are ready to buy Weber Q-2400 electric grill, I suggest that you also consider purchasing the Weber Q 6525 grill cart.
This will provide you with a stable space where the smoker can be placed. Since it has wheels, this will also help move the unit from one place to another, such as from the kitchen to the outdoor patio.
Related Reading: Breville BGR820XL Review
Cover
The weatherproof grill cover is an important accessory if you are planning to store your electric barbecue outdoors.
There are several covers available for Q2000/Q2200 grills. Please go to my Weber Q grill cover review to learn more!
Weber Q2400 Pros and Cons
The Weber Q 2400  has gained popularity because of its benefits. It is the upgraded and restyled Weber 240 version.  If you are looking for an electric patio grill then the Weber electric outdoor grill 2400 is perfect for you.
These are the pros and cons of the Weber Q electric grill.
Pros
It heats up quickly
The Weber portable electric grill absorbs heat quickly courtesy of the design of the aluminum heat liners. This means that you spend less time preheating it (about 15 to 20 minutes) and preparing your meal. For example, some people have reported that it takes 7 minutes to perfectly cook one side of steak.
The heat liners also help to reflect heat in the barbecue during the cooking process. That is why food cooks faster and properly.
It cooks food evenly
One thing you will enjoy about the Q2400 is its ability to cook food evenly. Your chicken, fish, vegetables or steak will be well-charred. This is because the cast iron grates are coated with porcelain which uniformly distributes heat throughout the surface.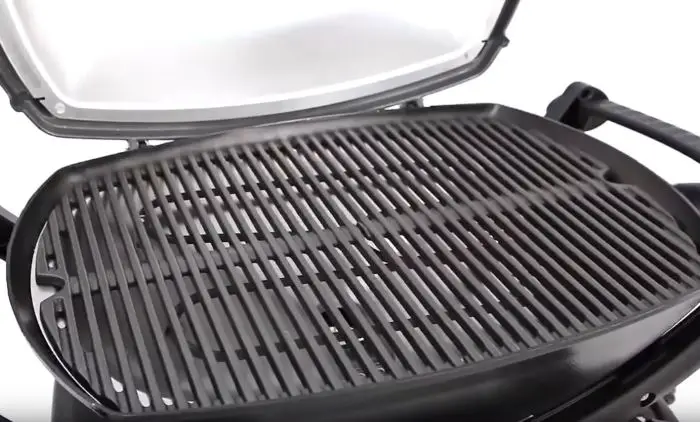 It gives you the experience of traditional grilling
The porcelain-enameled cast-iron grilling grate is also responsible for the sear marks on food that many people love.
The final product is food that doesn't taste like it has been prepared on an electric grill but like one that has been made from a traditional outdoor grill.
It is portable
With all the features it has, you would think that it would be bulky but it's not. The manufacturers found a way to design all the features it needs while still keeping it compact. This helps to save space.
If you are staying in a residence or condo where you don't have much freedom to use a charcoal grill or gas grill then this will suit you well because it is functional and portable.
It is durable
The manufacturers of this appliance put in the effort to design a product that lasts for years. This is why buyers have no problem paying a premium. It is manufactured in the United States and the industrial craftsmanship used is on another level.
The cast iron material and porcelain coating used in its construction ensure that the appliance can perform its functions for a long time.  That is why it comes with a 5-year warranty.
No worries about running out of fuel
If you have used propane then you may be familiar with the inconvenience that comes with running out of it while grilling.
You never have to worry about this when using Weber. You just plug it in the power and you are good to go.
It is easy to clean
If you have always disliked cleaning the traditional grills then you will fall in love with Q2400. It is coated in porcelain which is easy to wipe. Also, it has a removable catch pan where grease drips on and so most of it does not remain on the appliance. If the griddle is very dirty, just give it a rub using your grill brush.
The pan can be cleaned or thrown away depending on your preference.
Another thing you can do to easily clean the Weber griddle is to put it in warm soapy water to soak.
Easy to assemble
When you order or buy this addition to your kitchen, it arrives with most of its parts fully assembled. This makes your life easier compared to products where you have to assemble everything on your own.
The few parts that are not put together take about 30 minutes or less to assemble and you can start using it.
It is easy to use
You don't have to fumble when it comes to using Q2400. The infinite control burner valve settings enable you to play around with the temperatures and set it to what you want.
It is aesthetically pleasing
This appliance looks good and will add beauty to your home.
Cons
It does not come with a thermometer
If you buy the Weber, you'll need to get a thermometer because it does not come with it. Some owners feel that it would be better if the manufacturers included a thermometer to help monitor the temperature while cooking foods such as chicken, steak and fish.
Takes time to pre-heat
Some people feel that the 15 to 20 minutes it takes to preheat the appliance is a lot of time.
Others say that for it to get really hot, they often give it about 30 minutes and they feel like it would be perfect if this could be done quicker.
The upside to this is that when it finally heats up, it takes a short time for the food to be ready.
It is costly
The biggest thing that prevents most people from owning the Q2400 Weber tabletop electric grill is its price. This device is costly which is understandable given its quality and the value it adds to your life.
Those who were able to afford it said quality won over price. To them, it was worth buying. You can check out George Foreman grills if you are looking for a cheaper option.
Shortish power cord
The electric Weber grill is supplied with 6 feet long power cord. The manufacturer warns against using an extension cord because it can increase electrical fire risk.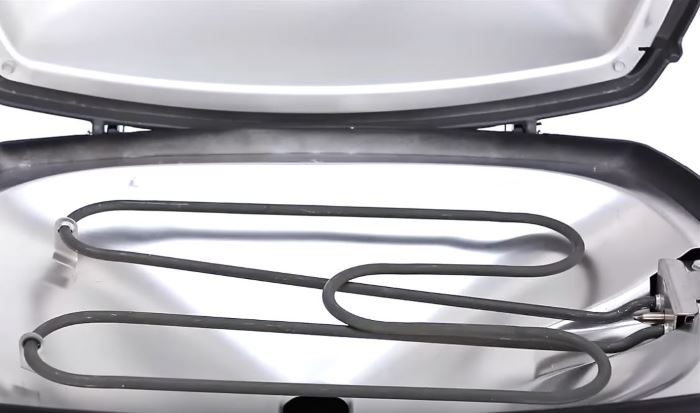 Frequently Asked Questions
How many burgers can you cook on Weber Q 2400?
You can cook up to 6 standard size or 8 smaller burgers simultaneously.
How hot does the Weber 2400 get?
The Q-2400 gets up to 500 degrees, but there is no way to control it unless you use a wireless thermometer. Weber electric barbecues do not have built-in temperature gauges.
What is the difference between the Weber Q 1400 and the Q2400?
Here is a chapter comparing Q1400 and Q2400 electric grills.
How to clean Weber Q electric 2400?
Please follow the steps described in this video.
Conclusions
If you live in a location where open flames are not allowed then, the Weber Q2400 could become your best friend. This electric outdoor grill will give you a performance like no other. I am sure my Weber Q2400 electric grill review has already explained it.
Even if you stay in a place with no restrictions, you can still buy this grill to enjoy the benefits that come with it. The way it gives an authentic taste to food you would think you are dealing with a traditional grill.
The electric grill quickly reaches the grilling temperature, and once that is done, it distributes heat evenly to give you the best results.
Also, it doesn't matter if you live in a small or large space because this kitchen appliance is portable. Carry it, put it outside your kitchen or on the veranda, and grill your food. Once you are done, you can carry it back indoors.
Related Articles