Weber Q1400 Electric Grill Review | Weber Q 1400 Reviewed
If you were looking for the unbiased Weber Q1400 electric grill review, you have come to the right place.
The Weber Q1400 is a tremendous electric barbeque to use because of its ease of use and ergonomic design.
You can place your grill anywhere in your backyard or on a balcony, plug it and you're ready to cook your meat.
If you are looking for a fantastic portable electric grill to use at home, this product is definitely for you. Its great features will allow you to cook your meat to perfection.
There are several reasons you would choose a portable electric BBQ. One is lack of space – this grill is perfect for people with limited available space. Another reason – charcoal grills and smokers and gas grills are banned where you live.
Weber 52020001 Q1400 Electric Grill, GrayCheck Price
Weber Q1400 Grill Features
Compact
The Weber Q 1400 barbeque takes up a small cooking area – 189 square inches – and that is why I think that it is a great bbq for people who have limited space at home.
Its limited cooking space does not compromise the quality of cooking. It can produce temperatures matching those of a gas barbecue because of Weber's innovative use of reflective surfaces.
If you are cooking for larger crowds and need a bigger bbq, you should check out my Weber Q2400 review.
Neighbour-Friendly
Another reason to use an electric BBQ is a ban on gas grills. These days gas grills, even portable ones like Weber Q1000, are banned from many condos and apartment complexes, but fire marshals are OK with using bbq like this one if you live in a condo.
Sturdy
The Weber Q 1400 barbeque features an aluminum heat retention liner, a cast aluminum lid, and a glass-reinforced nylon frame, and it is finished in a cast aluminum with titanium color. Because it is made out of sturdy materials, you can be sure of its longevity.
Flexible Controls
The unit also features an infinite heat control settings that let you adjust the temperature of your BBQ depending on your preference.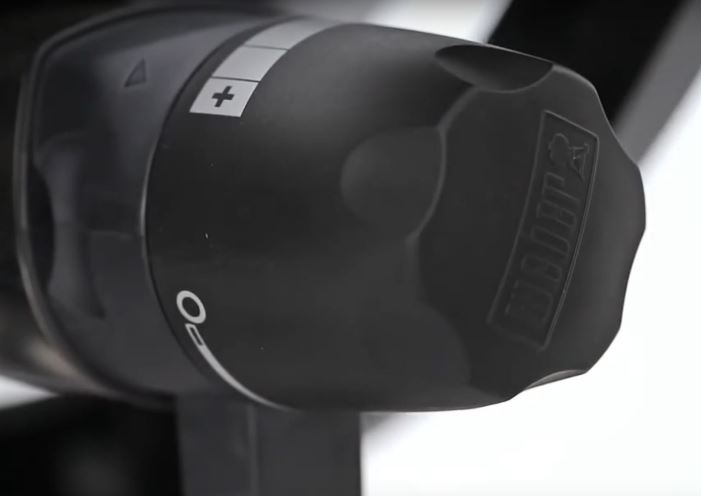 Easy Cleanup
Aside from the fact that it is built using quality materials just like other Weber BBQs and that setting it up is relatively simple, in my opinion, what makes the Q1400 simple to use is its ease of cleanup.
It also comes with a removable catch pan that lets you quickly clean up any drips from the meat you are grilling.
Not only can you get rid of drips thanks to the removable drip pan, but you can also easily lift off the grilling surface and place it straight in your sink or dishwasher.
However, one of the most important factors to consider is whether or not this unit can bbq steak to perfection. The answer is yes.
Not only that, but you can also be able to achieve a great smoky flavor to your steak. This happens when you close the lid as the smoke accumulates inside the bbq and it adds that distinct taste to the meat.
The grill operates at 1560 watts and 120 volts. It has a 6-foot grounded cord attached, making it possible to move the machine around easily.
Specifications
Wattage 1560 Watts
Total cooking area size 189 square inches

Primary cooking area – 189 sq in
Removable warming rack – not available

Fuel – electricity
Dimensions
Lid open (inches) – 23.5″H x 27″W x 20.5″D
Lid closed (inches) – 14.5″H x 27″W x 16.5″D
Shipping Dimensions
Shipping Weight 29.4 lbs (including 5 lbs of packing material)
Related Reading: Breville BGR820XL Review
Weber Q1400 Electric Grill Reviews From Customers
The Weber Q 1400 electric grill performs better than an average gas BBQ  and exceeds the expectations of customers because of its usability.
It is much easier to clean electric grills than gas or coal grills as well. The top of the unit can get a little stained during the grilling process, but a quick wipe down makes it as good as new.
Not only does this barbecue have a long life, but it can also be kept outside without worry about the weather affecting its porcelain-enameled components. Be it snow or rain; it shall not affect the looks, nor the performance of this barbeque. Being an electric appliance, it does not require any gas nor coal, and the job is done faster. The manufacturer recommends keeping the lid closed to help heat up the iron grates quicker.
This barbecue is perfect for those living in an apartment, as a gas or charcoal grill can be very hazardous in these closed environments. A lot of residential building owners do not even allow such grills for the hazards, and this is a great alternative because you get all that you would need from a decent smoker, but with a lot fewer things to take care of.
For city people, an outdoor electric grill is a way to go, and nothing beats the Weber 1400 barbecue.
If done right, this barbecue cooks food to perfection. Not just that, it also gives the food that smokiness that users crave and look for in grills.
According to the Weber Q1400 reviews, this BBQ creates great smoky crusts on top of meals as well.
The only little downside that some customers have not loved about the product is that the lid does not have a thermometer, so the only way to measure the cooking is by timing it.
If you are looking for a compact BBQ that you can just plug it in and start grilling then you might want to consider Weber Q1400.
This is an electric grill that you can comfortably use on your balcony especially if you live in an apartment or condo that has restrictions on open fires. However, everyone can take advantage of this technology.
Advantages
There are some benefits that users of Weber's Q1400 enjoy that have given it popularity. On the other hand, there are some aspects of electric grills that users find challenging when working with it.
It is easy to use
Sometimes when cooking, we just want to prepare our meals without any hassles. This is the experience that the Weber grill provides.
With this appliance, you don't need charcoal or propane gas and no preparations necessary. All you have to do is plug in the device and that's it.
Another thing that makes it easy to use is the presence of infinite heat control settings. They allow you to play around with the temperatures based on what you want.
It's great at retaining heat
The appliance has tremendous heat retention ability which is possible due to the way it's designed.  The cooking grates are made of cast iron and this material normally does a good job of retaining heat.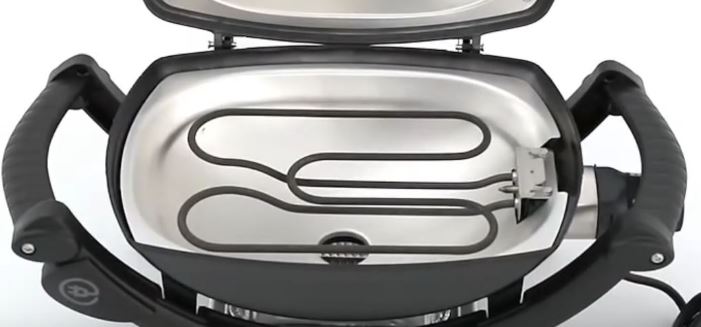 It is portable
If you are looking for a light electric grill, then the Weber Q-1400 will not disappoint you. You can carry it outside or to different events and use it provided there is a place you can plug it in. Its weight is only 30 lbs.
Many users enjoy this aspect because it makes grilling fun since you don't have to do it at the same location every single time.
Great cooking results
You can rely on Weber Q 1400 for excellent and consistent cooking results. Most users report that the grill exceeded their expectations.  Some said that it was, in their opinion, the best bbq grill for the patio compared to any other gas grill they had used previously.
This kitchen appliance heats up to extremely high temperatures and can cook your chops and steaks well with the sear that most people love.
It is also possible to set the particular temperature you need to prepare different kinds of meals. All these contribute towards giving you a fabulous meal at the end.
It is easy to clean
When using the Weber Q1400 electric grill, you don't make a mess, making cleaning up quite easy. Also, the grates are coated with porcelain, so all you need to do is wait for them to cool and then wipe them.
Grease drippings end up in the catch pan, which you can just remove, clean, and put back. Alternatively, you can throw away the drip pan and get a new one if you don't feel like cleaning it.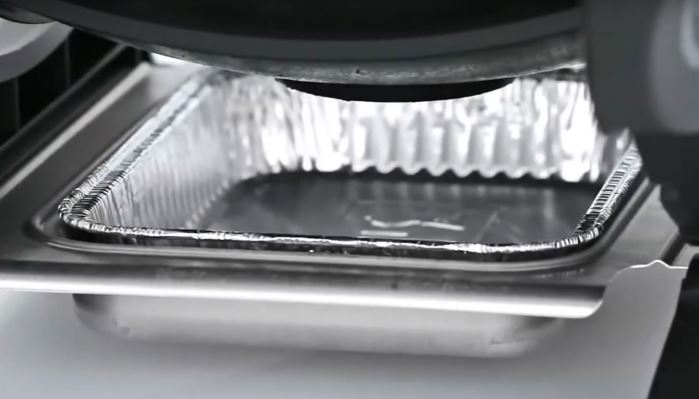 Some users prefer layering the pan with aluminum foil, so they don't have to wash it. They simply throw away the foil and put in a new one.
You can also choose to soak the whole device in soapy water and clean all of it. Make sure you unplug it first before you do this.
Great quality
The Weber brand has always been attached to quality, and the Q1400 does not disappoint. The equipment is built to last a long time.
The body is manufactured using cast iron, and the cooking grates are made out of cast iron and coated with porcelain. These materials are durable and easy to maintain, so the appliance will be in good condition for a long time even if used daily.
The materials are also resistant to rust and corrosion. That is why it won't rust and the paint won't peel off even if you use it for years.
The aluminum heat retention liners are replaceable and so you can get new ones and fit them in instead of buying the entire grill.
Easy to assemble
The majority of the parts for the Weber Q-1400 come already assembled. There are only a few parts that you have to put together and you can do this within 20 to 30 minutes because it's easy.
You'll have to attach the handle to the equipment. The grates will go over the heating section, you'll put in the catch pan and the temperature gauge and that's it. Your equipment will be ready for use.
It can grill a variety of foods
You don't have to stick to one type of food when using this outdoor electric grill. You can put your ribs, chicken, burgers, fish and hot dogs in it and get amazing results.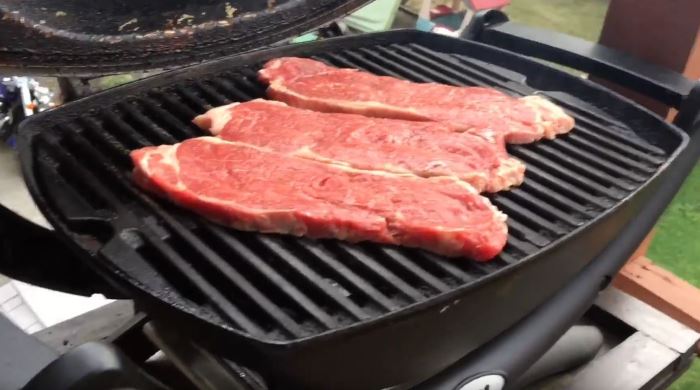 Disadvantages
Small cooking space
Some families would love to use the Weber electric grill Q1400, but they say that it has a smallish grilling space, so it is not convenient for large families or a large number of guests when hosting. This limits some people from purchasing it. Luckily there are several Weber electric grills to choose from, and the Weber Q2400 can offer more cooking space for larger batches of food.
It is pricey for some people
Some people feel that the appliance is more expensive than other electric grills of the same size from Char-Broil and other brands. Others say that the price is in line with the quality, so they don't mind paying for it.
It takes long to preheat
There were some complaints that the 20 minutes it takes to preheat is too long. Some individuals and families prefer a shorter time than that.
It lacks a temperature gauge
The Weber 1400 grill does not have a built-in temperature gauge. Therefore, monitoring the grill during the preheating and grilling process becomes difficult. Most owners dealt with this issue by buying a thermometer, while others just learned to time the grilling.
Weber Q140 vs Q 1400
If you compare the older Weber Q 140 (left) and current Q1400 (right) electric grills, there are no significant differences.
You can consider the Weber Q 1400 updated or facelifted model with a couple of improvements in the design and ergonomics departments.

Weber Q1400 vs Q1200
I was quite surprised to find out that people often search for information about the differences between Weber Q 1400 portable electric grill and the Q1200 portable gas grill.
If you closely look at both models, you will notice that they share the same lid (actually the low lid of Q1000), body, and the same 189 sq in the cooking grate.
The main ergonomic difference is that the Q1400 grill does not have a built-in thermometer. But the thermometer is not essential for cooking. Temperature is.
According to the manufacturer, the electric Weber Q 1400 can reach 500 to 550ºF, with the lid closed, in about 15 minutes. It may be possible to reach even higher temperatures.
The users of the Q1200 gas grill claim that it takes a bit longer to reach 500-600 F temperature (up to 20 minutes), and the performance depends on the type of gas bottle or cylinder.
Weber Q1400 vs Lumin Compact
I am working on Weber Q1400 and Lumin Compact comparison. Stay tuned!
Related reading: Can You Use An Electric Grill In The Rain?
Weber Q 1400 Accessories
You should consider getting these accessories for your Weber electric grill.
Cover
Find out which Weber Q grill cover will fit your grill!
Cart
While the Weber Q-1400 grill can be used on the tabletop, the rolling cart will add another degree of freedom.
The Weber 6557 Q Portable Cart is the only cart compatible with post-2014 Q1000 and Q2000 series grills.
Drip Pans
The drip pans make cleanup easier and can also be used to cook the side dishes.
Weber 6415 small drip pans are a popular choice among Weber bbq users.
Conclusion
If you have a small family (like four individuals), Weber Q1400 electric grill is perfect for you.  You will enjoy preparing a variety of meals on this appliance.
The Weber Q 1400 portable barbecue is easy to assemble, easy to use, easy to clean, and will last a long time. The grill is great at retaining heat, and it will give you amazingly tasty food.
You don't have to stop enjoying grilled foods just because you live in a place that restricts the use of open flame.  With this grill, you will get value for your money, and you will continue enjoying tasty meals at home or away at events.
Our verdict – I believe this is the best electric grill for the balcony.
Please leave a comment below if you liked my Weber Q 1400 electric grill review!
Related Articles