Breville BGR820XL Smart Grill Review | Breville Smart Grill & Griddle
If you have been looking for a sizable indoor electric grill for a larger family, then the Breville BGR820XL Smart Grill should be the one that you should get.
I was surprised when I found out that this griddle can serve a family with four members or more. It is a big "manly" barbeque, one of these gadgets my husband would enjoy playing with, but it would be too difficult to handle for me.
However, this is gonna be one of the kitchen appliances that you would love to cook with especially if you are looking forward to a steak dinner with your family.
When you have this die-cast stainless steel indoor barbecue and grill, you can cook your meats on its nonstick surface, so that there is no more problem with cleaning afterward.
This Breville electric grill might be a bit on the bulky side, but that does not worry me – I just found a place for it in my kitchen, where I can cook with it, and my wife puts it right there.
Please keep reading my Breville BRG820XL Smart Grill review to learn everything you need about this useful tabletop bbq from Breville.
Breville Smart Grill & Griddle Features
Here are the features of the Breville removable plate grill and griddle.
Dishwasher Safe Plates With Element IQ
The Breville BGR820XL is popular because of its unique element IQ technology which makes it stand out from other grills.
Normally, when using a countertop grill, the surface temperature drops when you put on your meat or vegetables even if the griddle was pre-heated. The cold products make the surface to lose heat which the regular appliances do not recover. What happens is that they start to heat up slowly.
With the Breville model, it's smart technology notices that the temperatures have dropped and then it adds the right amount of heat to ensure that the food continues cooking at the right temperatures.
The grills and griddle part that forms part of the appliance can be cleaned in a dishwasher. This makes your work easier. All you have to do is give it a quick rinse and leave the rest to the dishwasher.
BGR820XL comes with a flat and a ribbed plate and these are removable. You can take them off and clean them.
Opens Flat To 'BBQ Mode'
BGR820XL grill is designed in such a way that it can open to the point where it is flat which makes it great for barbeques. Basically, with this device, you have a grill and a griddle at the same time.
When it is opened, the cooking area increases to 260 square inches. That is 50% more than the Weber Q1400 cooking area.
This surface can accommodate two steaks simultaneously.
Embedded Heating Design
Breville indoor grill has heating elements (1800 watts) designed inside the plates. This means that the elements do not lose the heat they generate. Instead, that heat goes into the grill plates and that's why the appliance takes a shorter time to pre-heat and is also able to recover heat fast. The results are shorter cooking periods and extremely tender meats.
Variable Temperature Control
This model allows you to choose different temperature settings. It has a dial on its right side which allows you to make these changes and to control the temperature. You can choose the panini, the sear or the low temperature depending on the type of dish you are preparing.
Also, it comes with a switch that shows the temperature in Celsius or Fahrenheit and you can choose either of the two.
You may think this is an insignificant feature but it saves you from spending on a thermometer to check on the temperature of the cooking surface. The smart grill operates between 320°F to 450°F.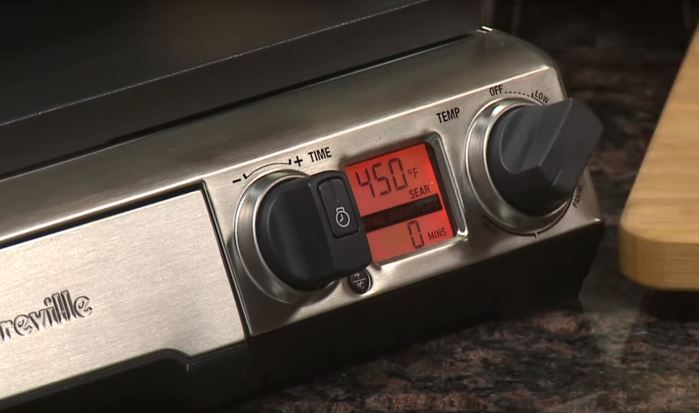 6 Adjustable Height Settings
The appliance comes with 6 height settings which you can quickly adjust depending on how thick the food you are preparing is. The only thing you'll do is to adjust the upper plate so the dish doesn't get squashed. The ability to control the temperature and the height ensures that you prepare your meals in a manner that you like.
You can cook various kinds of meals in it from sandwiches to chicken as long as you choose the height setting for that food.
Integrated Removable Drip Tray
When cooking with the smart grill, most of the grill will accumulate at the drip tray. The tray is integrated into the grill while it is also removable. This makes cleaning easier because you only have to take out the tray, wash it and put it back.
Panini Mode And Barbeque Mode
The BGR820XL offers you to use two different cooking styles because it has two modes, panini, and barbeque.
When using it in panini mode, you place your food on the surface then press both the bottom and top part of the appliance together to close it. You then let the meal cook. You can choose the plate you want to use when in panini mode, whether the flat or ribbed one since they are interchangeable and removable. This is the perfect way to prepare sandwiches.
When using the barbeque mode, the grill plates need to be opened at an angle of 180 degrees. The smart grill will then be flat and that is what you'll use to prepare your dish. This works best for meat and vegetables.
You also get a larger cooking space and you can grill on both plates (flat and ribbed).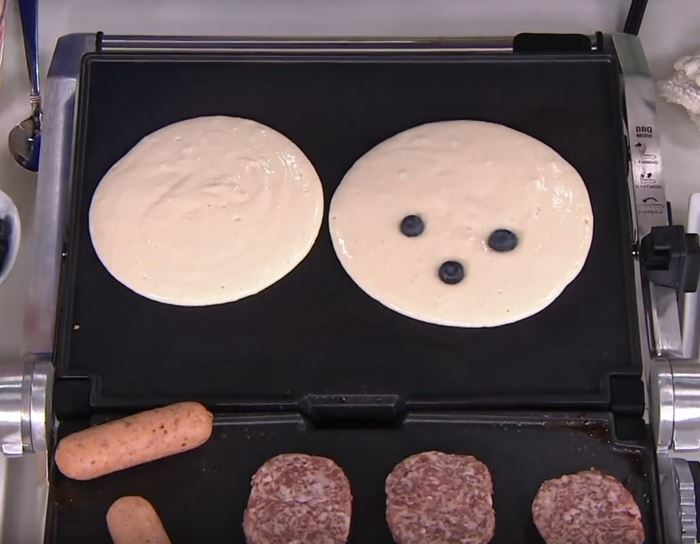 Breville BGR820XL Review
You can prepare a variety of meals on this appliance.
Start with the basic steaks, and then cook some chicken, eggs, and even burgers or pizza.
Some sirloin or T-bone steak could be cooked in this on max temp but makes sure you have some fat in there.
You can make your steak just how you want it without paying so much. Steak dinners at home are now possible, and you can get it as well done as you wish.
Outdoor grills are still recommended by a lot of people now, but having an indoor barbecue gives you benefits that outdoor grills cant.
The hot plates provide even heat all over for consistent cooking and better taste. You can just close the bbq and leave your bacon inside so that there is less splattering.
You can also leave the barbecue open and cook some pancakes on it! You can now enjoy grilled sandwiches, steak dinners, and other recipes now that you have this BBQ.
You have to love this appliance and the food you cook in it because it provides you with 260 square inches of hot cooking surface that is non-sticky for easy cleaning and scratch-resistant too.
The plates are not reversible so you get a flat plate on one side and a ribbed plate on the other.
Also, the height of the barbeque can be adjusted as well as the tilt to suit your height.
Specifications
Wattage 1800 Watts
Total cooking area size 260 square inches in open BBQ mode

Primary cooking area – 260 sq in
Removable warming rack – not available

Timer
Backlit LCD display
Fuel – electricity
Dimensions
Lid closed (in) – 6″H x 14″W x 14″D
Weight 22 lbs
Shipping Dimensions
Breville BGR820XL Smart Grill Reviews From Users
Breville The Smart Grill and griddle, as stated by a delighted customer, is miles ahead of the competition. In an open market, where there's always competition, this product decided to find all possible flaws in design, functionality, and efficiency, only to fix them all. The Breville smart BBQ is built like a tank and will last as long as one.
Heating super-fast and evenly across the plate, the Smart Grill is famous for its efficiency in grilling in all forms the user wants it in. With heating elements (Element IQ) installed in the plates and very well-made ones at that, the surface heats up correctly and without any hot spots.
The appliance even allows for slight inclinations or complete flat grilling depending on the need of the users. And, it's built like a tank; sturdy and durable. The grease tray is flexible and unlike any other. That's not all. The height is adjustable in 6 different settings for cooking in the utmost comfort.
Additionally, there are removable dip trays and removable dishwasher safe plates. The griddle opens flat to BBQ mode and looks great to cook on. With that level of cost efficiency, this BGR820 XL Smart Grill is undoubtedly one of the pioneers of the grilling industry.
Pros and Cons
Pros
Versatility
Most users love the fact that they can prepare a range of foods on the Breville grill. You can prepare something light like a sandwich and also cook a whole meal like chicken or steak on it. Therefore, you can use this device daily for different kinds of foods.
Makes Food Tender
Unlike other grills that dry out your dishes especially meat, the Breville gives you very tender and juicy meat. This is because of its smart IQ technology that ensures it doesn't lose heat.
With the normal grills, the temperatures drop when you add cold food to it and by the time it picks up the heat again, all the juice has dripped off the food and it ends up dry. This does not happen with the smart grill.
Easy To Clean
Since you don't have a lot of preparation to do when using the appliance (you just switch it on and choose the temperature), it means that you will not have a lot of cleaning after to do.
Also, you can put the grills and griddle plate in the dishwasher as opposed to manually clean them. The plates have a nonstick coating so you are spared from having to get rid of the food particles that stick to it.
Cooks Food Fast
Your dish gets ready fast when using this kitchen appliance. This is because of the embedded heating design it has which operates at 1800 watts. The food then gets exposed to a high temperature which then lowers the cooking period.
Functionality And Efficiency
This device cannot be compared to any other indoor grill when you look at the power it has. It operates at 1800 watts and so it can take below four minutes for a burger patty to be ready even if the burger was frozen.
If you try to cook the same in a conventional oven, it can take up to 10 minutes. The BGR820XL also takes a short time to preheat so you are ready to start using it a few minutes after turning it on.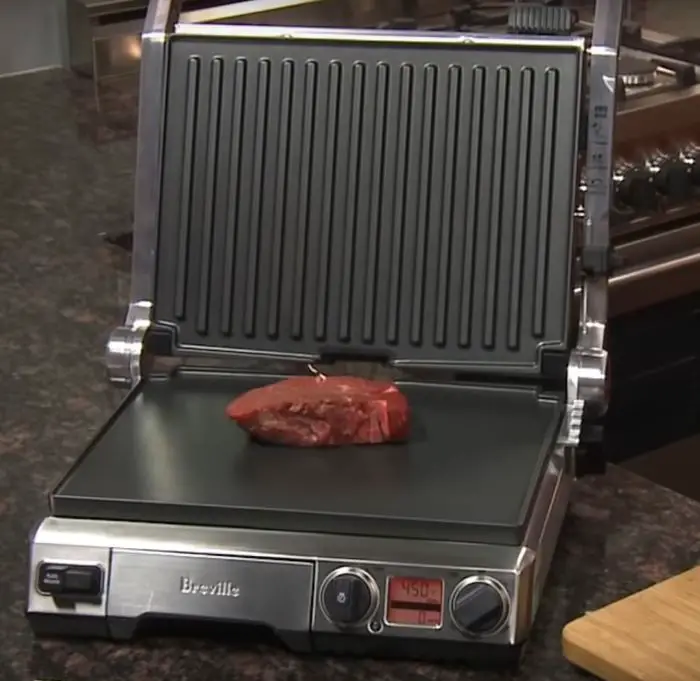 Cons
Fragile Non-Stick Coating
Some people complain that the non-stick coating used on the plates comes off after some time. When this happens, it becomes difficult to clean the grill because of food sticking on it. It may be a good idea to get a spare plate when you see it at a discount.
Alternatives
If you have found reasons why this Breville Smart Grill & Griddle does not match your needs, you should check out DeLonghi CGH1030D or more affordable T-fal GC70, Cuisinart GR-150, and Hamilton Beach 25331.
Conclusion
Buying the Breville Smart Grill BGR820XL is like having an indoor grill with some features of an outdoor electric grill. It is like using an outdoor grill in the kitchen. It is simply better than most indoor electric grills.
The appliance prevents the flavor of your food from escaping. That is why your meals will always have an amazing taste.
This kitchen appliance is a good investment because it is of high quality. It delivers excellent results and is designed to last.
You don't have much cleaning up to do when using it and you can wash the removable plates in the dishwasher.
Don't wait any longer and get your own Breville BGR820 grill!
Related Articles