Best Outdoor Gas Grill Reviews 2021 – Propane & Natural Gas BBQs
Summertime invites a variety of activities and one of them is firing up the outdoor gas grills in your backyard and enjoying the scrumptious barbeque. If you are planning to buy one this summer, then this guide will give you a thorough understanding of bbq products in the market today and how to select them for best grilling results.
First, there are 3 main types of outdoor grills – gas grill, pellet grill and charcoal grill or smoker, with gas fuel being the most popular option for many people. Sometimes you will also find electric versions, but that is not in the mainstream.
It will be difficult to decide which grill is the best for you, especially when you are shopping without prior experience in barbecuing. You'll see numerous grills with varying sizes, price and features. But here are a few basic pointers to help you make decisions:
How much money you have to invest in?
How frequently you use the grill?
The space available in your home.
The key features you are interested in.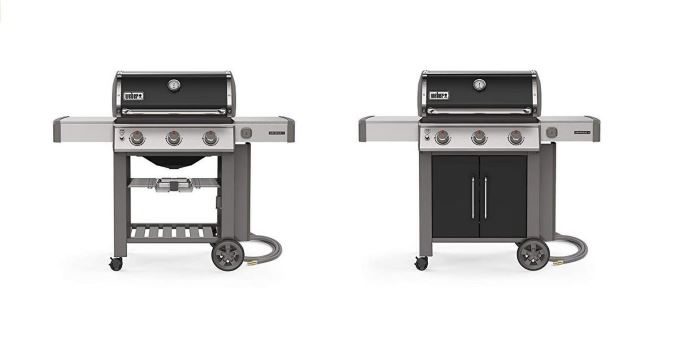 Advantages
Outdoor gas grills have more advantages over the traditional grills. These grills use propane or natural gas to light up and all you have to do is turn the knob and hit the button. The starter button lights up the flame and cooking surface starts warming. The ease of the entire process is the biggest advantage of the gas grills. On the other hand, in the charcoal grills you have to manually light the fire after piling the charcoal and then also monitor them until they reach the most favorable temperature for barbequing.
Yet another advantage is that gas fueled grills are easier to clean as compared to charcoal or pellet alternatives, because they cool down fast allowing you to remove the grill part quickly for a comprehensive cleaning.
Outdoor Gas Grill Types
There are two kinds of outdoor gas grills – propane and natural gas.
Liquid Propane
Propane gas grill can be placed anywhere. In order to run it, you have to purchase propane on a regular basis. The disadvantage with propane gas grill is that propane is a flammable product. Therefore you should take extra care while moving its cylinder from one place to the other and prevent dropping it. Additionally always read the instruction booklet how to use the propane tank and don't use it if you feel that there is a problem with it.
Natural Gas
Natural gas grills are easier to use, but they have to be installed at one place. For them you have to run a gas line up to where you have them placed. Most of the natural gas grills have separate burners with different controls, which mean that you can cook a variety of meals at one time. This equipment costs a little more than the propane grill, but overtime its cost adds up to less than the rest belonging to this genre as it costs you less in fuel.
You can read more about natural gas grills below.
Choosing the Size
Now you have decided the type of gas grill you want, it's time to think about their size. The main point to ponder over here is the space that you live in. Is it a condo, apartment or a bungalow? Are you planning to fix it in your apartment balcony? Or are you planning to take your grill along on your next beach vacation?
Next, how often do you plan to grill and what exactly do you like to grill. Do you invite lots of friends and relatives or you like to grill a small turkey for home occasionally. If you plan on grilling a few hotdogs and a turkey, then a large space is not required.
However, if you think that you have to roast lots of meat and burgers regularly, then you will require large grills which can fit in big spaces.
Special Features of Outdoor Gas Grills
Many outdoor grills have special features like side burners and rotisseries. These features usually come as add-on benefits and may cost extra. So if you really need the extra features and you often entertain outside, then they make up for a good investment. On the contrary if you intend to use your grill for burgers and steaks, try to keep it simple.
Outdoor gas grills are usually made from aluminum, but ones made from stainless steel are more durable, though they are expensive.
Overall, these gas grills are definitely better than their charcoal or pellet counterparts. You can enjoy your summer barbeque activity with less tension pertaining to cleaning them.
Natural Gas Grills
In recent years, natural gas outdoor grills have consistently been the chief competition for charcoal bbq grills, and this a trend that looks like it will continue well into the future.
These natural gas grills are primarily targeted towards consumers who are looking for an outdoor option for a full-size grilling experience that does not involve buying, hauling around, and using bags of messy charcoal.
On the other hand, natural gas bbq grill competes with charcoal because it is easier to light up, simpler to operate, have slightly cheaper cost for fuel in the long run, and comes with some other benefits, as described below.
Outdoor grills in this category either come in the common stainless steel finish or permanently built natural gas fire pit.
Both options are typically chosen by savvy individuals who are serious about bbq grilling and are interested in top of the line products to get the tastiest food out of the grilling experience.
Benefits
Natural gas outdoor grills come with several key features and benefits that appeal to a broad range of customers.
For starters, these products are easier to use than charcoal. You do not have to worry with buying charcoal, handling it, or lighting it – which means no lighter fluid or clunky ignition systems. Automatic electric push-button ignition systems that are commonplace in new models make firing up the grill quick and easy.
Additionally, large barbecue gas grills offer a more even cooking experience than charcoal does, because the gas can be regulated to a higher degree than burning coals. This also means that you have more control and precision over your grill's temperature and intensity and can ensure that you get exactly the temperature you want for your steak, pork, or chicken.
Drawbacks
Grilling devices that use natural gas are usually more expensive than other types on the market. Big outdoor units also burn a lot of fuel, especially larger, full-size models with six burners and side rotisserie burners that are very popular now.
Furthermore, these types are not available in every area and require a natural gas connection with your home – which can be problematic and severely restricts mobility.
Finally, as with most non-charcoal grills, you will need to use flavor briquettes to get that great hickory taste.
Built-in Natural Gas Fire Pits
One popular use for natural gas products beside the stainless steel gas grill burners is to create a natural gas fire pit.
An attractive alternative to a conventional grill, building a fire pit offers a unique cooking mechanism that comes in several sizes and shapes. A rectangular array – typically inlaid in stone on a patio – is best for cooking when equipped with a grate, while a square or circular fire pit is often used as a decorative setting.
These pits are permanent and are built usually as a part of an outdoor patio setting. A contractor runs a gas line from your home, installs a regulator, and hooks it up to the pit so that you have a constant, readily-available fuel source whenever you need it.
Price Range
The stainless steel natural gas outdoor grill is not always more expensive than charcoal smokers, but for the most part, it costs more than any other type and especially indoor grills. Most new models are well over $300 in price, with the top, high-end models that have all the bells and whistles cost well over $1,000.
It is not unheard of for a new inlaid pit to cost well over $2,000. Even one of the popular full feature Weber Genesis natural gas grills can easily cost just under $3000.
Summary
Natural gas outdoor grills are some of the most popular types because they are clean, convenient, and come with many advanced features.
Consumers who want the absolute best in outdoor grilling tend to buy natural gas BBQ grills or install natural gas fire pits in their homes as permanent, built-in grilling stations.
You should be aware that these grills, while advanced, are expensive and may not be readily available everywhere for they need a ready natural gas pipe line to be installed.
Related Articles